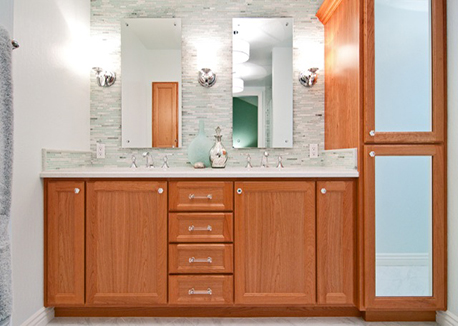 April 2, 2013
Plagued with a dark, enclosed layout, the master bathroom of a Fremont, Calif., couple clashed with the local sun and surf setting. A tiny shower, dated tiles and an insufficient closet added to the problems. Transforming the dim space, local designer Anna Jacoby of Anna Jacoby Interiors created a bathroom suited for the ocean-loving owners.
"It was a disjointed space, and they wanted a large, open room," said Jacoby. Per the owner's request, the 11-by-2-ft. closet lengthened to a full walk-in with closet organizers. "The challenge was getting a closet big enough for her," laughed Jacoby. "That one is all hers." Formerly 60-by-34-in., the shower was enlarged to 72-by-45-in. and given an elongated window. 
Incorporated by the shower window and an enlarged toilet room window, natural light opened up the bathroom. Polished chrome lights ― set on dimmers ― were installed at face height above the vanity.
"It all has a kind of ambiance," said Jacoby. Various other lighting fixtures are displaced throughout, with a separate recessed light in the shower and several lighting fixtures in the water closet. "It was really dark previously," added Jacoby. "We turned it into a larger, lit space."
Custom-made cherry cabinetry ― completed with a clear finish ― warms the pale tones of the bathroom. "We wanted some contrast, and we didn't want to do white," said Jacoby. "We were going for just a medium, warm tone."
Despite the brightness white cabinetry would provide, Jacoby argued that the cabinetry matched the color of sand. "I think if we had gone with the white, it would have looked pretty but sterile," said Jacoby. "The cherry really warmed it up." White quartz countertops give contrast. "[The countertop] has specks of what looks like sand, as well as flecks of beach glass," added Jacoby.
The white of the ocean inspired the design's light, airy feel. "The owners wanted it light and bright," said Jacoby. "Our inspiration was glass inspired." Beach glass makes up a large portion of the design, along with a palette of greens and iridescent aqua blues. 
Ming green marble tiles add to the shower's oceanic appeal, while starphire glass makes up the shower doors. "[The glass] is super clear and doesn't distort the color of the tile," said Jacoby.
Large mirrors and clear cabinet pulls and knobs continue the glass theme. Made of glass with polished nickel bases, the pulls contrast starkly from the cabinetry. "They are just for that light, pretty look," said Jacoby. Custom-cut mirrors ― attached to spacers ― stand out against a backsplash. "Since that whole wall is tiles, we wanted to give it a little depth," said Jacoby.
Lining the center of the shower walls, a glass mosaic adds a mix of subtle detailing. "It's a combination of glass and marble, with some Carrara and Ming green marble, as well as different shades of beach glass," said Jacoby.  The mosaic also makes up the backsplash of the vanity. "I was thrilled that they let me take that tile up to the ceiling," she said. "It's a showstopper when you walk in."
SOURCES
Designer: Anna Jacoby ⎯⎯ Anna Jacoby Interiors; Construction: Tim Alo Construction; Lighting: Quizel Downtown Collection; Plumbing fixtures: Kohler Devonshire Collection; Ming Green Tile: Fremont Tile & Carpet; Countertop material: MSI International; Custom cabinetry: Custom Craft Cabinetry; Cabinet pulls/knobs: Cool Knobs and Pulls; Photography: Ian Coleman Photography