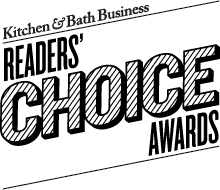 2018 Readers' Choice Award Winners
For the sixth-consecutive year, Kitchen and Bath Business magazine presents the winners of the KBB Readers' Choice Awards. This past spring, more than 20,000 votes were cast online by KBB readers, who selected their favorite brands and manufacturers in the various kitchen and bath categories you see below.
We're happy to present those manufacturers and brands that received the most votes in each of these categories, listed alphabetically, to represent the range of specific types, styles, materials and price levels in which these top-votes brands offer products.
Our readers were asked to make their choices according to specific criteria, including, but not limited to, local availability, the support they receive from the supplier/manufacturer, price point for their typical client budget and other category-specific criteria as noted below each category.
We present these results to you, a list of brands and manufacturers your peers turn to most often for their clients. Please join us in congratulating these companies for excellence in delivering quality products and superior service.
Below, and in our July/August issue of KBB, more detailed information may be found on some of the winning companies our readers have voted for and why they are deserving of this recognition.