Artaic's SHOWBOT to Start Convention Tour 2017 at KBIS and TISE
---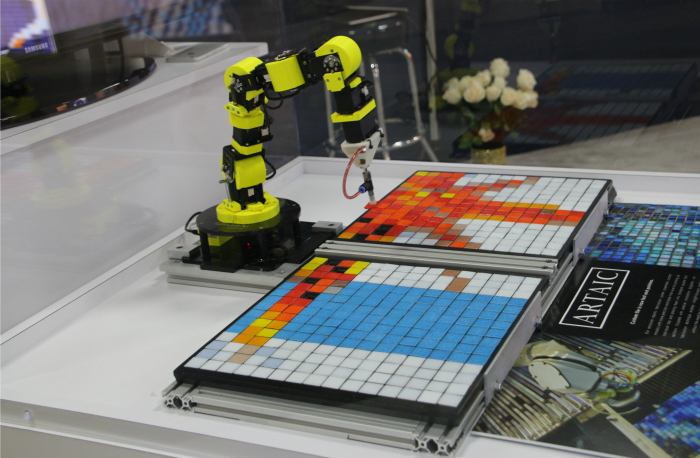 December 13, 2016
Artiac, designer and fabricator of custom tile work, kicks off its Trade Show Tour 2017 with robot-inspired appearances at Kitchen & Bath Industry Show (KBIS), January 10-12 in Orlando, and The International Surface Event (TISE), January 18-20 in Las Vegas. Attendees of these two industry shows, will have the opportunity to become acquainted with SHOWBOT, Artaic's new high-speed robot, which was created specifically for its tour of the convention circuit.
SHOWBOT is a "six-degree of freedom" articulating robotic arm, which deftly implements Artaic's technology in creating mosaic designs. As part of its strategic partnership with Bostik, Inc., manufacturer of adhesives and sealants, Artaic will feature SHOWBOT at Bostik's Exhibit Booth at #S5246 at KBIS and at Booth #4506 at TISE.
Since setting up shop roughly one decade ago, Artaic Innovative Mosaic has incorporated robots driven by state-of-the-art software technology to speed up custom mosaic artwork production, and in doing so, making it more feasible for designers to offer even more impact on their projects. At the trade shows, SHOWBOT will be in full action, and attendees can see firsthand how the nimble robot precisely picks and places each individual tile accurately into a grid.
"People see the robot and then say, 'Oh, that's so amazing.' That's clearly true. But, in actuality, the robot simply picks and places tile," said Dr. Ted Acworth, CEO/Founder of Artiac. "There's a huge amount more that has to get processed and done technologically before any individual mosaic tile gets picked and placed." SHOWBOT will not only get the attention of show attendees, but will give the Artaic Team a hands-on opportunity to further educate them on this very unique process.