Design & Construction Week 2023 Attracts Record-Breaking Attendance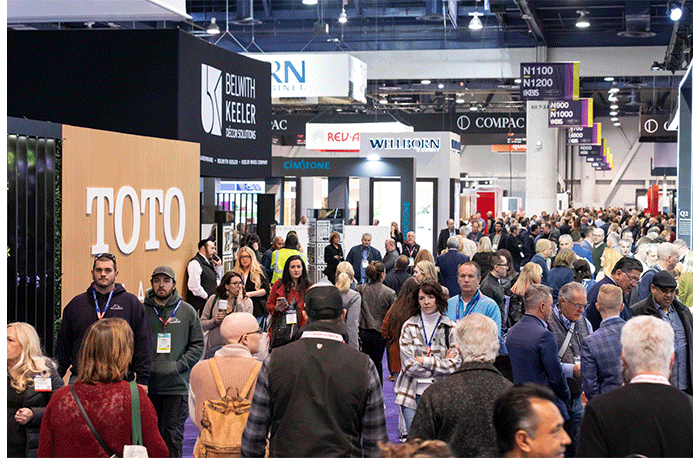 February 2, 2023
More than 200,000 housing and design professionals from across the globe flocked to Las Vegas for Design & Construction Week 2023, the co-location of the National Kitchen & Bath Association's Kitchen & Bath Industry Show and the National Association of Home Builders' International Builders' Show, and the three co-dated industry shows, the National Hardware Show, The International Surfaces Event and the Las Vegas Winter Market. The five trade shows gave DCW attendees an amazing opportunity to visit five industry trade events with just one badge.
"It's truly remarkable what we have accomplished these past 10 years in our industry," said Bill Darcy, CEO of NKBA. "Trade shows are back, and this year in Las Vegas proves just that. You could feel the positive energy flow through the show floor."
This year's event, held at the Las Vegas Convention Center, boasted the highest attendance in DCW's 10-year history. DCW's total attendance was comprised of 40,000 KBIS attendees and nearly 70,000 IBS attendees. Design & Construction Week 2023 attendees visited more than 1,800 exhibitors showcasing the latest housing products across about 1 million net square feet of exhibit space.
"Wow, KBIS '23 was simply amazing!" said Jason McGraw, CTS, Emerald group vice president for KBIS and CEDIA Expo. "Crowds of smiling attendees packed the aisles throughout all three days of the show. KBIS '23 attendance was up 35% vs. the pre-pandemic '20 show the last time we were in Las Vegas. And with more than 50% first-time attendees, exhibitors were not only reconnecting with long-time channel partners but were also engaging with new designers and builders they hadn't met before. It was an outstanding event filled with optimism that painted a bright picture for the industry. Attendees and exhibitors realized the power of face-to-face engagement at DCW 2023.  It's was such a great feeling to be back in person at KBIS!"
The co-dated shows' drew the following; NHS, 17,000 attendees; TISE, 25,000; and Las Vegas Market welcomed 50,000. This marked the largest gathering of housing professionals in the world.
"What an incredible way to celebrate 10 years of Design & Construction Week with this record attendance," said Jerry Howard, CEO of NAHB. "Walking the show floor and attending the education sessions and networking events, you could feel the energy and enthusiasm from exhibitors and attendees alike."
Next year, DCW will return to Las Vegas from Feb. 27-29, 2024.