Emser Tile Celebrates 55th Anniversary and Professional Recognitions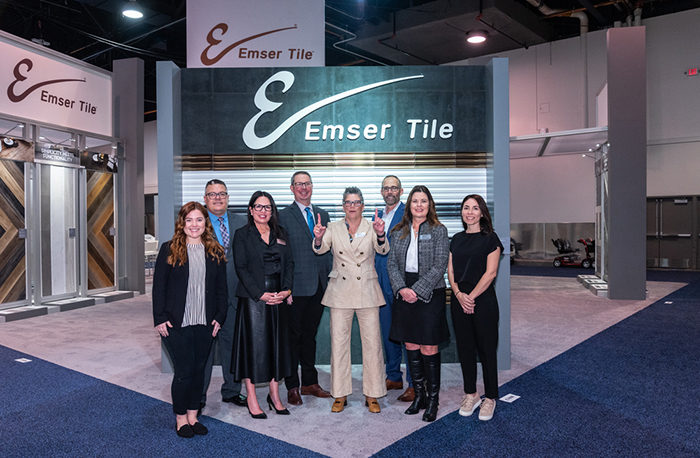 July 28, 2023
Emser Tile, a leading designer and producer of the world's finest tile and natural stone, is celebrating its 55th anniversary and multiple recent professional recognitions.  
The company has released a video in celebration of 55 years in business. The video, "We Are Emser" offers a glimpse into the company's history, culture, capabilities and future. 
Founded in 1968, Emser Tile has grown to include 78 showrooms nationwide, four strategically placed distribution centers, and a corporate office building that is considered a cultural icon and a historic landmark in West Hollywood. 
The Emser team has grown to more than 1,000 employees, many of whom have been with the company for a decade or more – including Emser CEO and President Carl Delia, who began his career with the company in 1987. 
"As we celebrate Emser's remarkable journey of 55 years, I am in awe of the milestones we have achieved," said Delia. "It is a testament to the unwavering dedication of our employees, partners and customers who have been instrumental in our success. As we turn our gaze towards the future, we see immense opportunities awaiting us as we continue to embrace innovation and growth." 
The "We Are Emser" video shares a story of a strong vibrant company dedicated to partnership, customer service and excellence, and can be viewed here. 
In addition to marking this significant milestone, Emser Tile has been named on Selling Power magazine's 2023 list of the 50 Best Companies to Sell For. This is the company's fourth consecutive year to be included on this list. In addition, Selling Power has recognized Emser Tile as a Leader for Diversity, Equity and Inclusion (DEI) in Sales. 
"We are thrilled to again be included on Selling Power's list of the 50 Best Companies to Sell For and to be recognized as a top company for diversity, equity and inclusion," said Erika Croy, chief human resource officer, Emser Tile. "Our employees consistently go above and beyond and their commitment to deliver superior results is truly exceptional." 
To compile the list, the Selling Power research team analyzed data collected across key areas, including company ethos, compensation and benefits, hiring and training, and diversity and inclusion. The team's methodology is a result of years of research, and Selling Power continues to revise and refine the approach each year. The companies named to the list include a mix of sizes ranging from medium to enterprise, with varying numbers of employees.