Grothouse Collaborates with Monogram and Belwith Keeler at KBIS 2023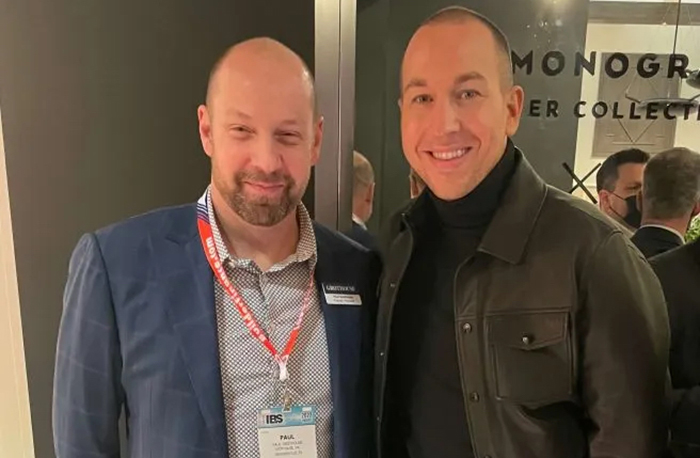 February 1, 2023
At KBIS 2023, Grothouse is thrilled to be a part of the Monogram booth in collaboration with renowned interior designer and Monogram creative director Richard T. Anuszkiewicz.
Featured in the Monogram booth is a custom walnut butcher block table, which is a beautiful example of the iconic butcher block style that Grothouse is renowned for. Engineer and designer working closely in hand, Paul Grothouse and Anuszkiewicz, collaborated to bring the finest in wood craftsmanship and design to fruition.
"Year after year, Grothouse continually delivers excellence in their artistry, engineering, customer service and quality," said Richard T. Anuszkiewicz. "I dream up one-of-a-kind pieces, and Grothouse never hesitates to support the vision, on time and beautifully crafted. I'm grateful to have such a valued partner."
In the Belwith Keeler booth is a Grothouse 2-in. thick Anvil countertop in Ferrum, finished with the proprietary Durata Satin overcoat. The custom metal finish, applied to the Grothouse solid wood surface effortlessly showcases the beauty of the newly relaunched Keeler Brass Company hardware.
"We are so pleased to feature a Grothouse countertop in our Wood-Mode Custom Cabinetry display alongside Monogram Designer Collection x Richard T. Anuszkiewicz," said Knikki Grantham, creative director at Belwith Keeler. "The Keeler Brass Company has long been synonymous with innovation, artistry and legacy. We seek out the same kinsman in the brands we choose to align with, and Grothouse is certainly known for their dedication to artistry and innovation as well."
Grothouse places excellence at the front of everything the company produces, which allows it to deliver the highest quality craftsmanship, technologically advanced engineering and integrated solutions. In combination with its access to the most varied stock of wood species, Grothouse provides designers and partners with an unparalleled advantage.
"KBIS is the best opportunity to explore everything newly offered in the kitchen and bath industry," said Paul Grothouse, founder of Grothouse. "When you find luxury brands joining forces to present their premier designs it makes for a very powerful and inspiring experience.
"This year, we've partnered with Belwith Keeler for the first time, and we're thrilled to reunite with Richard Anuszkiewicz and the team at Monogram Appliances for a fourth year in a row. We're excited to collaborate with these two visionary companies who share our same principles of quality and craftsmanship." 
KBIS attendees can experience the Grothouse collaborations in person at the Monogram (W3317) and Belwith Keeler (N1323) booths.