Video Tours: Trends and Takeaways from KBIS 2017
---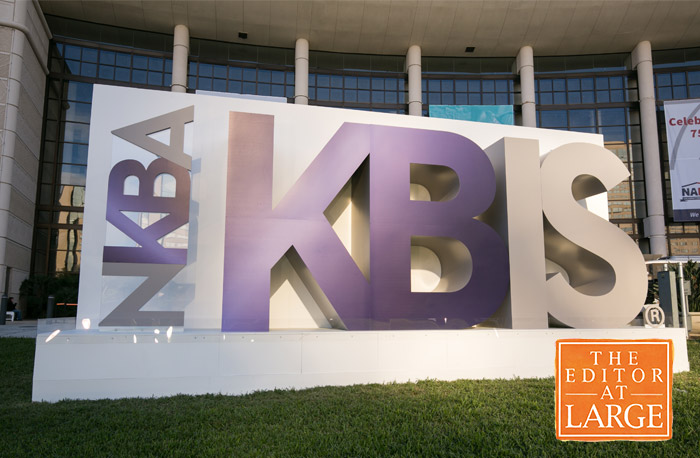 March 30, 2017
By Katy Olson, editor of Editor at Large
The Kitchen & Bath Industry Show (KBIS) descended on Orlando earlier this year, and Editor at Large was on hand to document product launches unfolding at the show. KBIS 2017, which experienced a 17 percent jump in attendance, brought with it major exhibitors, including DuPont, Technistone, J&K Cabinetry, MIA+BSI, ROHL and Liebherr, who spoke about innovations in the industry with EditorTV's Arianne Nardo.
DuPont celebrated its 50th anniversary at KBIS, launching what global business director John Richard calls its "largest, broadest color and aesthetics launch ever" for the brand's Corian quartz surfaces. DuPont's installation included a smart kitchen outfitted with wireless charging stations to charge phones and other devices and custom applications such as integrated drying racks and clever storage locations for utensils.
To see the interview with DuPont, click HERE
Further moving into the U.S., the European quartz manufacturer Technistone, which is based in 75 countries around the world, makes its mark at KBIS. Brad Place, CEO, shared with Nardo the impetus behind the expansion, as well as fascinating background on the brand and its clients.
To see the interview with Technistone, click HERE
J&K Cabinetry interior designer Ashton Sams shared with Nardo the new ways homeowners and designers are incorporating the brand's custom cabinetry into less-traditional areas of the home, such as mudrooms. "People are trying to figure out what kinds of gadgets they can include in their cabinets, to make life easier," said Sams. "J&K's really been focusing on that."
To see the interview with J&K Cabinetry, click HERE
The mission of KBIS exhibitor MIA+BSI – The Natural Stone Institute, CEO Jim Hieb explained, is not just about the stone itself. "It's all about advocating natural stone. It's not just advocating product, it's supporting our members, who are in 55 countries around the world. And helping them be successful in their own businesses."
To see the interview with MIA + BSI, click HERE
Among ROHL's many 2017 debuts are three new series for the bath and a number of new developments for the House of ROHL. The family-owned business is similar to "one of those fashion couture houses in Europe: We've established a brand…an ethos," explained Greg Rohl, vice president of marketing. The result is a coordinated, high-end collection, "much like what a fashion house would do," that epitomizes the ROHL aesthetic.
To see the interview with ROHL, click HERE
Liebherr's Mark Livingood, Eastern regional sales manager, and Josef Steigmiller, divisional director of referigerators and freezers, walked Nardo through some of the brand's most notable features: its award-winning wine refrigerator; commitment to environment-friendliness; BioFresh technology, which preserves the life of produce; and the dual-cooling system.
To see the interview with Liebherr, click HERE
Next year's KBIS will run from Jan. 9 to 11 in Orlando.