An Aspiring Young Designer at Work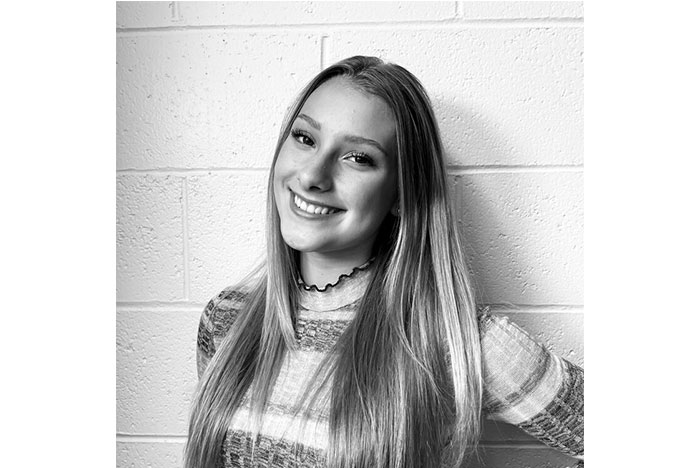 July 8, 2021
Nar Bustamente of Sacramento, Calif.-based Nar Design Group always taught his daughter, Kailani, about interior design – whether or not she ultimately became interested in the field professionally.
"Since she was born, I've brought her onto the job sites," said Nar. "I've always just talked to her about everything, even not knowing what would stick."
Last summer Kailani did a short internship with her father, where each week she did something different. The first week was an introduction to the field in general, including looking at projects and product samples. The second week was an introduction to Adobe and Chief Architect (which she considered the most challenging part), and the third week she was able to work with clients and put the pieces together. Going into high school next year, Kailani is spending her second summer working with her father and is taking her role seriously.
"She's old enough now to take it to a different level," added the designer. "It's not just come hang out with dad all day, it's about learning the craft. She's picked up a lot just through osmosis, and she already knows what happens day to day. I think a lot of our interns would die to have what she already has at 15."
KBB spoke with Kailani to find out how this aspiring designer likes her new summer job.
What are you working on this summer?
Kailani: "I've been doing more at the job site and have been working on designs. It's more hands-on now."
What part of your job do you like the most?
Kailani: "I really like working with the clients, and honestly, I love the process of putting something together and presenting it to the client and seeing their face light up."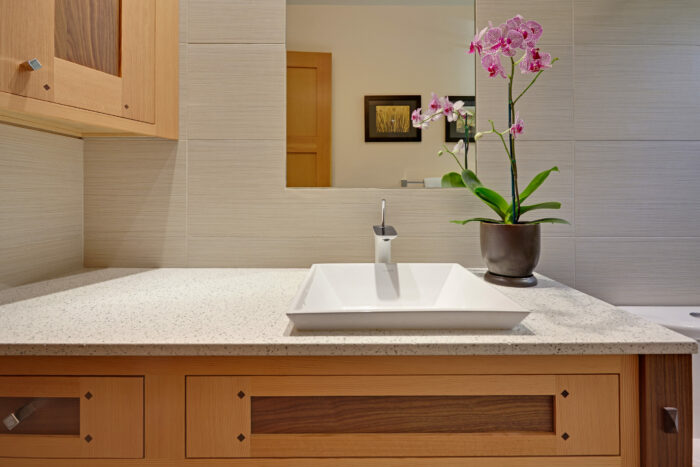 NKBA Third Place Bath, National Award 2014, Photo by Fred Donham of PhotographerLink
What have you worked on so far?
Kailani: "We have a little condo in Tahoe, and it was old and very dysfunctional – all of the cabinets opened into each other. We also did my bathroom there – that was mostly me and my drawings. Before that, I helped design my first bathroom a few years ago. I didn't have a big part in designing that, but I was there for the process, and it was cool to say that my bathroom won an award [NKBA Third Place Bath, National Award 2014]."
How would you describe your style?
Kailani: "I get inspiration from my dad – it just trickles down. When I do design, I love straight lines and sleek style. I don't like things to be clunky."
What's next for you?
Kailani: "I think every summer I'll be doing this before I graduate from high school. And if I don't have anything going on, I'll put in a few hours here and there.
What would you say to other kids thinking about going into interior design?
Kailani: "I'd say do it. It may not be for you, but you can say you got that experience. You might also discover that you're not interested in interior design specifically, but your dream job could be in this field."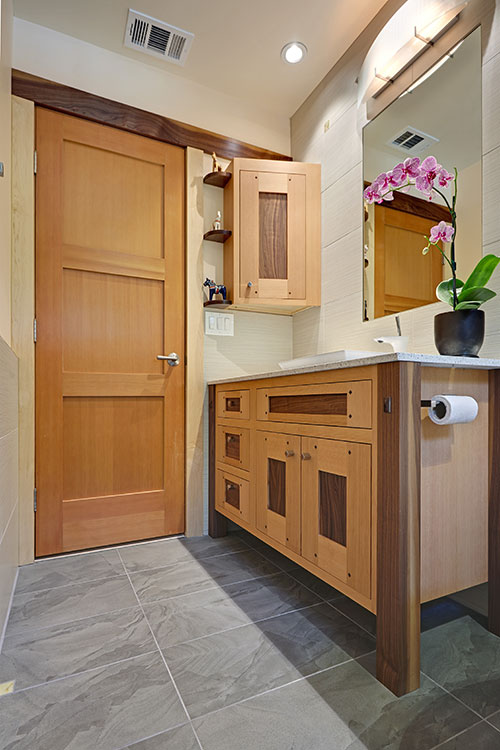 NKBA Third Place Bath, National Award 2014, Photo by Fred Donham of PhotographerLink