Art in the Home: Curating a Mindful Experience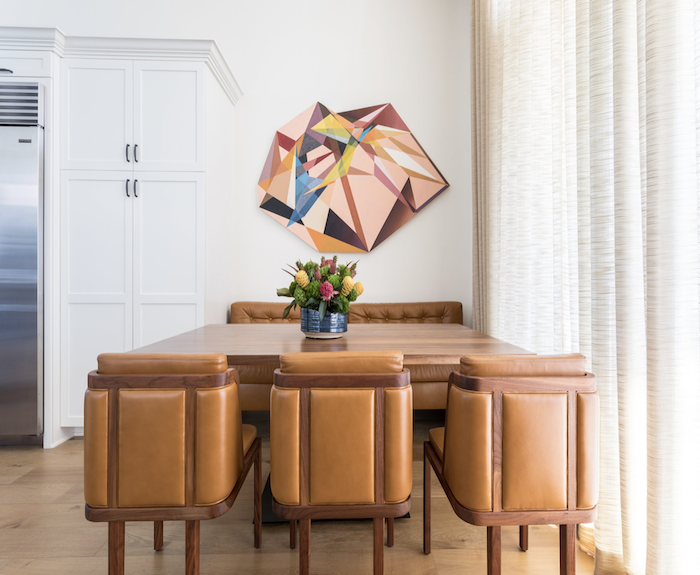 June 6, 2022
Selecting and arranging artwork in a home can be a gratifying process for all involved. While science is only beginning to explore the emotional effects and benefits of art, people have been driven to produce and seek artwork throughout human existence. In a study at the University College London, researchers found that looking at beautiful artwork activates pleasure centers in their brain and elicits a neurological response similar to falling in love.
It only makes sense that we should turn to artwork to influence emotional experiences in home design. As an interior designer with a fine art background, I recognize art's incredible power to enhance wellbeing in design. Commissioning artworks or objects by local artisans can be an incredibly rewarding way to elevate a client's home, and invest in the local creative community.
When selecting artwork for a family or group, it's key to ensure that everyone has a voice. Inviting individuals to have control over their domains and some level of veto power in shared spaces can aid in decision making in the home design process. Having a say over designated personal spaces guarantees that everyone is getting something they love, at least in one part of the home. In common areas, everyone should have a choice, and this is where having a designer with additional resources helps. I have developed relationships with many talented artists throughout my career, which has helped me find and commission beautiful and unique pieces.
When approaching all home design elements, it's essential to consider a room's use and intentions before purchasing or commissioning artwork. For family rooms that are often bustling, high traffic spaces, bold, energetic works of art can invigorate a room and inspire conversation. Large scale works can provide a welcome alternative to a television, and offer a focal point in spaces with many moving parts and multiple functions. Shared areas of congregation are ideal for bold abstract pieces or narrative works that inspire investigation and conversation.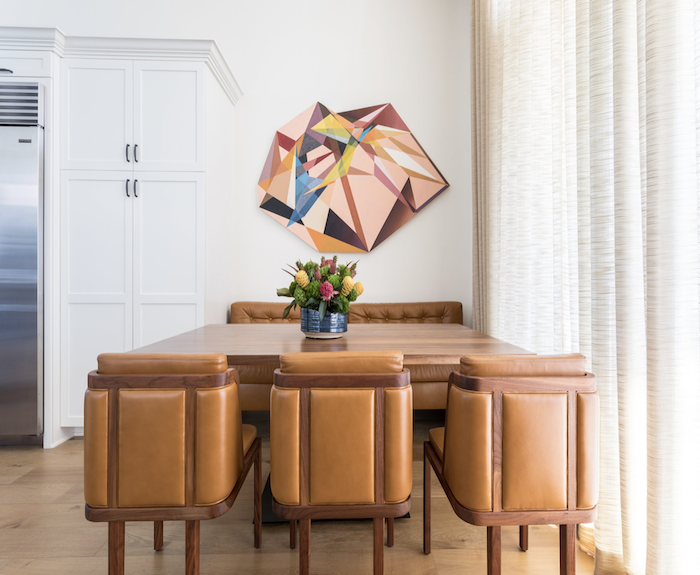 In a recent remodel of a family residence, "Scalar Field" by Kevin Moore (above) hangs over a breakfast nook composed of a custom dining sofa and handmade walnut dining table. The warm colors and textures of the pieces play off each other, for an inviting eating space that encourages both quiet daydreaming and lively discussion. The piece's unique, geometric shape adds architectural interest to the corner, expanding the room and adding to the area's significance in the home. The nook encourages a mindful dining experience, inviting the owner and guests to pause and enjoy the beauty and serotonin-boosting effects of an in-house art display.
Commissioning or curating artwork is ultimately about inviting positive emotions and experiences into the home. A piece does not need to mirror a pre-existing aesthetic to be the perfect fit for a client's home if it inspires pleasure and supports wellbeing. Incorporating artwork into living spaces can be an enriching process, inviting time to reflect, think, and appreciate the beauty of daily life.
—By Sarah Barnard, WELL AP and LEED AP, owner of Sarah Barnard Design in Santa Monica, Cal.