German Kitchen Trends for 2022: Smart, Feel-Good Living Spaces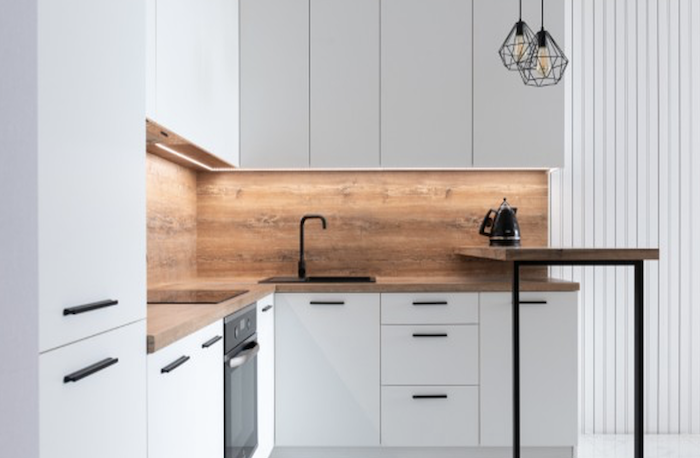 March 14, 2022
Many exciting lifestyle movements emerge every year. The resulting trends also have an impact on interior design. As living and dining spaces, kitchens in particular are influenced by new lifestyles and eating habits, because this is where many aspects of life intersect. Here's a look at the 2022 kitchen trends that the German kitchen industry association Arbeitsgemeinschaft Die Moderne Küche e.V. sees as shaping the interiors of tomorrow.
Enthusiasm for Sustainable Kitchens
One of the most popular trends of the past year has been the desire for sustainable products that will stand the test of time. In an era characterized by the climate crisis, more people are not only interested in the topic of sustainability but also want to actively do something for the environment – such as adopting a more sustainable lifestyle. As a result, timeless, high-quality designs in kitchens are becoming increasingly important, as are traditional craftsmanship and locally made products.
Another key development is the rapid pace of digitalization. After many hours spent in front of the computer, whether at home or in the office, it's not surprising that we long for natural surroundings when we turn away from our screens. And we should be able to find that homey, comfortable feeling in our kitchens, too. Natural materials like wood, combined with surfaces that are pleasant to touch, earthy hues such as olive green or terracotta and a sprinkling of minimalism make the kitchen a space for cooking, eating and living.
Mindfulness in Daily Life and Sensory Design
Everyday life involves quite enough hustle and bustle. In the future, creating a calm atmosphere in the kitchen will be even more important when it comes to retaining a feeling of balance. Excessive consumption belongs in the past. Today, we're far more interested in limiting the objects around us to a few important ones that we truly value.
In terms of kitchen design, the mindfulness trend is reflected in monochrome color schemes and a minimalist interior style. Furthermore, appliances like refrigerators, freezers and dishwashers are hidden behind built-in cabinets, and extractor hoods are integrated into a harmonious, pared-back overall look and only pulled out when actively in use.
But calming kitchen designs can do even more: The cross-sensory effect used in sensory design refers to concepts that have been thought through from every angle. What this means when applied to the interior design of kitchens is that monochrome, earthy colors and the presence of a limited number of objects produce a calm mood and engage all the senses. In a so-called sensory kitchen, we engage with our own sensory perceptions after a hectic day by enjoying the feel of surfaces, inhaling pleasant aromas and tasting healthy food. A perfect holistic sensory design concept for the kitchen may also extend to a comfortable room temperature or soothing sounds, such as running water or soft background music.
The Connectivity Megatrend Is Making Kitchens Smart
At first glance, digitalization and the connectivity megatrend would seem to stand in contrast to mindfulness in everyday life. And these developments look to continue to find their way into kitchens through smart appliances that connect people and technology. Digital products, specially developed for high-tech kitchens, are emerging as an important, rapidly advancing interior trend. They include refrigerators with integrated food-ordering systems or voice-controlled microwaves. However, digitalization and connectivity don't necessarily have to be a source of stress – instead, they can increase efficiency and save time.
As a complement to this technology, functional and modular furnishings are still popular as they provide a high degree of flexibility in everyday kitchen activities and are often space-saving as well. These characteristics can be seen in pullout worktops, adjustable kitchen tables or corner cabinets that offer storage space in the smallest of niches.
According to experts from the German kitchen industry association, Arbeitsgemeinschaft Die Moderne Küche e.V. (AMK) – sponsors of the international kitchen show LivingKitchen at imm cologne – flexible furnishing systems will make the kitchen a particularly attractive location for working from home in the future. Accordingly, 2022's kitchen trends include pullout drawers for laptops, height-adjustable kitchen base units and extra built-in lights to provide enough illumination to work by.
Social Design: The Kitchen As the Green Heart of the Home
The German trends and future research company Zukunftsinstitut highlights urban farming as a particularly innovative and at the same time social trend for 2022. It predicts that the role of the kitchen will be extended to become a place where we grow our own food. The desire for local produce and healthy eating is still on the rise. Whether herb gardens, indoor gardens like the successful Kickstarter project Click and Grow or vegetables grown in buckets, there will be more greenery on balconies or patios next to kitchens, on windowsills or in any available corner. The kitchen is therefore set to become a green oasis. But that's not all: Throughout our neighborhoods, there will be more communities taking care of their urban farming projects together.
Kitchens will also be increasingly used as social spaces for cozy get-togethers. A large kitchen table or spacious island units are ideally suited for this. Cleverly dividing up the space between workspaces and dining areas makes the kitchen a flexible room and a social meeting point for everyone.
Gender-Neutral in the Kitchen
Female empowerment and gender-neutral design continue to be highly influential topics in modern society. After all, gender roles have long since ceased to be as rigid as they once were. For example, everyone is interested in cooking nowadays. According to German kitchen association AMK, the focus for men when it comes to kitchen design is on cutting-edge technology such as electrical appliances, induction cookers, high-tech fridges and temperature sensors. Many women, on the other hand, want their kitchens to have a warm, feel-good atmosphere, with wooden materials, decorative accessories like pots of herbs and glass containers filled with foodstuffs proving popular. Nevertheless, interests are increasingly converging – at the moment, saving space, ergonomic design and using space flexibly are popular common concerns. As the Zukunftsinstitut predicts, gender roles at work and at home will continue to merge.
Kitchen Trends for 2022 Demonstrate Focus and Variety
People are increasingly concerned with sustainability, outdated role models are slowly eroding, and the trend is toward openness and freedom for all genders. Flexible kitchen furnishings and modules and home-grown food are transforming not just the German kitchen, but kitchens everywhere, into a versatile domestic haven, where people also enjoy spending time socializing. A new sense of appreciation is also playing an important role, because excessive consumption is no longer in vogue. The connectivity of high-tech products is helping us to live and cook more efficiently and save energy.
—Originally published in imm cologne magazine