How to Write Design Case Studies That Win Clients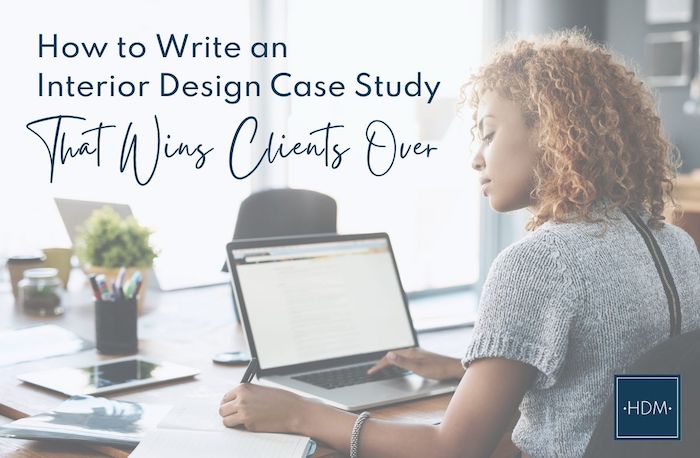 July 24, 2023
As a designer, your website portfolio is your visual signature, your calling card. It's proof of your professional talent and creativity. But are you finding that prospective clients only grasp the depth of your expertise and the incredible experience of working with you after they have hired you? Or that they don't seem to fully understand the value you offer?
If so, then your online content may not be building the trust needed to win dream projects.
Your potential clients will visit your website before they ever meet you. So, it's crucial that they feel your unique value from before they ever meet you. The best way to do this is by writing well-crafted project case studies for your interior design portfolio.
This guide aims to help you craft effective project case studies to generate qualified leads, showcase your work, and sell your unique interior design approach. First, let's understand why interior design case studies are so important.
Laying the Foundation for Successful Client Relationships
The journey from lead generation, to nurture, and then conversion starts with establishing trust. The best designer website portfolios will help propel your career forward, attracting and converting more of your dream clients. This trust-building process comprises three primary pillars: your website, your brand, and proof you've done it before.
Pillar 1: Website
Your website acts as your 24/7 salesperson. It reflects your understanding of your client's design challenges and illustrates how your services can solve them. A well-designed website should showcase your creative design skills while communicating your story and how you can help them renovate (or build!) the home of their dreams.
Pillar 2: Branding
Your brand is your business's persona and should consistently convey professionalism and commitment to quality. Everything from your logo and content tone of voice to your choice of typography should encapsulate your interior design philosophy and unique style.
Pillar 3: Proof
Proof is the lifeblood of trust. It's here where interior design project case studies step in. They offer tangible evidence of your design abilities and experience, showcasing how you've successfully navigated design challenges in the past to create beautiful spaces. By detailing your design process, case studies illustrate how you address challenges and consistently deliver high-quality results for your clients.
5 Steps to Creating a Compelling Design Project Case Study
Take a look at this case study by our client and interior designer, Tanna by Design, to see what a great interior design portfolio case study looks like. As you can see, it is more than a mere collection of before-and-after images; it is a structured narrative that includes a project description, goals, challenges, and solutions and in the end showcasing the ultimate results
The steps below will help guide you through creating an enticing portfolio for your website that will win clients over.
Step 1: Write a description
A comprehensive description of your project is the cornerstone of every case study, painting a vivid picture of the process for prospective clients. This section's critical components are as intriguing as the opening chapters of a book, setting the stage for the transformative journey ahead.
● Project type: To truly captivate the reader, begin by painting a vivid picture of the scale of the project. Start by elaborating on the intricate details and complexities involved, describing the extensive scope of the project. Was it a breathtaking full-scale home remodel, where every nook and cranny was transformed into a masterpiece? Or perhaps it was a captivating single room makeover, where a once dull and lifeless space was magically brought to life with stunning design elements and impeccable attention to detail?
● Project size and location: Provide a vivid description of the setting, whether it was a cozy and modern city apartment nestled in the heart of a bustling metropolis or a grand and picturesque country estate surrounded by rolling hills and lush gardens. By delving into the specific details of the location, you will captivate readers and immerse them in the unique atmosphere of the project.
● Current state: Provide a comprehensive and captivating depiction of the original space. Elaborate on the specific materials employed and shed light on the challenges that your client encountered, enabling them to fully grasp the existing conditions being worked with.
Step 2: Describe project goals
This section illuminates the client's desired interior design destination. By outlining the client's aspirations clearly, you showcase your talent and focus on meeting each individual clients needs and preferences.
● Use of space: Elaborate on whether they required a functional upgrade, like creating more room for entertainment with a dedicated home theater or spacious living room for hosting family and friends. Or was more storage a top priority, with a desire for additional cabinets and custom built shelving? This will ensure that readers grasp the importance of creating personalized and functional spaces.
● Design preferences: When it comes to enhancing functionality in the home, it is crucial to not only meet the specific design style of potential clients but also to create a space that is visually captivating and aesthetically pleasing. By understanding and incorporating their unique preferences, we can ensure that every aspect of their home reflects their personal taste and creates an inviting atmosphere. Trust is key in this process, as we strive to build strong relationships with our clients and assure them that their vision will be brought to life in the most detailed and engaging way possible.
● Functionality and materials: Include details about space utilization and preferred materials that were specific to the requests of the individual project. Focus on the attention that was made to every detail ensuring that each step of the project was carefully considered, resulting in a truly personalized and captivating outcome.
Step 3: Outline challenges faced
Unveiling the project's challenges uncovers the true nature of design work and guarantees that your portfolio showcases the reality – that it's not always a walk in the park. However, these hurdles highlight your skill in successfully maneuvering through intricate interior design situations.
● Design challenges: To truly grasp the magnitude of the work that was required, it is essential for readers to understand the various constraints faced in terms of space, functionality, and materials. These constraints played a crucial role in shaping the project and ultimately influenced the outcome. Outlining this information showcases the innovative ways you are able to utilize available space efficiently while still ensuring that all necessary elements are incorporated.
● Supplier/contractor challenges: Outline the challenges encountered during the process of sourcing materials or coordinating with other teams, including delays in material delivery, miscommunication between teams, or any other issues that impacted the smooth flow of work. By highlighting these difficulties, potential clients can gain a better understanding of the complexities involved in this project that you effectively handled.
● Project contraints: Elaborate on the specific constraints that impacted the project, highlighting the challenges and considerations involved in incorporating them seamlessly.
Step 4: Showcase your solutions
This section of your website portfolio serves as a showcase for your exceptional problem-solving abilities. It is the perfect opportunity to captivate your audience with your boundless creativity, unwavering resourcefulness, and meticulous attention to detail through a collection of your most accomplished projects.
● Innovative use of space: Describe how you creatively utilized space by implementing innovative layouts and storage solutions.
● Unique design applications: Highlight your distinctive interior design interventions that set your project apart. Display your technical drawings, graphic designs, and mood boards to demonstrate your creative process.
● Enhanced functionality: Elaborate on how your interior design solutions improved the practicality and user experience of the space.
● Problem-solving skills: Demonstrate your ability to overcome challenges by explaining how you successfully addressed any issues that arose during the project.
Step 5: Demonstrate the results
It's the grand finale of your case study, where you have the opportunity to showcase the incredible transformation you have achieved. Engage your audience by presenting persuasive proof of the project's success.
● Captivating before and after photos: Utilize stunning, high-quality images to demonstrate the remarkable transformations.
● Glowing testimonials: Showcase heartfelt testimonials from your clients, highlighting the profound positive influence your designs have had on their lives. These testimonials serve as powerful endorsements, further establishing your credibility and expertise in the field.
Top Tips for Optimizing Your Website Portfolio for Maximum Impact
Now that you understand the interior design portfolio case study format to follow through our step-by-step guide above, finesse it even more by following our top tips for maximizing the effectiveness of your website portfolio.
● Start early: Begin writing case studies as early as possible, ideally at the start of the project. This helps avoid rushed content and launch delays.
● Choose your best projects: Be picky when choosing projects for case studies. Prioritize showcasing your best work over having a large quantity of case studies.
● Be concise & informative: Keep your write-ups brief. Ensure even quick scans of your work, including captions, offer insight into your project.
● Give credit: Always acknowledge team contributions and clearly define your role in the project. Transparency can be key to establishing trust.
● Authenticity matters: Write in your own voice, avoiding industry jargon or buzzwords. Showcase your personality and design process clearly.
● Avoid image overload: Simply presenting images without context is ineffective. Pair visuals with descriptive text to offer insight into your process.
● Consider layout: Treat each case study like a magazine feature. Ensure your web designer creates a layout that will enhance the content and not disrupt the reading experience.
Improving Your Website Portfolio Performance Through Marketing and Sales
Project case studies are not just proof of your work but can be leveraged as potent marketing tools. Once you've created your case study, you'll want to integrate it into your marketing and sales strategies. You can:
● Add it to your website: This allows all site visitors to see the quality of your work.
● Email it to your list: This can drive traffic to your website and generate interest.
● Post it on social media: Sharing your case studies on social media can also drive traffic to your website and expand your reach.
● Use it in your sales presentations: When pitching to a new client, a well-prepared case study can help showcase your skills and past success.
Case studies breathe life into your portfolio, transforming it from a gallery into a vivid narrative of your design journey. They not only showcase your talent but also your professionalism, problem-solving skills, and commitment to client satisfaction. So, start documenting your design process today and leverage the power of case studies to generate leads, attract ideal clients and close sales.
At Home Designer Marketing, we offer interior designers a free brand, website, and SEO audit to get clarity on what needs to change in order for your business to compete online.
—By Debra Scarpa, owner and designer, Home Designer Marketing