Must-Have Contemporary Fashions for Your Home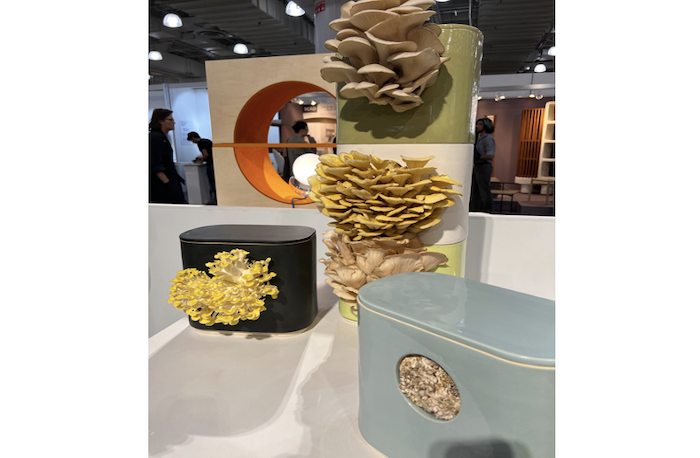 June 19, 2023
This article was originally published on June 19, 2023; it was updated on June 27, 2023.
ICFF or the International Contemporary Furniture Fair is a must-see show held each May at the Jacob Javits Center in New York City. The show features the latest cutting-edge products from manufacturers and craftspeople from all over the world.
In addition, the fair also showcases the best and brightest students from design schools here and abroad in both industrial and interior design. Here is where you will find must-have contemporary fashions for your home.
A Designer's POV on Contemporary Furniture
This is ICFF + Wanted Design Manhattan. Not one single part of this year's show disappointed me. There was so much to see, touch, and experience. I spent an entire day walking the aisles absorbing everything. Finally, after reviewing my day I am happy to present my top finds from this year's show to answer the question 'What are the must-have contemporary fashions for your home?'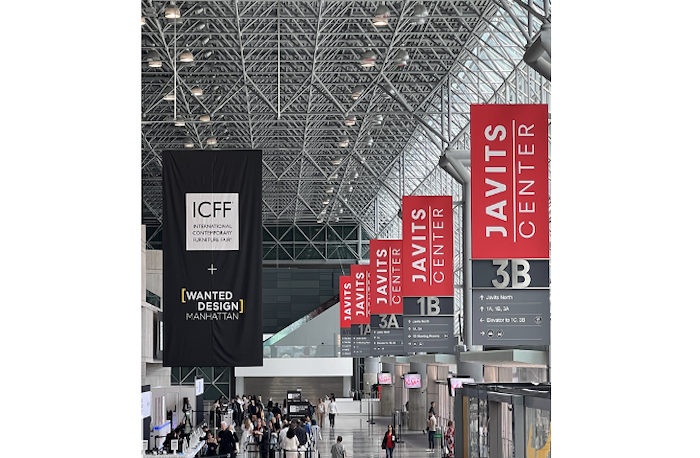 Sustainability was King and Queen at ICFF and WantedDesign Manhattan
I cannot think of one booth that did not have sustainable products on display. Each product was thoughtfully designed, engineered, and displayed. Most important was the enthusiasm brought to the booths and products presented.
Engineering and Artistry
What happens when you combine an engineer's brain with an artisan's creativity? In this case, printed 3D glass pieces (below) for accessories, art, and furniture. All this from an MIT graduate with an engineering degree and a background in glass blowing who is producing amazing products. My favorite? A unique idea using recycled Bombay Sapphire Gin bottles and turning them into functional works of art. These beautiful pieces would be a perfect accessory for any kitchen or bath.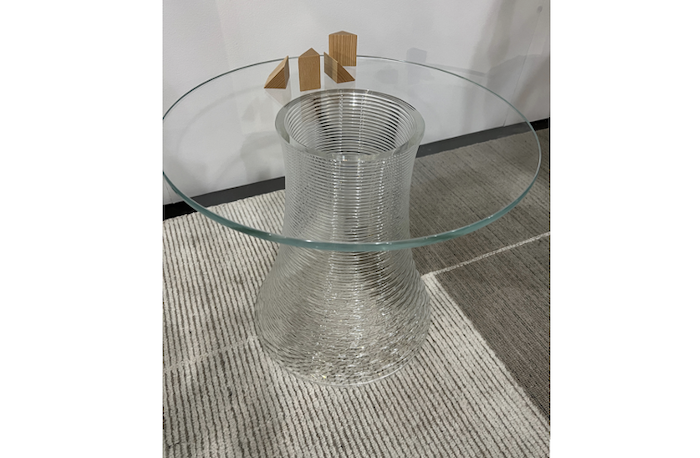 Must-Have Contemporary Fashions for Your Home: Bathrooms and More
Lacava was born in Italy with a centuries-old concept of manufacturing, craftsmanship, and artisanship all collaborating under one roof. The tradition is now alive in Chicago leading to the Metallo Collection. My favorite was the console lavatory table (below) crafted of powder-coated steel shown with a beautiful soft green detailed vessel sink. I absolutely loved their thoughtfully designed bathroom pieces.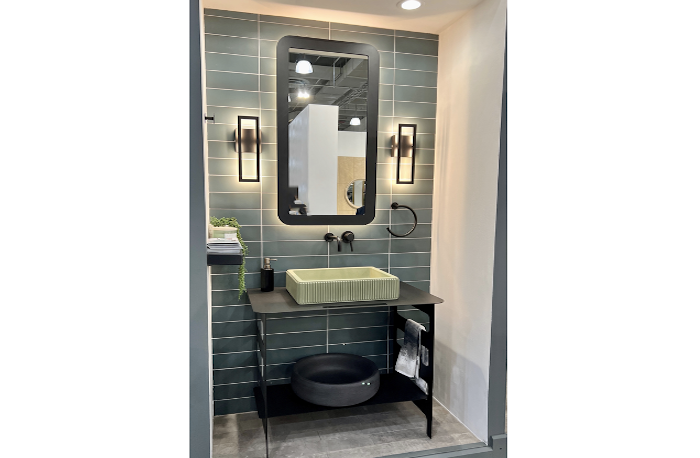 Must-Have Contemporary Fashions for Your Home: Lighting
Juniper showed fabulous integrated lighting systems. First, they offer an adjustable track with movable heads. Second, they created this fabulous integrated LED light in a hanging rail (below). Their products are functional and beautiful. The lighting is suitable for both task and ambient layered light. Besides these fixtures, Juniper brings a new level of functional design to lighting with their Multiverse Systems. Their surface ribbon systems are designed as a snap-on technology. The beauty is that the fixtures can be installed on any hard, flat surface. They will even do custom colors and they're located right in Connecticut.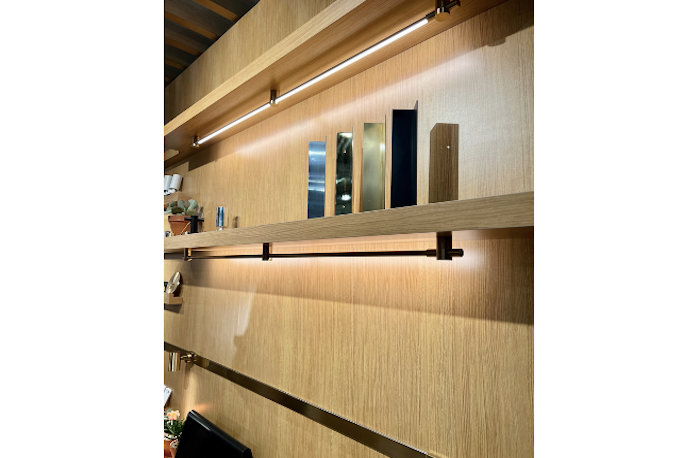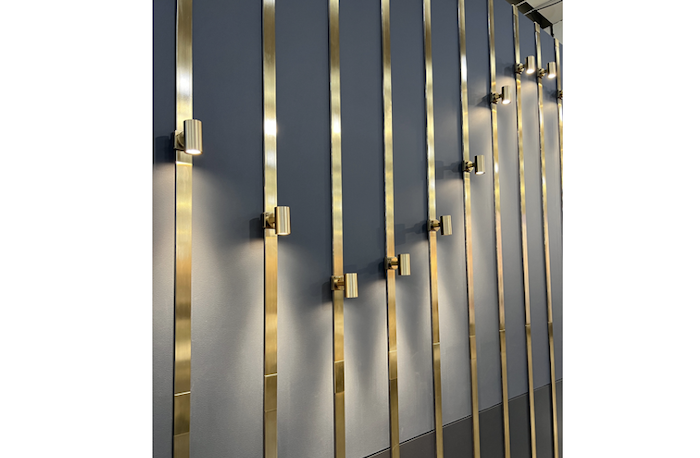 Lightmaker Studio (below) from Canada is handcrafting the most exquisite, timeless lighting using inspiration from natural elements and modernism. Much like Lacava, Lightmaker Studio also uses a collaborative approach to their pieces by incorporating the talents of a glass studio and metal finisher both located in Canada.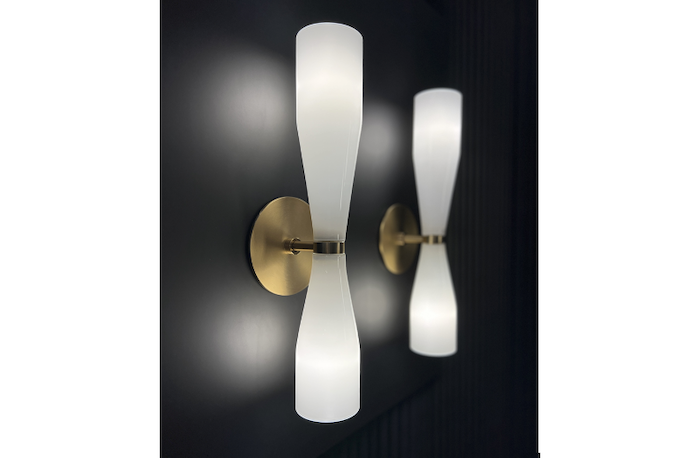 Must-Have Contemporary Fashion for Your Home: Sustainable and Functional Wood
Peter Glassford creates beautiful pieces sourced from scraps of wood (below). His sustainable wood wall panels and room dividers made me say Yes Please! These pieces are easy to install (the wall panels come in square sections roughly 24" x 24"). You can attach them right to the drywall. In fact, I can see these in a wine cellar application or even a feature wall in a home office as they are an acoustic-quality wall covering. I have plans for his turned vertical wood and rod pieces in an upcoming project.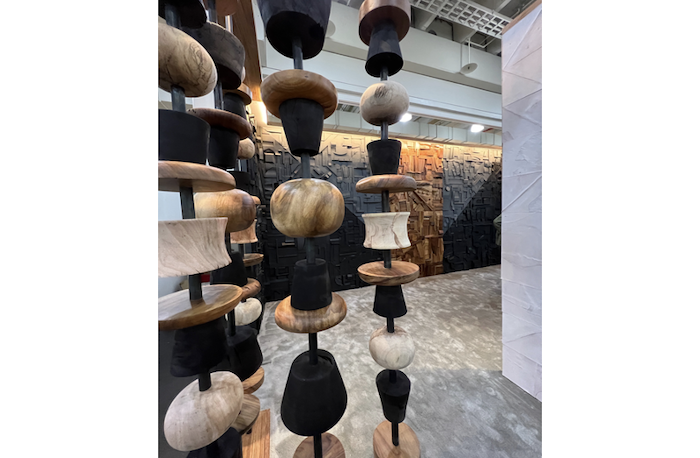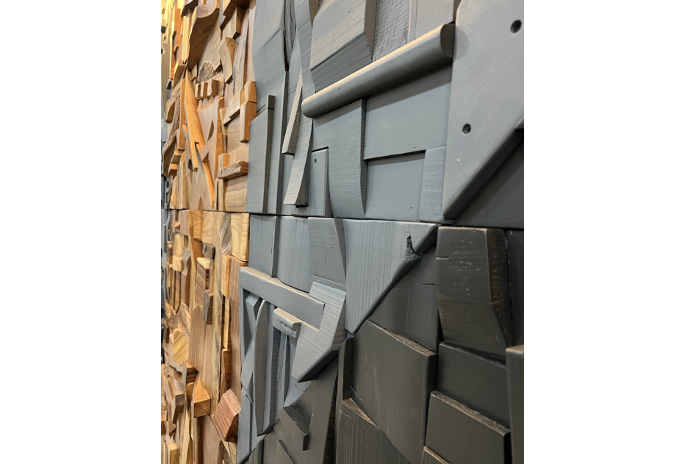 Must-Have Contemporary Fashion for Your Home: Closets and More
Ornare from Brazil is creating timeless collections for closets, kitchens, wall systems, and bathrooms. The custom closet system (below) displayed was breathtaking. Ornare sources certified wood and raw materials for their cabinets and shelving. Additionally, they recycle the waste produced during the manufacturing process. With this in mind, they consider themselves to be an eco-conscious company.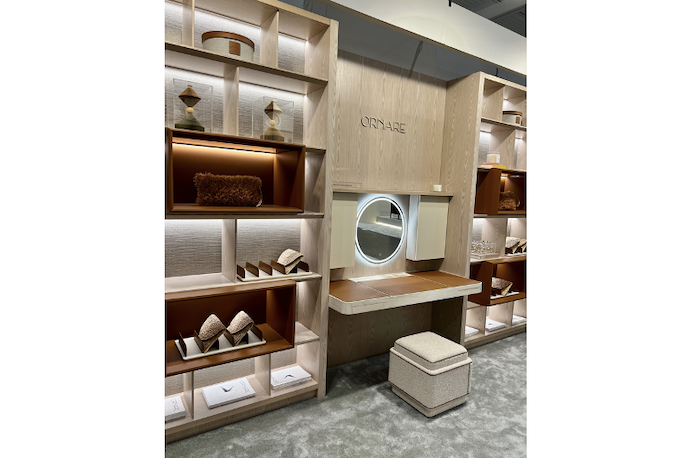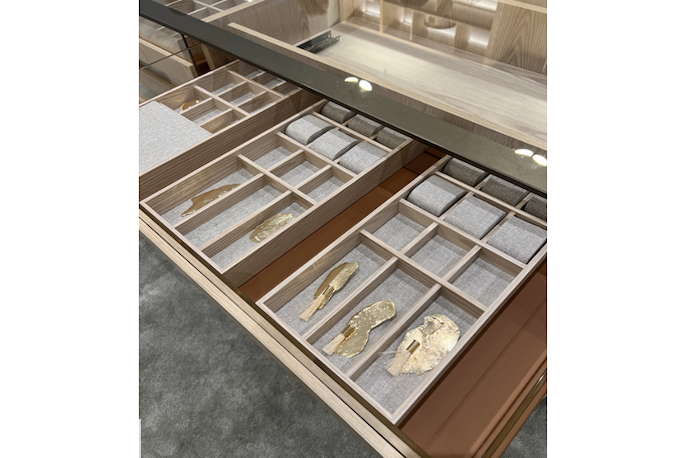 Must-Have Contemporary Fashions for Your Home: Outdoor Environments
Watrline manufactures the most interesting outdoor showers. These pieces (below) are constructed of stainless steel and powder-coated finishes. They have commercial and residential applications and…wait for it…a special design just for yachts and boats. All the pieces are easy to install and remove if necessary. Watrline is committed to transforming outdoor spaces into places of relaxation and rejuvenation. This is something that I feel is so important in today's home design.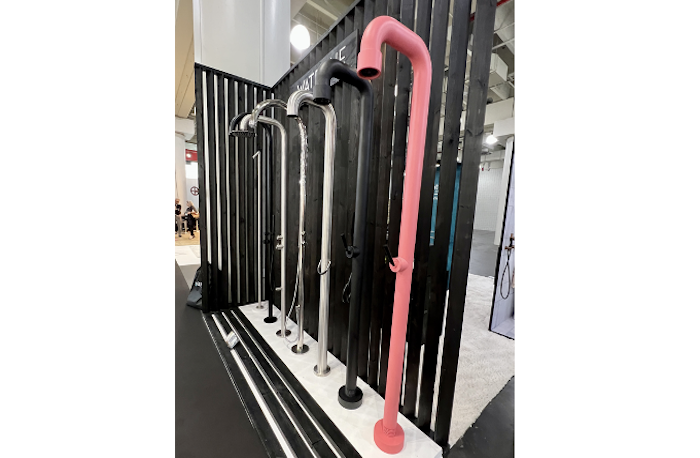 Must-Have Contemporary Fashions for Your Home: Decorative Elements
Quinn Morrissette is an artisan, industrial designer, welder, and modern-day Renaissance man. From his studio in New Hampshire, he is honoring the use of raw materials in sculptural objects. There is something about the pieces he creates that draw you in and invite you to experience the piece and its nature through touch. I imagine his rock tables (below) as a pedestal for a vessel sink in a powder room that embraces the natural beauty of the materials. Once again, his designs also recognize our need to connect with nature and the healing powers of natural elements in the home.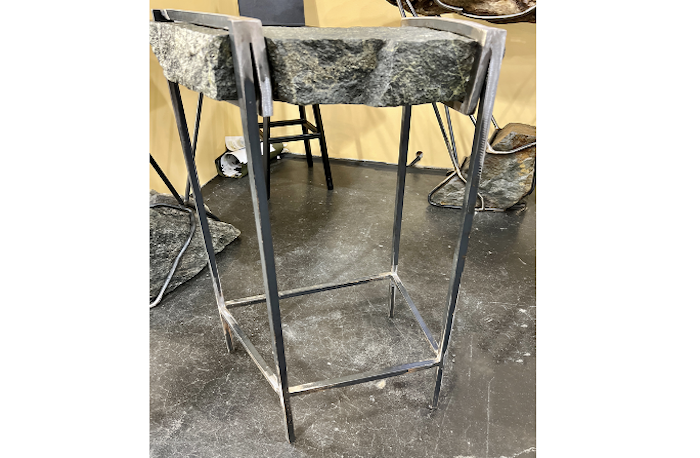 Must-Have Contemporary Fashions for Your Home: Home Gardening
I always look for products that are functional as well as decorative. Once in a while, I find just that thing. GUS (below) from Good Growing is that thing. What is GUS? Designed for home gardeners in all of us, Gus is a ceramic planter for growing mushrooms.
Unlike the Tik Tok video, these are thoughtfully designed ceramic vessels. They were created with the specific growing conditions of mushrooms in mind. Not only are they practical and encourage the home farmer in all of us, but they are also beautiful and would make a great conversation piece/ decorative element in any kitchen. Tori Deetz, the founder of Good Growing, has a winner with GUS and has more products coming soon.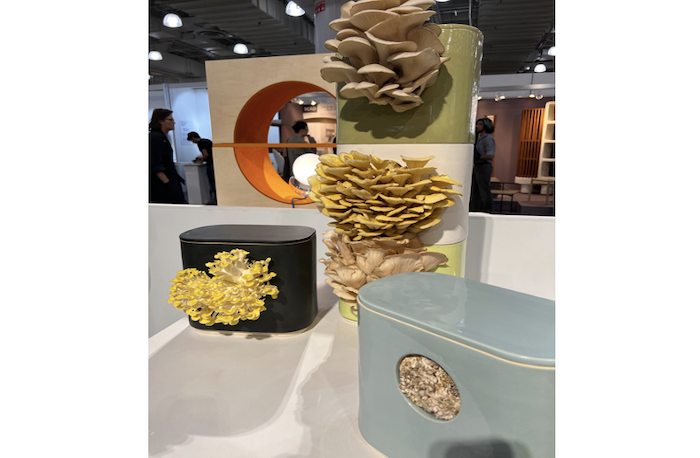 Designer Point of View
Although many ICFF attendees said the show seemed significantly, smaller, I truly believe that good things come in small packages. The quality of materials and the ingenuity of the manufacturers and creative entrepreneurs were the best I have seen. Not to mention that many products are produced in the United States and Europe. On the positive side, companies are looking to partner with designers and welcome the trade which was a different perspective than in the past.
Without a doubt, designers are once again being sought out for their ability to connect clients with amazing products like those shown at this year's ICFF. The energy and enthusiasm of the design students and their ability to think way out of the box puts the future of design in good hands. I came away energized and inspired for my upcoming projects.
—By Sharon L. Sherman, ASID, NCIDQ, CID, CKD. Sharon is the founder of Thyme and Place Design, headquartered in Wyckoff, New Jersey
All photos by Sharon L. Sherman