Outdoor Kitchen Essentials Checklist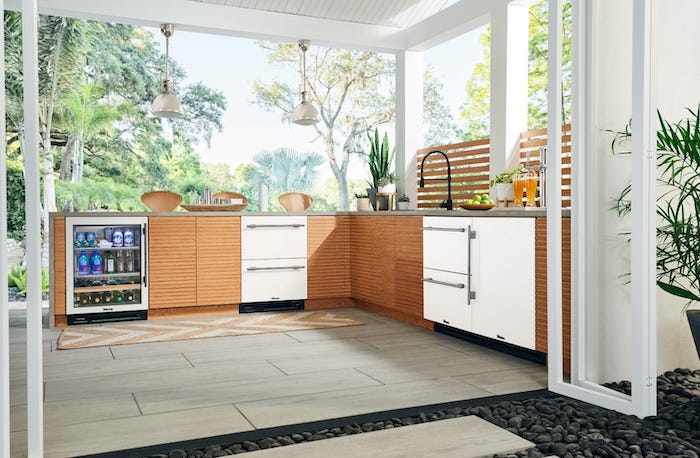 May 2, 2022
The properly equipped outdoor kitchen can make entertaining with friends and family more enjoyable and reduce the annoying back and forth between inside and out. It's a seamless environment that fosters the best outdoor dining experience.
The barbecue grill is the center of most outdoor kitchens. However, companion products like artisan pizza ovens, griddles, side burners, warming drawers, and smokers, afford extra capacity and versatility. Mix and match outdoor cooling appliances to meet one's entertaining and recreational needs. Beverage centers, ice makers, wine coolers, tap dispensers, and cocktail stations will help get the party started and keep refreshments where they are most enjoyed. Adding a sink, faucet, trash chute, and perhaps an outdoor rated dishwasher will make clean-up effortless. Finally, no kitchen is complete without thoughtful storage solutions to keep tools, paper goods, and seasonings dry and safe from the elements.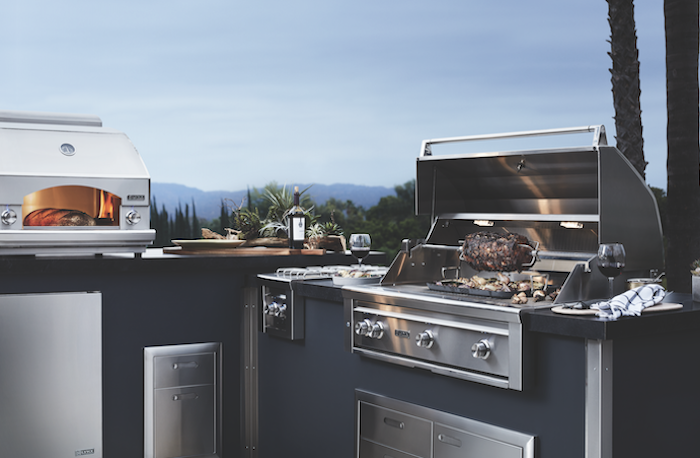 Built-In Grill: The grill is the centerpiece of every great barbecue. Grills come in a variety of shapes and sizes, from compact 24-inches up to 54-inches, for large gatherings. Built-in grills are installed into outdoor cabinetry and offer a luxurious focal point in the outdoor kitchen design. The Lynx Professional Grill Series L42TR 42-Inch Built-In Grill is a built-in upscale grill with innovative features including an infrared sear burner and a rotisserie that rotates food within the heat-fueled grill chamber. This produces slow-roasted meats that are juicer and more flavorful.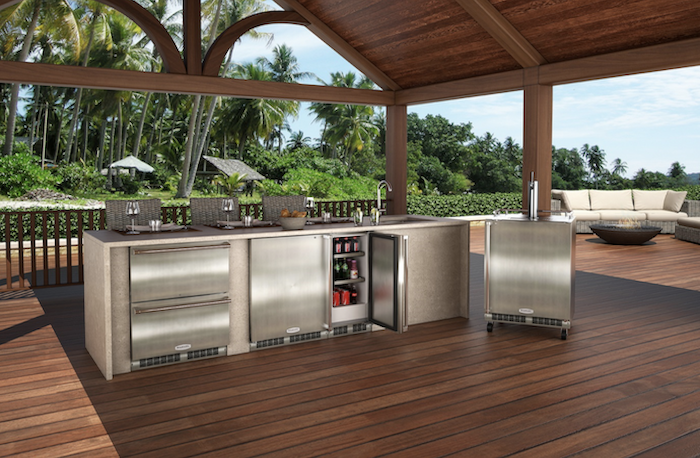 Outdoor Refrigerator: Ideal for cold drinks and ingredients – outdoor refrigerators bring functionality and convenience to cooking and entertaining. The Marvel MORE224SS41A 24-Inch Outdoor Refrigerator offers easy access door storage for tall bottles. Plus, it can accommodate up to 146 12-ounce cans and fully adjustable pull-out shelves providing easy access to frequently needed items.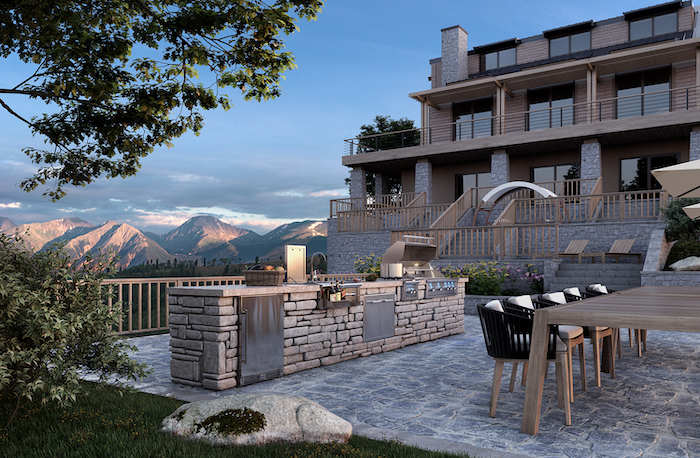 Cocktail Station: Craft cocktails pair well with a grill-fired meal. The XO XOG30BARPRO 30-Inch Cocktail Pro Station includes a stainless-steel sink, pull-down hot/cold faucet, ice bin, and ample space for bottles and garnishes. Plus, gardening enthusiasts will love the easy access to a handwashing station while preparing farm-to-table fare.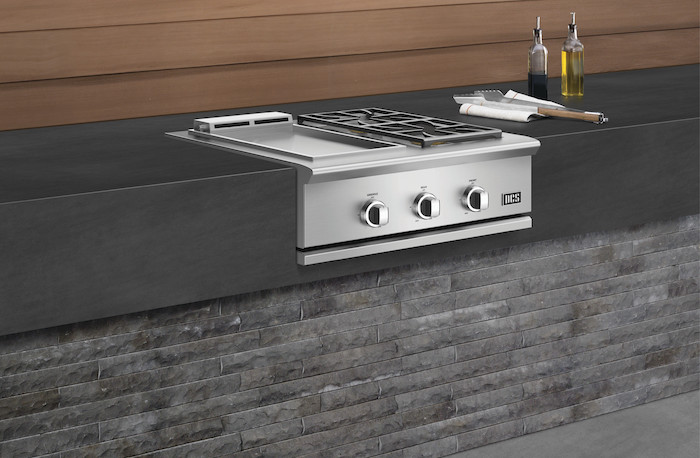 Outdoor Cooktop: While side burners have been popular for years, today's built-in outdoor kitchens call for more power and versatility. The DCS Liberty Collection BFGC30BGDN 30-Inch Built-in Gas Dual Side Burner and Griddle offers two gas burners and a smooth griddle surface that heats up quickly and evenly, perfect for breakfast foods, delicate cuts of fish, toasted buns, and hot sandwiches. These new features make it easy to create delicious dishes that are not customarily cooked outside.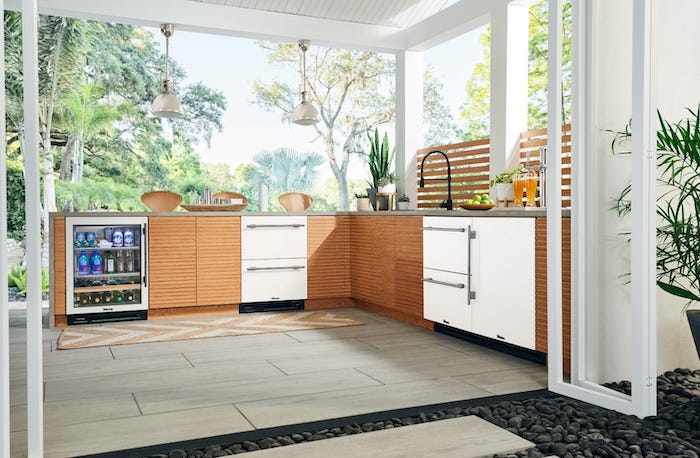 Wine Cooler: Whatever the occasion is for enjoying a nice bottle of wine, the True TWC-24DZ-R-SG-C 24-Inch Undercounter Wine Cabinet provides complete cooling flexibility for storing and pouring it outdoors. Separate zones make it possible to keep red and white vintages in the same place. Plus, multiple finishes and hardware combinations like Cobalt and Gold, Emerald, and Brass, or Saffron and Pewter provide the opportunity to design a one-of-a-kind fridge.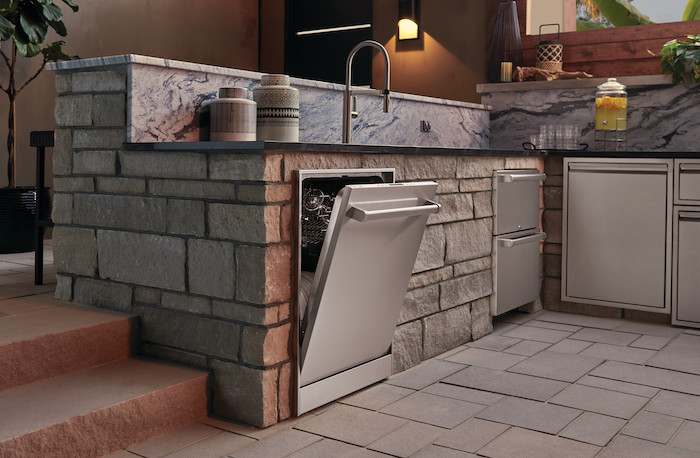 Outdoor Dishwasher: Never underestimate the convenience of a functional outdoor clean-up zone. Dishwashers make it possible to store outdoor dishes, glassware, and cooking tools where they are frequently used. The Asko Designer Series DOD651PHXXLS 24-Inch Outdoor Dishwasher holds up to 15 place settings and offers a carefully designed and tested rinsing system, comprising of nine spray zones that cover every corner of the dishwasher compartment.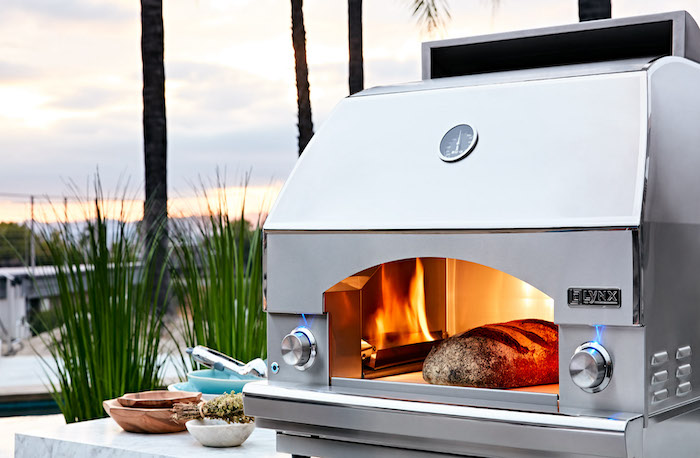 Pizza Oven: With more people cooking, dining, and entertaining outside, menu options are expanding. The Lynx Professional Grill Series LPZA 30-Inch Outdoor Oven offers 400 square inches of cooking space. Its infrared burner heats up quickly and can achieve temperatures up to 700˚ for restaurant-grade performance. This oven makes it possible to craft incredible pizzas at home. The oven can also be used for other creations including rustic apple cake, rosemary braised lamb shanks, or finish grilled salmon's garlic sesame sauce into a shimmering glaze.
—By Jessica Petrino, educator & appliance expert at AJ Madison