Steam Ovens: A Healthy Way of Cooking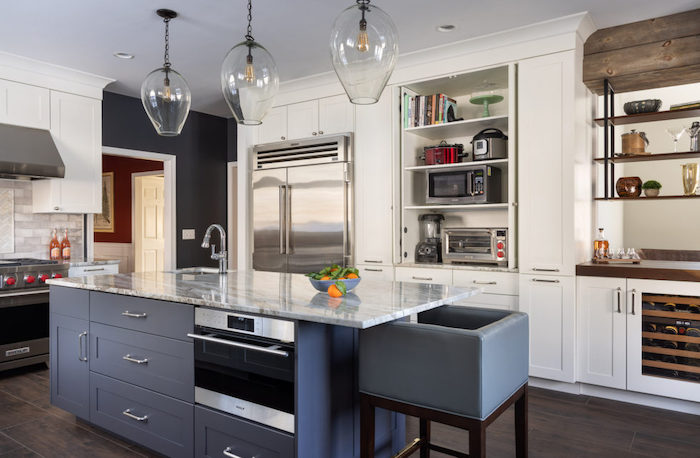 August 15, 2022
How can we bring a healthier lifestyle into our homes? That is the question many clients ask during our initial design meetings. Creating a nurturing environment to add wellness and mindfulness into our daily routines is a standard component for the bathrooms we design but what about the kitchen? How can I help my clients bring those same elements into the heart of their home? Yes, there are the colors and finishes but what about how we prepare our food? Design feeds our souls but food feeds our bodies. Cooking with steam is a great way to prepare just about anything. Steam ovens are the perfect healthy alternative to a microwave.
What are the Advantages of Steam Ovens?
Steam cooking has been around for thousands of years. Professional chefs have been cooking with steam for quite some time. You can reheat, bake, roast, grill and defrost all in one oven. Modern steam ovens have a water reservoir that injects water into the oven cavity creating steam, making the cooking process faster, more efficient, and healthier. It keeps food moist so adding butter, oil, or other fats is not necessary. Cooking with steam can turn ordinary cooking into extraordinary food preparation. More important, it's still possible for clients to use their favorite recipes.
Meats are tender and juicy while baked goods are fluffy and delicious. Best of all, it's possible ctoan use the steam oven to reheat food. Refrigeration tends to dry out leftovers. The steam oven reintroduces lost moisture while reheating. You can save money using a steam oven. Don't let the size fool you. With the combination of steam and convection, large items like that holiday turkey fit just fine. The smaller interior uses less energy in cooking. Steam cooks quicker meaning less electricity is needed to prepare that meal. Not only do steam ovens save the nutritional value of food, they save on energy costs cooking it.
What Makes Steam Cooking Healthier?
No added fats and oils are needed to keep food moist
You can cook several items at the same time with no flavor transfer
Steam cooking retains natural vitamins and minerals making your food more nutritious
Steamed food maintains its cancer-fighting properties
You can reheat food with steam instead of using the microwave. Food looks and tastes better
Steam cooking doesn't alter the appearance of food
You can cook meats, vegetables and even desserts
Where to Find Recipes for Steam Ovens?
With the advent of smart technology, the recipes and cooking controls are now built right into the oven. You simply tell the oven what you are preparing and the weight of it. Many manufacturers have their own versions of steam ovens. Some are combined with convection ovens so you can use convection only, steam only, or a combination of both. This gives you the ability to have a crispy outside and tender inside. WiFi-enabled control panels let you control the oven from your phone.
With today's busy lifestyle, healthy choices for both eating and preparing meals have taken center stage in the kitchen. The introduction of steam into our appliances has added a new dimension to preparing healthy food for families. I have had hands-on experience with both Wolf and Signature Kitchen Suite appliances equipped with a steam cook option. Miele also offers built-in steam ovens
—By Sharon L. Sherman, ASID, NCIDQ, CID, CKD. Sharon is the founder of Thyme and Place Design, in Wyckoff, N.J.