The Paint Doesn't Match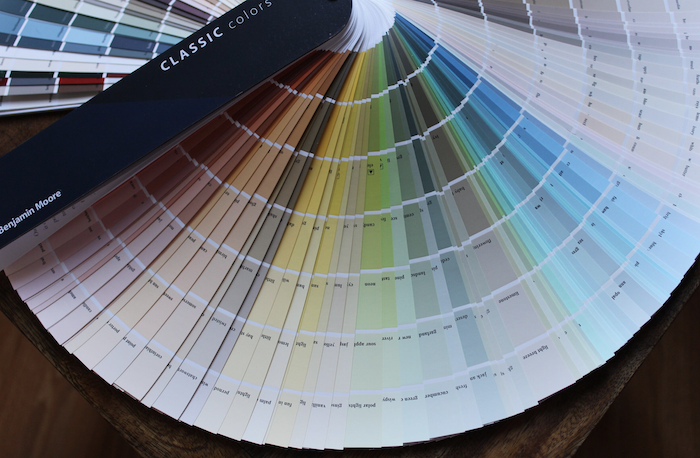 March 6, 2023
A discussion point I frequently have with people is that the paint on the crown molding doesn't match the paint on the cabinets. Or the paint color on this wall doesn't match the paint color on that wall. Here are a few reasons why.
Paint reacts and can look differently depending on the way the sunlight hits it, what other colors are around it, the way other lighting reflects off of it, the sheen of the paint and the time of day. That's why I always suggest looking at the color you are considering in the space it will go, with the hardwoods and at different times of day, because it will look different with all of those things.
The crown molding is turned at a different angle than the cabinets, causing the light to hit it differently and the color to appear different. If you held the crown molding straight next to the cabinet, it would be a dead match.
The wide expanse of red hardwood floors are casting a red sheen on the walls and making the wall color appear different. Will a rug and furniture in the room affect that? Have you looked at it in the evening when sun is not reflecting off of the walls?
Semigloss sheen paint, what is normally used on trim, and eggshell sheen paint, what is normally used on walls, will reflect the light differently. If you are painting your walls and trim the same color but using different sheens, expect to see a difference.
The wall color will appear darker at night when there is less natural light than during the middle of the day when there is an abundance of natural light. This is a great time to consider the artificial light that you have in the space. Do more lights need to be added for the evening time or is it ok that the walls appear a bit darker?
Before you have a panic attack, consider one of these possibilities. At the end of the day, remember, it's just paint. It CAN be painted over if the color ends up being just wrong.
—By Jessica Webber, AKBD, owner of Webber Coleman Woodworks