TikTok's Top Views for Interior Design Trends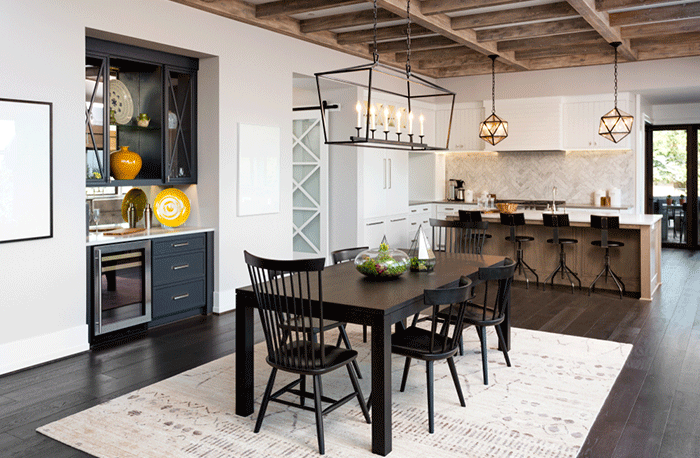 August 1, 2021
With TikTok catering to every niche, it's no surprise its popularity is only continuing to grow. Interior design is one such niche – with designers taking to the platform to showcase their work – that has proved to be a huge hit, with #interiordesign boasting more than 5.9 billion views.
This inspired the home insurance experts at money.co.uk to discover which of TikTok's most-viewed global interior design trends have made the biggest impact in our homes this year. They analyzed the number of Google searches from January 2021 and compared them to the present (June 2021) to determine which trend has increased in popularity most.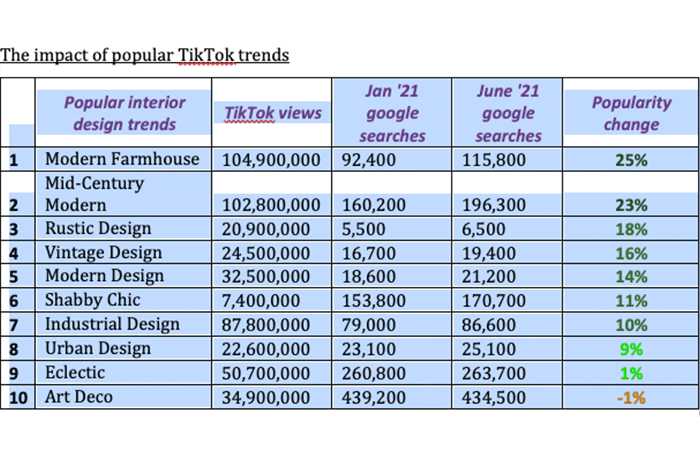 With more than 104 million views, the interior design trend that has increased in popularity in 2021 the most is modern farmhouse (top photo). After analyzing the 2021 Google search volumes for this trend, the figures show a whopping 25% increase in searches from January 2021 to June.
Placing second, with more than 102 million views is the interior design trend of mid-century modern, which has seen a 23% increase in searches since January. Taking the third spot is rustic design, showing an 18% increase in searches. In fourth is vintage design with a 16% increase, and in fifth is modern design with a 14% increase in popularity since the beginning of the year.
Rounding off the list of top 10 TikTok interior design trends that have had the biggest impact this year is Art Deco. Although the trend has amounted to a huge number of views (34 million), the number of those searching for it has dropped by -1% in the last six months.
Methodology
Firstly, money.co.uk made a list of the most popular and well-known interior design trends using multiple online sources, like Adorable Home and Luxdeco.
They then analyzed each interior design trend on TikTok to discover which had the highest volume of views. A variation of each trend was used to make sure the hashtag with the highest views was chosen (e.g., #UrbanDesign #UrbanDecor).
With a finalized top 10 list of the most popular interior design trends on TikTok, money.co.uk input each trend into SEMrush to compare the number of average monthly searches from January 2021 and this month (June 2021).
The percentage increase between both dates was calculated, and each trend was then ranked to demonstrate which was proven to be the most popular.
*All data was collated on 6/28/21 and is subject to change.