Why Clarity is Important in Your Design Business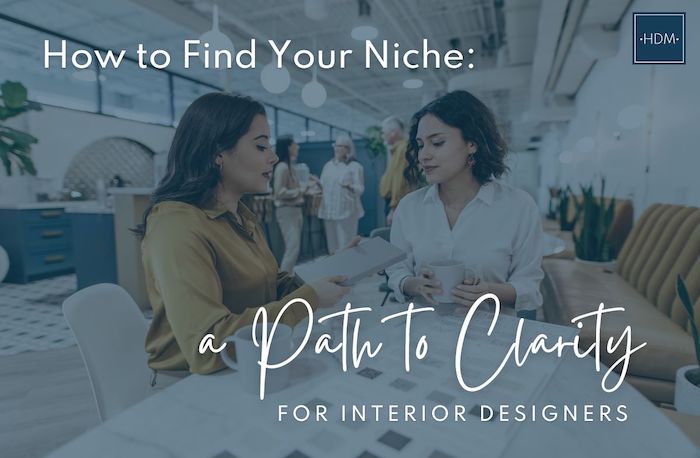 September 25, 2023
Take a moment to reflect – if you cannot clearly express the purpose, offerings, and uniqueness of your business, how can you effectively communicate this in your marketing or to your ideal clients? Without a clear understanding of your business, your target customers will also lack clarity, making it difficult to attract the right clientele.
A consistent and concise message builds trust, improves communication and generates high-quality leads, ultimately leading to a profitable business.
But that's not all. Gaining clarity as an interior designer brings joy and purpose to your work, which in turn attracts and inspires the ideal clients you aspire to work with. So, what is the solution to finding clarity and establishing your niche market?
In this seven-step framework, we will reveal how you can achieve the clarity necessary to position your business online and attract your dream clients.
Clarity is Key
Step One: Understand Your Personal "Why". Every business journey starts with a personal 'why'. Understanding this fuels your passion, keeps you going during tough times and resonates with your ideal target audience. Here are some examples:
● Passion & Creative Freedom: Exercising your unique creative muscle every single day
● Control Over Future: Being your own boss and making decisions that align with your goals and ethos
● Choice of Collaborators: Choosing who you collaborate with, ensuring a synergy in vision and values
● Pride of Creation: Showcasing your dedication and expertise and leaving a legacy with every completed design
● Flexible Living: Balancing life and work according to your pace
● Eternal Learner: Pushing the boundaries of creativity and continually learning
● Financial Perks: Having the resources to upscale, reinvest, and even enjoy some of life's luxuries
Step Two: Understand Your Professional "Why". While knowing your personal "why" keeps you motivated, communicating your professional "why" is what helps you identify your niche, draws potential clients into your business and inspires trust. Some examples that may speak to you are:
● Realizing Dreams: Do you find endless joy in transforming a client's design dreams into reality?
● Design Mastery: What is your design "superpower?" Whether it is kitchen design, space planning, color schemes, or furnishings, let this help you decipher your professional "why"
● Problem-Solving: You enjoy solving design challenges for your clients and overcoming tricky obstacles
● Professional Training: Backed by rigorous training, you bring in a blend of academic knowledge and practical experience
● Project Management: Beyond design, ensuring every piece fits, every deadline met, and every collaboration streamlined, is your forte
● Exceptional Communication: Your ability to translate design jargon into simple conversation helps clients visualize better
Step Three: Research Your Niche Market. Knowing your target audience is an essential step in building a clear vision for your interior design business. Identifying your ideal client also sharpens your marketing strategies, to be more targeted toward those you are attempting to attract in niche markets. Here are the factors you should assess when conducting target market research:
● Demographics: Understand not just who your potential customers are, but delve into their lifestyles – from their profession to their hobbies, for a more tailored approach
● Location Insights: Whether it's uptown chic or countryside charm, know where a specific audience resides and what design aesthetics the locale demands
● Online Behavior: From Google search volume for keywords related to favored social media platforms, understand where potential customers spend their time and how they interact with your business online
Step Four: Decide Why They Are Your Ideal Client. Understanding what makes a client 'ideal' helps in crafting interior design services that resonate with their needs and desires. Neglecting this might result in mismatched expectations once you begin working with new clients, which can disturb your process and lead to unfavorable reviews. Make sure you know the following about your niche market:
● Project Style Preference: Maybe you design more modern urban designs or rustic countryside aesthetics. Your ideal clients should enjoy this style, making each project a harmonious collaboration
● Project Size Compatibility: Whether you thrive in cozy apartment spaces or sprawling mansions, knowing the size of projects you want to take on ensures you are always in your element
● Budget Alignment: When your ideal client's budget aligns with your service offerings, it sets the stage for clear expectations and smooth project execution
● Geographical Affinity: Some designers have a favorite cityscape or a particular countryside they enjoy working in. Being in your favorite locale can inspire your best work
● Shared Interests: When clients share your passions outside of work – be it art, culture or travel – it fuels deeper connections and richer design narratives
Step Five: Recognize What Problems You Are Solving. Recognizing and communicating the problems you solve positions you as a valuable asset in the eyes of your dream clients. Below, you will find examples of problems interior designers often solve. What resonates with you?
● Specialized Project Assistance: From luxury villa makeovers to chic penthouse revamps, you offer tailored solutions to specific project needs
● Navigational Guidance: The design process can be intricate. You act as the compass, guiding clients through each phase, ensuring they are always in the loop
● Resource Acquisition: Sourcing the right materials or exclusive furnishings can be an exhausting task. Your extensive network and know-how make it seamless
● Project Coordination: Properly managing contractors, artisans, and suppliers is integral to a successful project. Your expertise ensures everyone is orchestrated in perfect harmony
● Tackling Unforeseen Issues: Design projects often have unpredicted challenges. Your problem-solving skills ensure these hiccups are resolved without issue
Step Six: Decide What Your Service Offerings Are and Make Them Clear. A lack of clear offerings can be confusing and a deterrent to potential clients. If it is too difficult to make a decision with how to move forward with your services, the easier it is for them to make no decision at all. Make it a no-brainer for them to work with you! Here are some common service offerings to consider communicating across your marketing materials and website:
● Range of Projects: From new constructions and transformative remodels to strategic staging or commercial ventures, you cater to a spectrum of needs
● Consultation Expertise: Whether it's about the right color palette, paint selection, or any other design aspect, your consultations provide clear direction and confidence
● Furnishing and Décor: Your knack for selecting the perfect furniture, fixtures or décor ensures each space feels complete and cohesive
● Bespoke Creations: Custom-designed furniture or exclusive window treatments can elevate a space. Your connections and creativity bring these unique visions to life
● Virtual Design Services: In this digital age, e-design or conceptual design allows clients from afar to harness your expertise, transcending geographical limitations
Step Seven: Explain Why Your Ideal Client Should Choose You. Your unique value proposition (UVP) distinguishes you from the competition quickly and clearly. Not communicating this can lead to missed opportunities.
● Style Specialization: Your niche mastery, be it in minimalist, bohemian or modern design, crafts uniqueness in every project
● Experience: Years of hands-on work translate into a portfolio that showcases variety, innovation and grandeur
● Accolades: Awards are not just trophies, but testimonials of your dedication and expertise in the field
● Publications: Features in top magazines bolster credibility, showcasing peer recognition
● Education: Every course, every seminar, every workshop you've attended sharpens your edge, enriching your design vocabulary
● High-Profile Projects: Handling prestigious projects speaks of trust that renowned clients place in you and showcases a loyal customer base
● Exclusive Collaborations: Partnerships with top brands or design houses mean your clients get nothing but the best
Showcasing Your Unique Value Online
Finding clarity is only the first stage. Now you must put this clarity to good use and ensure your website and marketing strategy accurately reflects your business. A potential client decides in mere seconds whether you are their pick. Make those seconds count by creating a website that appeals to your niche market.
Need proof? Check out these interior design website transformations and the difference having a clear, branded website with a strong unique selling proposition can make for your business.
It's Time to Find Your Niche and Win Dream Clients
Every business journey is about understanding and conveying purpose, and as an interior designer, this purpose is doubly crucial – whether you're trying to attract niche business or targeting a broader market. Ask yourself, "Is my business's purpose crystal-clear to my ideal client?" Remember, achieving clarity is the roadmap to attracting your dream clients, building trust, and generating quality leads. Keep putting energy into your website and your online marketing efforts until the answer to that question is a resounding "yes!"
Are you seeking more expert guidance for your design business? Request a free brand, website and SEO audit with Home Designer Marketing. Your journey to absolute clarity can start now.
—By Debra Scarpa, owner and designer, Home Designer Marketing
Photo credit: Home Designer Marketing