American Standard and DXV Brands Invest in Design and Innovation
---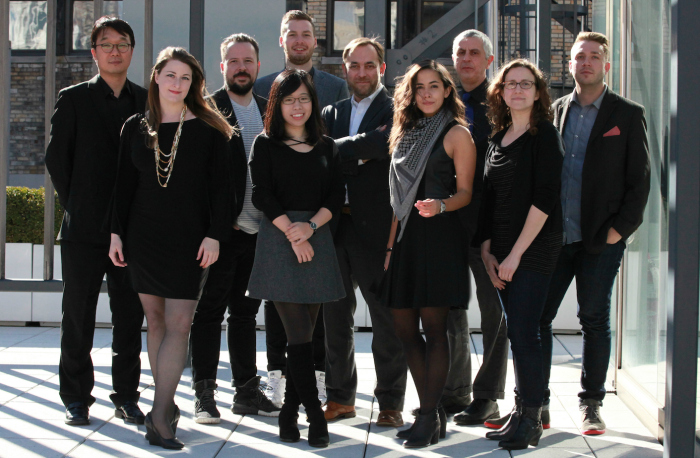 April 11, 2017
Demonstrating a commitment to innovative product creation, American Standard and DXV announce the opening of a new industrial design studio in New York City, as well as the addition of four new designers to the LIXIL design team.
"Moving our design studio to New York makes sense," said Jean-Jacques L'Henaff, vice president of design at LIXIL Americas, the business unit under which the two bath and kitchen brands operate. "It provides us with direct access to a climate of culture and energy that you get in a diverse metropolis. An unparalleled talent pool of gifted designers is imperative in order to reach our mission of innovative, compelling and inspired design. These changes demonstrate to our customers how passionate we are in achieving this goal. With this move, we now have our finger on the pulse of contemporary art, design and architecture. We are committed to the future of our brands and to homes across North America."
Recent examples of these efforts include the ActiClean self-cleaning toilet and the remote-operated Spectra Touch showerhead, which were showcased at the 2017 Kitchen & Bath Industry Show (KBIS). Both new products were the result of extensive consumer research and prototyping, yielding unique user benefits combined with sleek, appealing design.
The industrial design team will continue to use its industrial design studio opened in 2015 at the company headquarters in Piscataway, N.J., to facilitate communication with the marketing and engineering teams.
To further augment LIXIL design capabilities, as well as refresh and expand existing American Standard and DXV collections, four talented new individuals have joined the award-winning industrial design team. Hailing from a variety of backgrounds, both culturally and professionally, each member of this dynamic team brings a unique perspective to new projects.
Kibok Song joins American Standard and DXV as design director, special projects, from Hewlett-Packard, where he developed premium commercial tablet, notebook and work station computers for many years. His previous industrial design experience also includes positions at Eastman Kodak, Radius Product Development and Beyond Design. Song holds a master's degree in design from the Illinois Institute of Technology and a Bachelor of Fine Arts in industrial design from the University of Seoul, South Korea.
Jacob Nitz joins the team as a senior designer with years of experience with American and European design labels and firms, most recently at his own Jacob Nitz Studio in the Netherlands. His prior experience includes positions at JSPR in the Netherlands and MNML in Chicago, Ill. Nitz earned a Bachelor of Science degree in industrial design from the University of Cincinnati, where as a student he was selected to show his work at the International Contemporary Furniture Fair (ICFF) in New York City.
Also bringing international design experience to the team is Sherry Jiekun Qian as a junior designer. After holding an industrial design position at the State Key Lab of Rail Traffic Control & Safety in Beijing, China, she came to United States to pursue a Master of Fine Arts degree in industrial design from the Rochester Institute of Technology. In addition, Qian traveled to Denmark to attend Scandinavian furniture design programs. She holds a Bachelor of Engineering degree in industrial design from Beijing Forestry University in China.
A recent graduate of Purdue University with a Bachelor of Arts degree in industrial design, Calum Wagner completed a design internship in New York City last year. Wagner often finds creative inspiration in travel and adventure, and is delighted to begin his career as a junior designer with the American Standard design team.
"Our industry has been using many of the same manufacturing technologies — melting and casting metal to make faucets, or firing clay to make toilets — for over 150 years," said L'Henaff. "The new opportunities that technology offers to the plumbing world, both in manufacturing and as 'smart' features integrated into products, will enhance functionality and make life more beautiful in the coming years. As our team of incredibly talented designers continues to grow, American Standard and DXV are ideally positioned to make the most of these exciting advancements in design."