Choosing the Right Partner for your Smart Home Project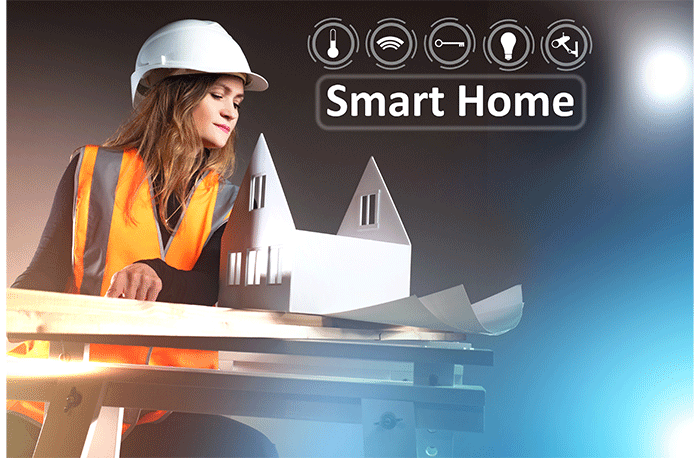 October 17, 2023
The integration of technology has become increasingly important in creating spaces that are both aesthetically pleasing and highly functional. Interior designers play a crucial role in achieving this balance, and partnering with the right technology integrator on a smart home project is essential. This is a professional who specializes in designing, installing and integrating various technologies within a home to create a seamless and connected living environment. They design and implement solutions that incorporate lighting, audio/video, security, smart home, networks, motorized shading, wellness solutions and more.
The Home Technology Association recognizes the significance of designer-integrator collaboration, emphasizing the importance of selecting a qualified integrator who respects designers, possesses technical expertise and excels in collaboration, communication and customer service.
Let's delve into the critical role of a qualified home integrator and how partnering with one leads to exceptional spaces and alleviates stress.
Respecting Interior Designers
Designers possess a discerning eye for aesthetics, ensuring that every element within a home aligns with the overall vision. A qualified integrator values the designer's expertise, working collaboratively to integrate technology without compromising aesthetics. When designed properly, the technology systems will enhance the home's ambiance while respecting the designer's vision.
Effective Communication
Initially, a qualified integrator is a technology consultant, actively listening to the homeowner's and designer's needs before making any technology recommendations. An integrator should be brought into your project as early as possible. The best ones can provide design drawings and documentation to define where the technology systems will be located. With this advance collaboration, potential misunderstandings can be avoided, and aesthetics are maximized.
Exemplary Customer Service
The best integrators are committed to exceptional customer service. They place great importance on customer satisfaction, displaying responsiveness and attentiveness. By offering comprehensive post-installation support, a reputable integrator ensures the long-term performance of the technology systems, providing homeowners with peace of mind. Much like interior designers, the best integrators have a lifelong relationship with the client.
Technology Solutions
The world of home tech is constantly evolving. New product categories and product evolution give interior designers a wide selection of options to hide and blend technology into the decor.
A qualified integrator stays up to date with the latest advancements, enabling them to recommend and implement the most suitable solutions for each design project. Whether it's intuitive lighting control, motorized window treatments or a home theater, a skilled integrator brings technical expertise to the project, ensuring technology seamlessly integrates into the design while enhancing functionality.
Choosing the Right Integrator
A great integrator keeps up to date with the latest tech trends, so you don't have to get bogged down in the details. Lean on your integrator, and they'll give you the information and installation skills needed for each project.
The HTA created the home technology industry's first standard of excellence for integration firms. HTA-certified integrators are from vetted firms that have met the HTA's stringent criteria. HTA certification is akin to Michelin stars for the best restaurants and GIA ratings for the best diamonds.
To further help interior designers find the most designer-friendly integrators, the HTA launched the HTA Design Partner designation in 2023. This is an opt-in program open to HTA-certified integrators. Firms that opt into this program commit to be collaborative and respectful design team partners. Learn more about this designation here.
By Josh Christian, CEO of the Home Technology Association, htacertified.org
Photo credit: Grispb/Adobe Stock