Do the Brightest Ideas Begin in the Shower?
---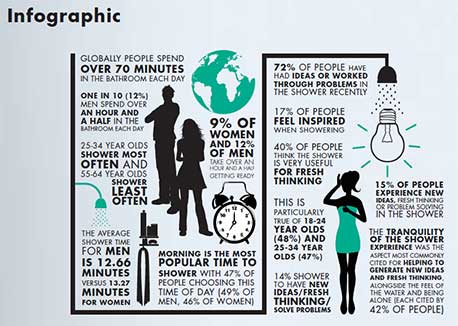 November 21, 2014
A new survey contributed to by cognitive psychologist Scott Barry Kaufman Ph.D. and commissioned by Hansgrohe shows that 72 percent of people have experienced new ideas in the shower. In fact, 14 percent take showers for the sole purpose of generating creative thoughts and insights.
"As a pioneer in shower technology for over a century, we are firm believers in the power of the shower, including its beneficial effects on the mind," said Richard Grohe, deputy CEO of Hansgrohe SE. "To gain more insight into the subject, we reached out to Dr. Kaufman, a highly regarded expert in the field of creativity. His survey suggests that the sensation of the water's spray combined with the tranquility of the showering ritual may help free the brain and stimulate fresh thinking. We are pleased to provide this experience through our products and will continue to innovate in the category, whether through research, testing at our dedicated spray lab in Germany or via bright ideas born under our own personal showers."
"It's both surprising and fascinating to learn that people are more creative in the shower than they are at other places like work," said Kaufman. "The survey reinforces existing research on the importance of relaxation for creative thinking. The calm, solitary and non-judgmental shower environment may afford creative thinking by allowing the mind to wander freely and may cause people to be more open to their inner stream of consciousness and daydreams."
Other discoveries from the survey include:
People spend an average of 70 minutes in the bathroom each day.
Women spend longer in the bathroom with an average of 73 minutes versus men's average of 67 minutes.
Across all countries studied, more members of the younger age groups (18-24 and 25-34) showered specifically for new ideas, fresh thinking or problem solving.