Education Options: Vocational or Academic?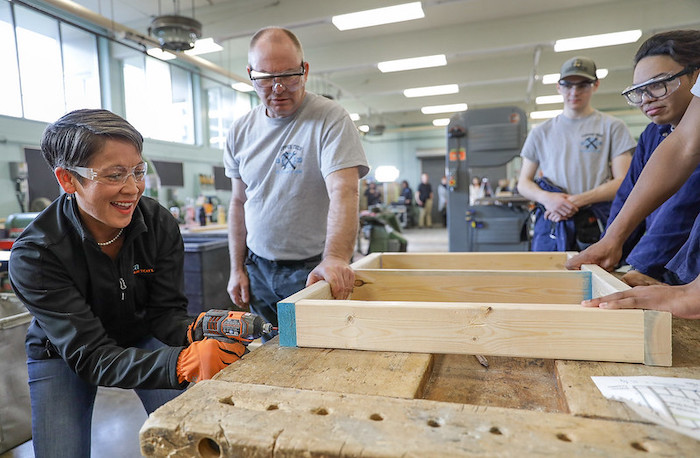 September 17, 2023
As a European immigrant to the U.S., it's virtually impossible not to compare the lifestyle, culture and nuances of how things are done from one continent to the next. There are little things, like the rarity of finding the original Pilsner beer at an American pub, and significant things, like an entire educational system in need of an overhaul.
I want to be very transparent in that I am not an expert on the subject of education or an educator by trade. What follows is based on my experiences, personal opinions and a bit of common sense.
Growing Up Czech
My father was an architectural designer and construction manager. My favorite pastime was to sit with him at his desk as he created blueprints – that magical dance of ink pens and rulers that ultimately transformed into a real-life structure. I knew early on that I wanted to follow in his footsteps and enter the residential construction business.
Yet, I never felt pressure – from my family or society – around setting long-term goals to get into the best colleges as I've witnessed it here in the U.S. That's because I grew up in what is now the Czech Republic, where the education system and societal attitude fosters individual growth while training students for well-paying, in-demand jobs without the need of a college degree.
And thank goodness, because according to the Federal Reserve, student loan borrowers in the U.S. – all 43 million of them – collectively owe an astounding $1.78 trillion in student loan debt.
Education Configuration Across the Pond
Allow me to outline, in a simplified fashion, the Czech school structure while recognizing that there exist many more layers and, therefore, additional options available to students. As in the U.S., children at the preschool age develop social skills and early learning habits. Primary school follows from ages six to 15, and secondary education from ages 15 to 19.
Ninth grade in the Czech Republic is when things diverge from the U.S. experience. At the beginning of the school year, students are asked to choose a secondary education track in one of two categories, general or vocational, based on their interests, skills and grades.
General secondary schools in the Czech Republic are primarily designed for academically inclined students who intend to study medicine, law or the sciences. They receive an accelerated curriculum with higher learning demands but no specific area of study. Applicants must pass entrance exams to be considered for admission and receive their graduation diplomas after successfully completing the exit exams.
Vocational Education Training
The other track, the one I ultimately chose, is vocational education and training (VET), which offers two levels of education: vocational/trade schools with a completion certificate or professional technical schools with a graduation diploma. Like the general secondary schools, the professional technical schools require entrance exams and screening for admittance, whereas vocational/trade schools typically require simple skill tests and decent grades for entry.
Most VET programs are part of the public school system and therefore free of charge. VET students learn everything they need to know about their chosen profession and gain practical, hands-on experience. VET career paths might include anything from becoming a mason or electrician to nurse or kindergarten teacher. After three to four years of study and training, those who complete the program receive a certificate of completion or a graduation diploma.
After passing the entrance exams, I was admitted to a professional technical school with a focus on construction management and architecture. I chose the program to build a foundation for my ultimate goal to pursue an architecture and interior design degree at the university level.
My VET Education Experience
During those four years, we delved into every aspect of residential construction – design, planning, and building processes; materials and products; how to read and write blueprints, structural envelopes and how to calculate load-bearing capacity; how to survey land, plumbing, electrical, and heating; permitting and client contracts; scheduling; inspections; zoning; environmental considerations; and more. We took field trips to job sites, manufacturing plants and vendor showrooms and worked with trades for hands-on learning experiences.
At the beginning of the final year, I was assigned a project for the exit exam to design a single-family home based on a fictional building plot and a client wish list. I designed the house, drew the necessary documentation (by hand back then!), calculated materials and products, generated structural engineering reports and prepared permit applications. We were given roughly six months to complete this work in tandem with our regular class schedule. After submitting the project to a committee of teachers for review, defending it in person, and passing the written exams, I proudly received my graduation diploma in construction management.
Job Guarantee, College Optional
I did go on to study at a university as I had planned but not because I felt societal pressure to do so. In fact, many of my classmates opted to join the workforce immediately instead. They found work as construction project managers, drafters for architects and sales staff at construction supply stores.
Interestingly, more than half of secondary-level students in Europe participate in vocational programs. By the time they are 18 years old, these students have already acquired valuable skills with which to enter the job market and become productive members of society. The system supports the talents, ambitions and intellectual development of young adults while instilling independence. And anyone with a graduation diploma (from any school) and the desire to attend a college or university is encouraged to apply.
A Society Is Only as Strong as its Workforce
From my vantage point as someone who experienced a very different system of education, I see the economic and social advantages of recognizing that vocational, trade and technical learning centers can be an essential branch of the secondary school structure. The job market of today and, more importantly, tomorrow will demand sustainable competitiveness, social equality and resilience. Providing different pathways for success upholds that every child is smart, gifted and talented but in unique ways that might not fit into the current standardized 12-year program.
I certainly don't expect that one opinion alone will sway the U.S. Department of Education to create a more Czech-like school system overnight, especially when a complex structure of local, state and federal government entities is involved. But I do hope to inspire some individuals (parents in particular) to think differently, explore options and perhaps even promote these possibilities within their local governments when given the chance.
Modernizing on the state level is aspirational, to be sure, but I believe it is also achievable. The long-term economic benefits have been documented in many other countries whose education systems could serve as models for those willing to try.
The Industries Agree
There is an underlying current of support from trade professionals and public figures who promote trades as attractive career paths and advocate for re-establishing trade schools in the U.S. The Georgia Trade School, the nation's premier independent welding school, is a great example of an alternate post-secondary education. One can also look to the North Bennet Street School in Boston, founded in 1881 "to preserve craft traditions and promote a greater appreciation of craftsmanship, while training today's workforce for well-paying jobs that are in-demand and impossible to export." (These schools, however, are post-secondary and require tuition – unlike those in Europe, which are part of the public school system and fully funded.)
Professional associations remain committed to preserving and promoting the trades as well, providing continuing education, advocating for fair codes and standards, fostering safe work environments and recruiting future tradesmen and women. I am proud to be a member of one such organization – the National Kitchen & Bath Association – and there is a trade association for nearly every industry imaginable.
Considering the current economic needs and the widespread shortage of skilled workers in the U.S., it seems logical to advocate for an improved vocational training system. When state and local governments finally acknowledge their tremendous growth potential and when society finally removes the stigma of so-called "blue collar" jobs, the U.S. will take mighty leaps forward in student readiness for the job market. And this is a change that would truly benefit us all.
—By Gabriela Matuchova, CKBD of Haus 2690 Dsgn, located in Baltimore, Md.
Image: Creative Commons