Ferguson Sponsors WiPP — Women in Plumbing and Piping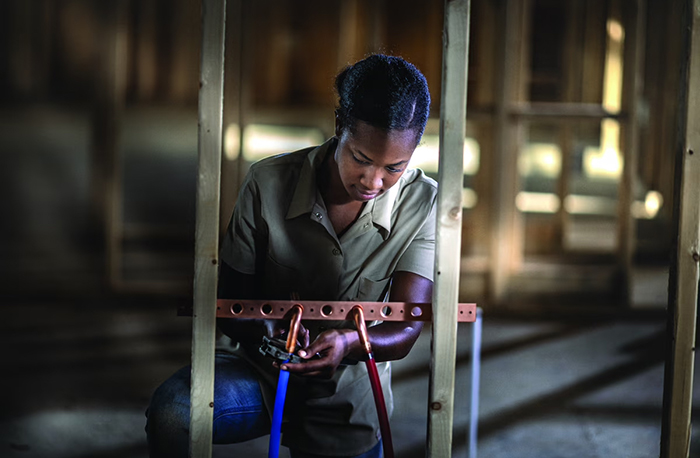 September 28, 2023
To unlock untapped potential by empowering women to close the skills gap, Ferguson has stepped up as the founding sponsor of WiPP — Women in Plumbing and Piping.
As the horizon approaches where the entire baby boomer generation will reach retirement eligibility by 2030, an exciting opportunity presents itself: the chance to redefine the skilled trades landscape. While the shortage of skilled professionals is being felt, the next five years offer a promising era for transformation.
With a building boom on the horizon, ongoing efforts to encourage young talent to explore trade careers gain traction. However, there remains a collective understanding that more work lies ahead. This pursuit demands innovation, the removal of barriers and the integration of underrepresented groups, notably women. In an industry where women constitute just 10% of the U.S. construction workforce, it is evident that there is untapped potential awaiting exploration. 
Stepping into this realm with fervor, Ferguson has come forward as a founding sponsor of Women in Plumbing and Piping (WiPP), an organization poised to catalyze positive change by fostering community, empowerment and resounding success among women in the skilled trades.
"The timing for women to enter the skilled trades has never been better," said Melissa Hazelwood, director of social impact at Ferguson. "With the recent federal investments in upgrading our country's infrastructure, available training and just the sheer volume of career openings, the opportunities for women are limitless. We're thrilled to partner with Women in Plumbing and Piping to help attract more women to and support the women currently in the industry."
Women: The Cornerstone of Pipeline Success
A Solution to the Skills Gap: As the baby boomer generation retires, the gap in skilled trades professionals becomes more pronounced. Often underrepresented in these fields, women emerge as a dynamic force capable of addressing this disparity. By embracing diverse talent, the trades industry can leverage women's expertise to bridge the impending skills shortage.
Diverse Skills, Fresh Perspectives: The infusion of diverse viewpoints spurs innovation. Women bring unique problem-solving approaches and fresh perspectives, which can drive creative solutions in an industry that often requires adaptability and ingenuity.
Enhanced Collaboration and Communication: Teams that reflect a spectrum of backgrounds and perspectives tend to collaborate more effectively. In an industry that thrives on teamwork, including women can lead to better communication, cooperation and, ultimately, project success.
Strong Role Models: The presence of women in leadership positions within skilled trades can serve as aspirational models for younger generations. When women succeed in these fields, it paves the way for others to follow suit, creating a self-sustaining diversity cycle.
Why the Ferguson and WiPP Collaboration Matters
Ferguson's collaboration with WiPP is more than an alliance; it is a commitment to shaping a more inclusive future for the skilled trades. This initiative championed by Ferguson is poised to transform the skilled trades landscape. Its four pillars—mentorship, education, networking and recognition—reflect a comprehensive strategy for integrating more women into the industry. This multifaceted approach attracts women and equips them with the tools needed to excel.

Mentorship: WiPP's mentorship programs provide an empowering environment for women to receive guidance from seasoned professionals. These initiatives offer a lifeline for newcomers navigating the intricacies of a predominantly male sector.

Education: WiPP's emphasis on education equips women with the skills and knowledge needed to excel in their roles. This investment not only propels individual careers but also elevates the collective capabilities of the industry.

Networking: WiPP creates networking platforms that foster connections, collaboration and knowledge sharing. These networks cultivate relationships that contribute to personal growth and professional advancement.

Recognition: WiPP's goal is to empower and recognize women with pathways to success.



"While more women are joining the trades there remains less than 4% of women who work as plumbers and pipefitters," said Kim Gill, WiPP executive director. "There's a real opportunity to close the skilled labor gap by creating awareness of these fulfilling careers, recruiting women into them and then supporting these women to keep them engaged. We are excited to work with Ferguson to attract and retain women into the industry with their support and through our collaboration."

As the skilled trades industry braces for the impact of retiring baby boomers, including underrepresented groups, particularly women, becomes a paramount consideration. With a forward-looking approach, Ferguson's collaboration with WiPP exemplifies the positive change that is possible. Integrating women in skilled trades is not just a step towards gender equality, it is an investment in a more resilient, innovative and prosperous industry. Through initiatives that foster community, empowerment and growth, the trades can create a brighter future with women at its core.
Photo credit: Ferguson