Hanwha Surfaces Opens Warehouse and Showroom to Support Increased North American Production
---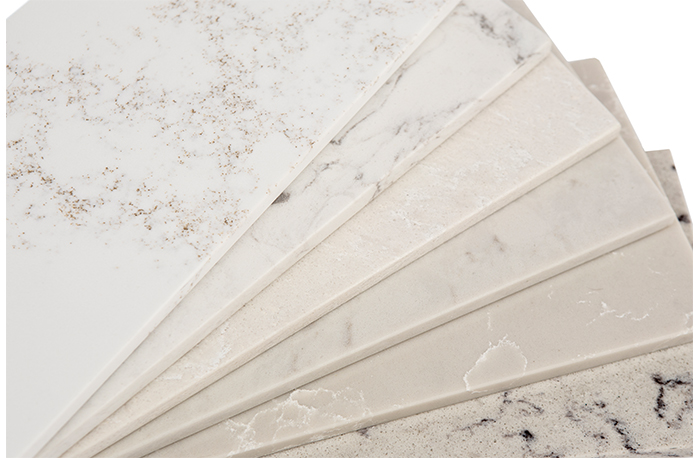 May 5, 2017
Hanwha Surfaces, the American subsidiary of international conglomerate Hanwha L&C | Surfaces, recently announced the opening of a direct distribution warehouse and designer showroom in Columbus, Ohio.
"Our new 40,192-sq-ft. distribution facility will allow us to provide our customers in the surrounding region next-day deliveries of both HanStone Quartz Surfacing and Hanex Solid Surfacing," said Glenn Kross the company's regional director. "This facility is a testament to our commitment to first-class service"
The opening of the new facility comes on the heels of Hanwha Surfaces' groundbreaking of a state-of-the-art second production line in Ontario in December 2016. The company also opened similar facilities in Philadelphia, Pa., in late 2015 and Springfield, Mass., in 2016.
"The sprawling facility is in close proximity to the London factory and will provide Ohio, Mississippi, western Pennsylvania, eastern Kentucky and West Virginia with daily deliveries," said Ed Parker, director of operations. "We have hired eight distribution center and four sales employees to serve the needs of our customers."
In a refurbished warehouse space, the company has taken great care to create not only a strong distribution channel but an inviting showroom and lounge area. The space will serve as a resource for local fabricators, kitchen and bath professionals and the A&D community, as well as an event space for relevant organizations in the region.
"The new facility gives Hanwha Surfaces the opportunity to directly engage and reach the fabrication, architecture and design communities," says Steve Becker, VP of sales & marketing. "With the opening of this warehouse, we have an increased ability to better serve our loyal customers throughout the Midwest and beyond."
In addition to highlighting full slabs of the popular, marble-inspired Cascina Collection from HanStone Quartz; the company worked with local fabricators Modlich Stoneworks and Distinctive Surfaces to create two islands with waterfall edges and seating, a vertical installation in the reception area and a refreshments bar. The space will also feature cabinetry from Pro-Source of Columbus West and an adjoining break room featuring an installation of Hanex Solid Surfaces on the bar and employee dining table.
The Ohio Distribution Center is located at 2833 Charter St, Columbus, Ohio.