Houzz Introduces Sketch for the Web
---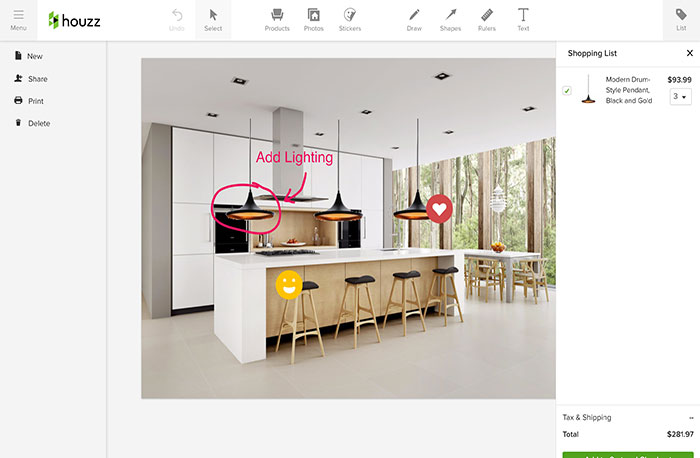 June 23, 2017
Houzz Inc., the leading platform for home renovation and design, today announced that Sketch, its popular communication, collaboration and design tool in the Houzz App, is now available as a web experience.
With Sketch, home professionals and their clients can communicate ideas and collaborate directly on any of the more than 14 million photos on Houzz — or images from their own library and around the web — by adding measurements, notes, stickers and more. Sketch also makes it easy to experiment with home decor options by adding products and materials from the Houzz Shop into any photo or blank canvas. Additionally, the tool can be used to create mood boards and floor plans from scratch, save them to ideabooks, and share them with clients, vendors or subcontractors.
"With Houzz Sketch, the sky's the limit on creativity, communication and collaboration," said Liza Hausman, vice president of Industry Marketing at Houzz. "We're delighted to bring Sketch to the web based on demand from our professional community for a free, cloud-based tool that helps them provide an amazing experience to their clients."
Houzz Sketch also enables pros and their clients to:
· Keep track of products added to a Sketch in a shopping list for easy checkout on Houzz.
· Select from over 150 stickers to make quick and simple notes, as well as to insert placeholders for products, materials and features they would like to add to their space.
· Choose any of the two dozen available Sketch Canvases to create mood boards and floor plans in an easy and lightweight way.
·  Save their Sketches to their Houzz ideabooks to easily share with others involved in a project. With push notifications, everyone stays up to speed whenever a Sketch is updated and multiple users can even make edits to a Sketch simultaneously.
Since Sketch was introduced on the Houzz App last year, homeowners and home professionals have created more than 1.5 million sketches.
To start a Sketch, simply click the Sketch button on any photo on Houzz or upload a photo to an ideabook.