Howard's Appliance Retailer Expands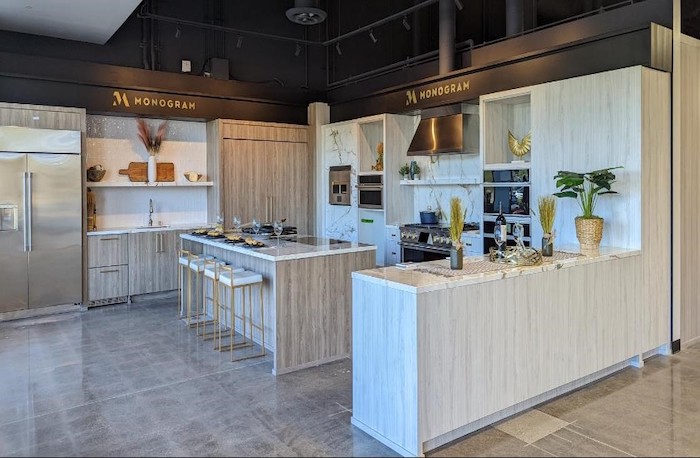 October 15, 2022
Howard's, Southern California's premier independent appliance retailer, has announced the grand opening of its newest Experience Center in Tustin. The new Experience Center, prominently located at The Market Place in Orange County, is the seventh of its type introduced by the premium retailer and the latest push in the company's current strategic expansion plan. Like its other locations, the Tustin site is designed to be a pre-eminent appliance hub for customers and trade professionals.
Howard's Tustin Experience Center serves the twin roles of stunning brand showroom and immersive demonstration center featuring technology and connectivity displays, in-store kiosks, and live product vignettes where customers can do a load of laundry, brew a cup of coffee or run a dishwashing cycle. Live, connected product suites allow customers to test out modern appliances from high-performance brands before buying them, and product experts are on hand to offer advice and answer questions. Howard's pioneered this hands-on, interactive facility model with the launch of their Long Beach location in 2020 and is now excited to bring the experience to shoppers at The Market Place in Orange County.
"We are thrilled to roll out our latest Experience Center at The Market Place, 2822 El Camino Real," said John Riddle, President & CEO, Howard's. "The sprawling outdoor complex – with its impressive collection of shopping, dining and entertainment options – is the ideal home for the newest Howard's center. Shoppers can explore exciting lifestyle destinations, grab lunch and stop in to browse our wide selection of major appliances, TVs, outdoor and mattresses for the home."
Howard's newest Experience Center integrates elements of the company's Revolutionary Appliance Retail Experience (RARE) initiative into its design for an unparalleled retail encounter. Streamlined, friction free shopping makes the space comfortable and attractive, while significant investments in innovative digital technologies have led to new, creative ways for customers to make purchasing decisions. Visitors are encouraged to touch and test drive smart, connected products and interact with the available friendly, knowledgeable, and tech-savvy product experts to get matched with the right products for their way of life.
The opening of the Tustin Experience Center is the latest in Howard's aggressive efforts to reach markets not yet served by the retailer. Howard's has opened six additional Experience Centers since 2020 in Long Beach, Huntington Beach, La Habra, Torrance, Laguna Hills and West Los Angeles. The leadership team has positioned the retailer as a "must-watch" brand with 75 percent growth in 2019 followed by an additional 24 percent in 2020 and 19 percent growth in 2021. Howard's is on track for double digit growth year-over-year. The company has also reported a 40 percent increase in new customer acquisition in the most desirable target audience segments for approachable, design-forward retailers carrying premium and core brands.
Ranked one of the Fastest-Growing Midsize Companies (#13) of 2021 by the Orange County Business Journal, Howard's has transformed the retail appliance shopping landscape in Southern California through a combination of organic growth, the targeted acquisition of independent appliance retailers, builder channel growth, new investments in website and ecommerce development, and the introduction of the Experience Center concept.
Howard's anticipates capturing 10-15 percent of the Southern California appliance retail market by 2024 and is well-positioned for regional development across the Western United States into new markets. In addition to its large showrooms located throughout Southern California, Howard's is on the fast track to roll out two additional Experience Centers in Agoura Hills and Murrieta in 2022.