Kohler Introduces Wellness Brand Sprig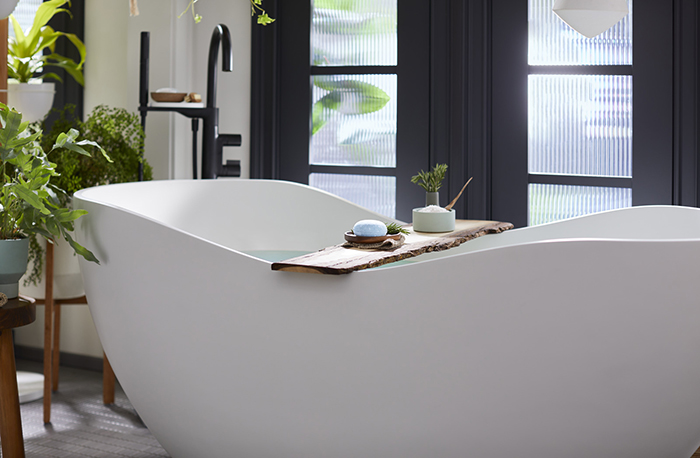 January 4, 2023
Kohler Co. is proud to introduce Sprig, a new wellness brand that elevates daily routines into premium self-care rituals. With numerous breakthroughs in plumbing and a history of creating award-winning spa destinations, Kohler has used water to create transformative experiences for generations. Sprig is the natural progression and evolution of that collective expertise. Built on the belief that being short on time does not mean one has to be short on experience, Sprig expands everyday moments by transforming standard routines into amplified wellness rituals. The shower — and the bathroom more generally — is a place where consumers go to relax, reset and recharge, and Sprig makes the most of those small and medium pockets of personal time.
Sprig's product portfolio was designed to create at-home spa experiences and includes innovative shower infusion systems with shower infusion pods, premium bath bombs, and versatile body and linen mists. The shower infusion pods feature sought-after skincare ingredients including hyaluronic acid and sodium PCA, and the bath bombs feature self-care staples including shea butter, coconut oil and kaolin clay. 
All Sprig products use clean, natural, premium ingredients and are thoughtfully formulated to be free of any proven or suspected toxins. Each Sprig blend is free from parabens, phthalates, mineral oils, sulfates SLS and SLES, and formaldehyde, and no Sprig product is subject to animal testing. Sprig pods are available in sample-size trial packs and multi-use formats, made from 94% post-consumer recycled material and are designed to be recycled again. Sprig partnered with experts to develop their infusion pods, bath bombs and mists, and each format is offered in six initial blend experiences that form the Essentials Collection.
Sprig's products are easy to adopt — the shower infusion systems install on existing plumbing in minutes for simple and seamless integration. The patented technology of the device infuses the water stream with scented blend from the selected Sprig pod, enhancing the shower experience with mood-matching aromas and premium skincare ingredients. Sprig's shower infusion systems and infusion pods are now available for pre-sale at StepintoSprig.com, shipping Spring 2023. The shower infusion systems come in two finishes, matte black and white with chrome. The recyclable shower infusion pods are sold in two formats — trial packs of six sample-size pods and individual multi-use pods. The premium bath bombs and versatile body and linen mists are now available for sale and feature the same signature blends from the Essentials Collection.