Redi Tech Virtual Shower Designer Takes Guesswork out of Shower Selection Process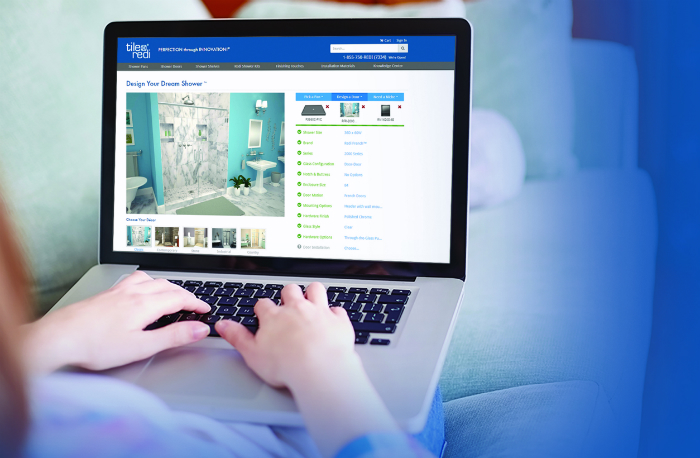 April 19, 2018
The Redi Tech Virtual Shower Designer takes away the guesswork by giving shoppers a true preview of what they can expect in a newly installed shower. Known for its shower products, Tile Redi now brings innovation to the selection process with a one-page online shopping solution that is easy to navigate. Shoppers can use our image-rich design and purchasing platform interface to view a variety of choices in shower pans, enclosures, shelves, tile and other accessories. Even custom shower pans and enclosures can be designed with this intuitive technology.
Redi Tech previews products in a virtual bathroom setting with each shopper's chosen décor. And as they select options like door type, glass configuration and hardware finish, fresh previews are generated before moving onto the next step. Redi Tech automatically calculates the configurations and measurements and then identifies which Redi Door glass shower enclosure options would be the right fit for the project. At the end of the selection process, Redi Tech produces a final image of the complete shower solution that shoppers have chosen.
To support trade professionals, the company has developed the Redi Tech Pro. This virtual tool allows builders, contractors, showrooms and wholesalers to select the products and features they want to showcase for each of their customers and in what order. The interface they present to their customers also includes established pricing, as well as their own branding and contact information.
Redi Tech is a brand technology application by Tile Redi.