Signature Kitchen Suite Opens East Coast Showroom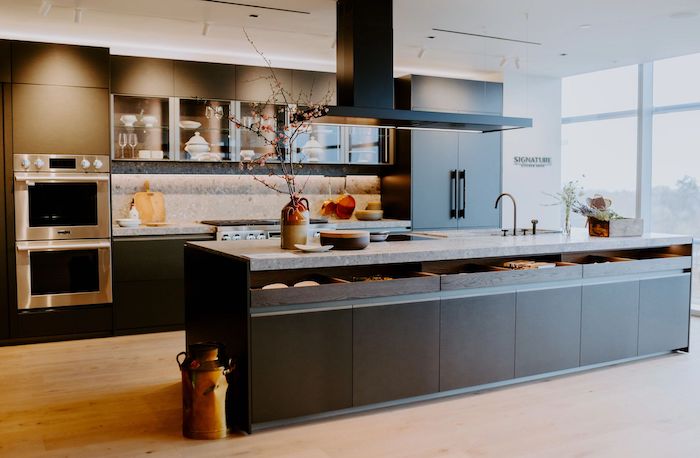 August 16, 2023
Signature Kitchen Suite, the industry trailblazer in the built-in luxury kitchen appliance category, debuted its new Skyline Showroom, a highly anticipated showroom addition for the brand. Located within LG Electronics' LEED Platinum-certified North American headquarters, this innovative East Coast showroom exemplifies Signature Kitchen Suite's unwavering dedication to delivering exceptional customer experiences and embracing its renowned True to Food mission.
Situated near the shore of the Hudson River with vistas of the iconic New York City skyline, the new showroom will serve as the Signature Kitchen Suite's East Coast hub for brand immersions with builders, dealers, designers and influencers. Forgoing conventional product presentations, the luxury appliance brand instead crafts an immersive experience tailored to its True to Food philosophy by enhancing the culinary experience through a focus on preservation, precision and innovation. The Skyline Showroom serves as a platform for showcasing this mission, where industry professionals and culinary enthusiasts are treated to interactive cooking demonstrations in its state-of-the-art chef's kitchen and engaging tutorials that blend entertainment with product education.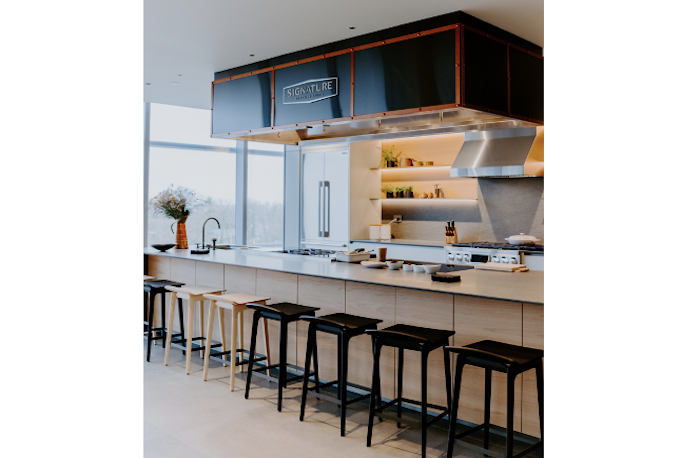 "The Skyline Showroom stands as the pinnacle point of culinary experience in the tri-state region, showcasing our luxury built-in appliances  within the LG headquarters," said Randy Warner, vice president of sales for LG Electronics USA and Signature Kitchen Suite. "This remarkable space serves as a memorable destination, offering a unique and immersive experience for our trade partners. The Skyline Showroom encapsulates our commitment to excellence across our product suite, where guests can witness firsthand the unparalleled craftsmanship and innovation that define the premium kitchen experience."
The meticulously planned showroom features two kitchens and dining spaces, with cabinetry and furniture from renowned luxury brand Molteni & C. Exquisite parquet floors from Listone Giordano, ceramic tiles from Porcelanosa and lighting from INCOLIGHT enhance the showroom's aesthetic appeal.
"We aimed to create a culinary oasis where functionality meets luxury, and the Skyline Showroom is the manifestation of that vision," said Helen Cho, head of marketing for Signature Kitchen Suite. "Every detail, from the award-winning kitchen appliances to the carefully curated furnishings and the immersive cooking experiences delivered by our onsite executive chefs, has been thoughtfully designed to inspire and delight our industry partners to experience a unique True to Food culinary journey. From our renowned Napa Valley Experience & Design Center to the newly launched Skyline Showroom, our brand is continuing to cultivate a strong portfolio of engagement tools for our partners."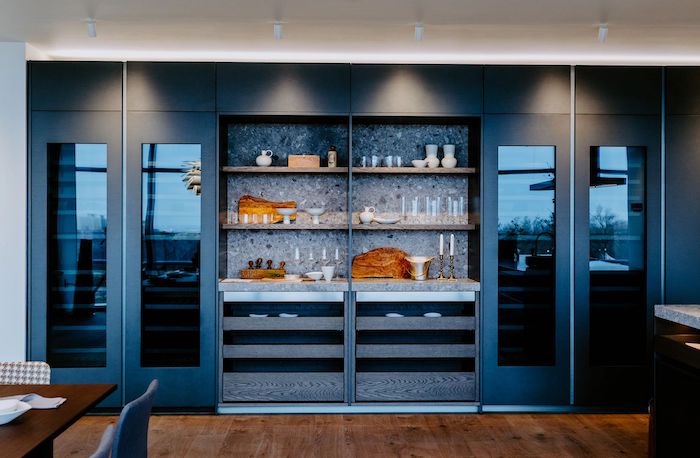 The Skyline Showroom incorporates the exceptional product offerings of Signature Kitchen Suite. The space proudly features the award-winning, industry-first 48-inch Built-In French Door Refrigerator, along with 48-inch dual-fuel pro-style ranges (boasting built-in sous vide modality), advanced induction cooktops, wall ovens, wine columns, ENERGY STAR certified refrigerators and dishwashers and more. This curated kitchen package embodies the brand's commitment to luxury and functionality, all with leading-edge technology to provide more flexibility to preserve and prepare food in the best possible way.
Cho added, "The Skyline Showroom exemplifies our unwavering commitment to delivering exceptional culinary experiences and showcasing our array of award-winning appliances to our East Coast industry partners. We believe that a kitchen is not just a space to cook, but a place where cul-inary artistry, leading-edge innovation and purposeful design converge."
Earlier this year, Signature Kitchen Suite hosted the NKBA's Thirty Under 30 class of 2023 in a multi-day immersive experience at the Skyline Showroom. The 30s started their day learning about the building itself, including many of its unique design features. Next, they were taken up to the showroom, where they were guided through each area, learning about the specifications and innovative technology of the appliances, including ranges with built-in sous vide technology. The 30s also visited the interactive LG Inspiration Lab, where they learned about some of the most innovative technologies from across the family of LG brands, including home appliances and home entertainment products.
KBB spoke with three of the 30s about their experience of the showroom.
Designer Loris Halasa of Colmar Kitchen Studio in New Jersey, said, "Having the opportunity to work with the appliances in a live kitchen demonstration by far stands out as my favorite part of the tour. It is through this experience that I was able to truly understand the intended use of the products and how they could impact the daily lives of the consumer. Simply browsing display kitchens would never have the same effect. I can't wait to bring my clients to the showroom to immerse themselves in this process."
Kendal Cavalieri CKBD, founder and principal designer of Buffalo, N.Y.-based Kendal Cavalieri Designs, was impressed by the kitchen designs. "They were stunning! There are two kitchens with different styles in one huge setting. One is more industrial, with gray counters, and the other is lighter, with wood cabinets."
Owner and lead designer of Salix Studio in Alberta, Canada, Mandy Wozniak, said, "My favorite feature was the immersive aspects of the tour, such as the cooking class with Chef Sakari while using the Signature Kitchen Suite appliances. Gaining practical knowledge and a thorough understanding of new technologies and features is so important. All the staff had extensive knowledge and were extremely personable, even within a large group. Building connections is key in our industry, and SKS understood the importance of creating such a strong community atmosphere during our visit."
—By Leslie Clagett, KBB managing editor