Today's Appliances: Specialized Options, Brand Loyalty and Future Potential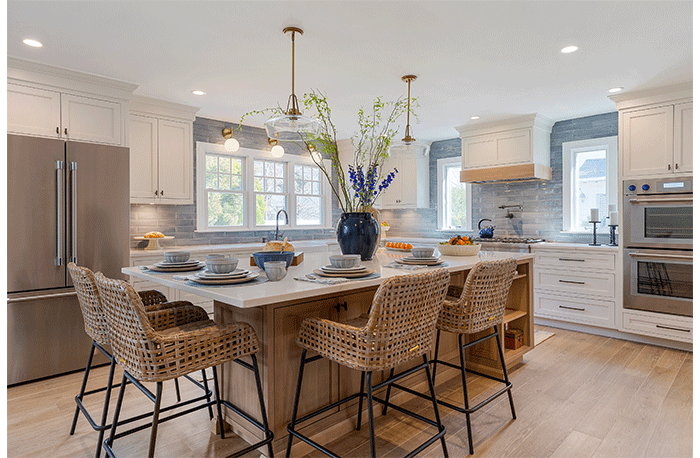 November 30, 2023
There's a lot going on with today's appliances. The back and-forth between gas and other range choices is still going strong, and there are still lead time and availability issues affecting product selection and delivery.
On the other hand, as design trends and needs change, so do appliances. Not only do today's kitchens include all the primary players, but secondary appliances are also making the cut. And certain specialty elements based on clients' needs are also being incorporated.
According to our most recent Closeup on Kitchen Appliances, about 60% of respondents consider their knowledge of today's appliances as expert or above average. Yet, about 40% are adequate or novice when it comes to choosing this highly important part of a kitchen project.
Above photo: This beach-inspired kitchen by Ellen Lopez, CMKBD, features Thermador's Professional Collection of appliances, including the fridge, range top, panel-ready dishwasher, double steam oven and microwave. The custom wood hood is fitted with LuxeAire ventilation. Photo credit: Josh Goetz Photography
"New appliance technologies and features evolve rapidly, making it challenging to keep up," said Jamie Molitor, contractor and co-founder of Minneapolis-based construction2style. "Staying updated through industry publications, attending trade shows, participating in online courses and collaborating with industry experts can provide valuable insights."
Whether you are a connoisseur or beginner, read on to learn more about today's kitchen appliance needs and desires, as well as what the industry could do to improve in this arena.
Key Closeup Takeaways
61.1% of respondents consider themselves an expert or above average in their knowledge of kitchen appliances.
In the last 12 months, gas has been the most popular fuel choice for kitchen ranges.
Wine storage and beverage fridges top the list of coveted specialty appliances.
Almost 50% of respondents say they chose the same brand across all kitchen appliances in more than half of their projects in the last year.
Cooktop Conundrum
Although the House of Representatives passed a bill to prevent federal parameters concerning gas stoves in June, the story most likely will not end there. That said, 38.6% of our survey respondents said gas was the most popular choice for ranges in their kitchen projects over the last 12 months. Induction came in at 26.1%, dual fuel at 21.3% and electric at 12.5%. Write-in answers included a combination of some of the choices.
"California and New York are pushing forward with ways to limit the use of natural gas, and clients are starting to ask questions as they fear obsolescence," said Ellen Lopez, CMKBD, founder and creative director of EL Designs in Hicksville, N.Y. "Accordingly, appliance companies are advancing induction technologies and training us designers so we can educate or clients. I strongly believe, sooner rather than later, induction will be the preferred cooking method."
According to Molitor, with an increasing focus on energy efficiency and sustainability, electric and induction will gain momentum over gas. He also attributes this to evolving cooking preferences.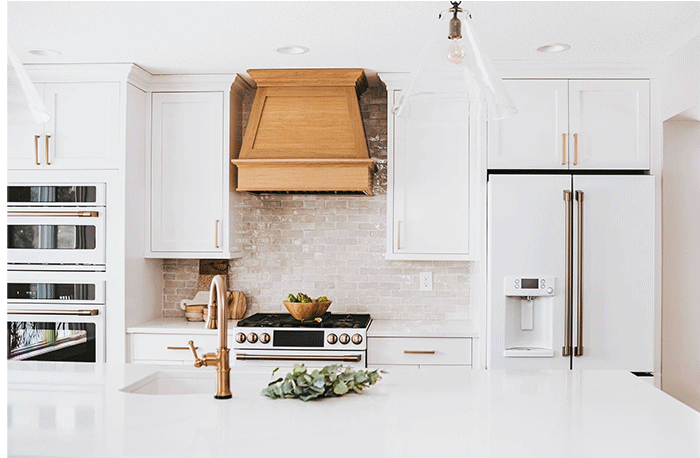 This white kitchen designed by construction2style features fashion-forward white appliances from Café, including the double wall ovens, range and refrigerator. While not paneled, these units blend with the cabinets for a semi-recessed look. The custom hood has a Zephyr insert. Photo credit: Chelsie Lopez
Conserving Cuisine
When asked to rate their clients' interest in food preservation technology, 61.4% of our respondents said it has stayed the same over the last year. While the appeal does not seem to have decreased, only 21.7% said it has increased between 5 and 10%, and 16.9% said it has increased more than 10%.
"In our experience, client interest in this varies, but it's often influenced by budget considerations and is the first thing to go," said Molitor.
Lopez feels that as more appliance companies develop and market their own food preservation drawers, people will learn the features and benefits.
Bottoms Up
As more kitchens incorporate things like bars and coffee stations, the popularity of various specialty beverage appliances is increasing. Wine storage and beverage refrigerators top the list, according to our survey, and built-in coffee makers, specialty ice makers and built-in water filtration coming in second. Beer taps were not at the top of the list, but they are included in the kitchen that has everything. Write-in answers included carbonated water dispensers and refrigerator/freezer drawers with ice.
Kitchen Customization for Today's Appliances
Today's spaces are going beyond the usual major appliances to become more specialized. As such, most respondents said they have incorporated pantries into their designs over the last 12 months. Double ovens and microwave drawers were tied for number two, and appliance garages, dishwasher drawers, smart appliances and steam ovens rounded out the list. Other answers included ceiling-mount hoods, pizza ovens, grills and speed ovens.
In terms of integrated/paneled appliances, 42% of the respondents said they have incorporated those in less than half of their projects over the last year. Including those in more than half of kitchen projects were 28.8%; 15.5% said they have not specified integrated appliances in any of their projects in the last year; and 13.7% said they have included them in all projects.
Molitor notes several reasons clients – and designers – want to incorporate integrated appliances into a kitchen design. They allow for seamless integration for a cohesive look, which is most beneficial when different brands and finishes are included. Panel-ready appliances also provide design flexibility by being able to match the panels to the cabinetry. They can also create the illusion of a larger space with unbroken surface areas.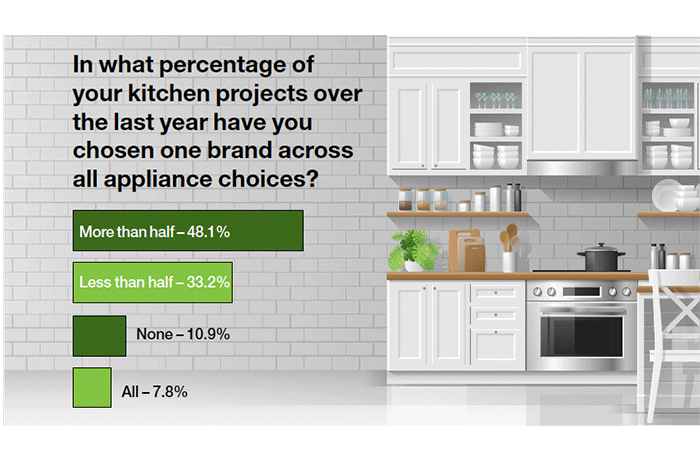 More than One?
Certain kitchens, including those designed for kosher diets, for entertaining and those serving multiple functions, may call for more than one of the same appliance. Almost half of our respondents (45.1%), though, said they have included more than one of the same appliance in less than half of their projects over the last year. Only 6.7% have included them in all projects, 22.4% have incorporated them in more than half, and 25.7% have not included more than one of the same appliance in any projects.
"In most kitchens, we include two dishwashers; the second is for when the homeowners are entertaining," said Lopez. "In some projects, we also include separate beverage fridges, which help the main fridge stay neatly organized and help create zones for tasks in the kitchen."
Now begs the impending question: Do you choose one brand across all appliances in a kitchen project? Is it even possible? Almost half of our respondents 48.1% said they have chosen one brand of appliances in more than half of their kitchen projects over the last year. In less than half of projects, 33.2% of design pros have used one brand; 7.8% have used one brand in all their projects; and 10.8% have not used the same brand across all appliances in any of their projects.
"Ultimately, the decision to have the same brand for all kitchen appliances depends on the homeowner's preferences, budget and desired aesthetics," said Molitor. "Appliances from the same manufacturer often share similar design elements, control systems and functionalities. This uniformity can make it easier for homeowners to operate and maintain their appliances, creating a seamless user experience. When all appliances come from the same brand, they are more likely to match in terms of color, finish and style, creating a harmonious and visually pleasing kitchen environment."
According to Lopez, most homeowners prefer selecting appliances from the same company because the stainless-steel finish differs from brand to brand. She also says most appliance companies offer package deals – the more you buy, the more you save.
Don't Forget the Dishwasher
In terms of this appliance's attributes, quiet performance was number one on our respondents' lists. Energy-saving performance and a third rack came in at number two, and interior lighting, smart tech options, specialty wash cycles and wine stem holders came in at number three. Automatic door opening and specialized jets were at the bottom of the list, and other answers included drying capabilities/performance.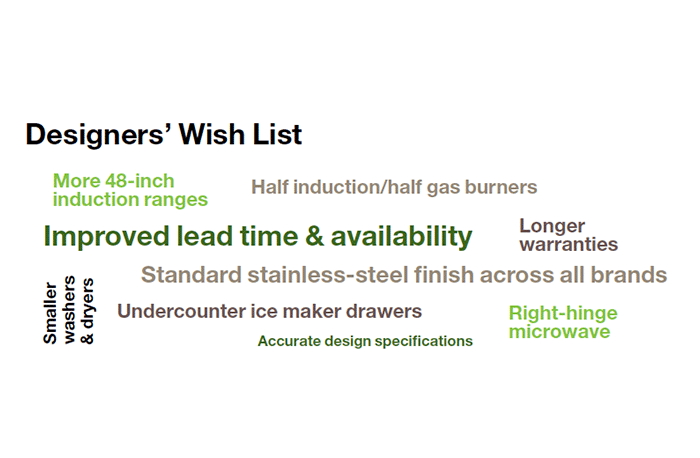 Always Room for Improvement
When asked what their biggest pet peeve was when it comes to the selection of kitchen appliances, our respondents' answers ran the gamut. Product lead time, availability and damage issues are still affecting the industry, and design pros want to see better-quality, longer-lasting appliances with more function. They want more styles, sizes and colors, especially finish options that match the plumbing fixtures and cabinet hardware.
In terms of specific appliances, the consensus is for more 48-inch or larger induction choices; half induction/half gas burners; double microwaves that match the double ovens; a built-in, smart, combi oven for home use; and smaller washers and dryers. One respondent is waiting for the creation of a standard, right-hinge microwave.
On the brand side, design pros would like improved training, citing a lack of installation information and accurate design specifications for product offerings. They are also tired of having a salesperson push a branded promotional package that is not in the best interest of the client. Our respondents also want longer warranties and quicker response times when issues arise.
On the Client Side
The list of pet peeves on this end is also large. Choosing appliances based on budget over quality and having unrealistic expectations for a certain price point are just a few. After shopping at big-box stores versus working with specialists that cater to designers and builders (a huge no-no), some clients purchase the appliances before the kitchen design is complete.
Other gripes include homeowners keeping existing appliances that don't fit the new space, trying to match all the appliances, choosing multiple appliance brands and making selections based on looks rather than function. Some clients do so much research online that they consider themselves experts. This can be problematic if they are set in their choices and their design pro feels other selections would better fit their needs. Others sometimes choose appliance brands without certifications or warranties, which one respondent says is a pet peeve because there is no information to ensure how to properly prepare any required connections.
Looking to the Future
In terms of new offerings, Lopez would love under-counter icemaker drawers. Molitor is all about simple and efficient tech integrations.
"My dream is smart appliances that not only respond to voice commands but also learn your cooking preferences and habits over time," he said. "These appliances could suggest personalized recipes based on dietary preferences, automatically adjust cooking settings for perfect results and even provide real-time cooking tips and nutritional information."
With consumer preferences constantly changing, appliance brands will need to continue to advance. In short, the sky is the limit to what's to come.
Hot Kitchen Trend: Versatility
The command center of any kitchen should command attention. And that means having appliances do double (or triple – heck, even quadruple) duty.
Induction Power Is the Way of the Future
No more waiting for that pot to boil: Turbocharge the task – and use less energy – with a built-in induction cooktop like the THOR TIH30 or TIH36. Give consumers the power to choose their cooking destiny, from a simmer to a sear.
Cooktops Need to Fit Pots and Pans of All Sizes
Appliances should make the most of the space and look good while doing it. The THOR TEC36 cooktop, for example, has a cooking element between two burners that empowers griddles and larger pots and pans to do their best work.
Forget Boring Static Digital Displays
How awesome would it be to have an adjustable display panel? There's a reason the THOR Tilt Panel Electric and Gas Ranges (TRE3001, TRE3601, TRG3001 and TRG3601) are such fan favorites – and award winners.
Liquid Propane Shouldn't Cost More to Hook Up
THOR's tilt panel gas ranges are equipped for natural gas but also come ready to be fueled by liquid propane. Lots of companies charge more for conversion kits and leave the work to consumers. Not THOR.
It's time to #COOKLIKEAGOD.
Timothy Lee, Sr. Marketing Manager, THOR
Preserving Food in the Best Possible Ways
In today's kitchen design, there's a growing focus on wellness, nutrition and healthy eating, a trend that brings great joy to me as a chef. According to the NKBA "2024 Kitchen Design Trends Report," 78% of designers noted that homeowners desire more refrigeration space with enhanced flexibility, such as columns, drawers and convertible compartments, to better accommodate their healthy lifestyles. Additionally, 68% express a preference for appliances with integrated cooking functions like air frying and steam cooking.
From my perspective, the kitchen serves as the center of well-being in a home. The meals prepared in this space provide the energy – both mental and physical – needed for daily activities, be it work, exercise or a good night's rest – all key components of wellness. Thus, the design of a kitchen and the appliances chosen play an integral role in this equation. For instance, take the challenge of keeping prepped foods organized and fresh. It often feels like there's never enough space, as I once resorted to brining a turkey in a sealed 5-gallon bucket left on the back porch, utilizing the cold night air as makeshift refrigeration due to limited room in the fridge!
Allow me to introduce my personal favorite new solution: the 48-inch Signature Kitchen Suite Built-in French Door Refrigerator. This product offers an incredibly spacious and versatile interior capable of handling even the most ambitious culinary endeavors. It includes a convertible drawer with multiple temperature settings that can be adjusted to suit specific needs, and its stainless-steel interior ensures temperature consistency, contributing to precise food preservation. It truly encompasses all the features needed for an ideal kitchen setup.
Nick Ritchie, Executive Chef, Signature Kitchen Suite
Main article by Chelsie Butler, KBB Executive Editor