Walker Zanger Opens New Global Headquarters in Los Angeles
---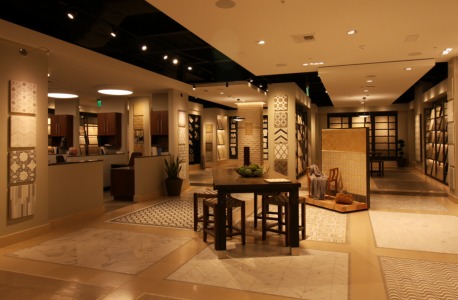 February 19, 2016
Stone and tile company Walker Zanger has opened a new global headquarters that reflects its vision and aesthetic. Located in the central San Fernando Valley region of Los Angeles, the new construction, custom-designed 127,000-sq.-ft. facility combines corporate offices with a new showroom, indoor slab gallery and working photo studio.
"The spatial design and shape of the new headquarters was driven by our day-to-day functional and operational needs," said Walker Zanger Executive Director of Facilities Design Kim Bernard. "We wanted clients to enter into a central point that became a terminus, allowing them to go directly into the showroom or have direct access to a conference room—all without disrupting the flow of traffic throughout the building." 
Working alongside LA-based design firm SRK Architects, Walker Zanger was able to transform a traditional industrial "tilt-up" building into an integrated, two-level facility that is bright, spacious and innovative, while still remaining eco-friendly.
"Our team's desire to manipulate light and space, as well as Walker Zanger's exemplary use of stone and tile, create a new contemporary look which is not only beautiful, but environmentally sensitive to its surroundings," said SRK Architects Managing Principal Brian Kite. 
The new facility is equipped with LED lighting and skylights throughout, electric car-charging ports, bicycle storage lockers and drought-tolerant landscaping. Its two-story lobby features a grand staircase and 20-ft. diameter, custom-designed floor medallion made from a single piece of waterjet-cut limestone. The 91,000-sq.-ft. indoor warehouse includes an elegant slab gallery, a 523-ft. indoor crane and a wire-guided order-picking system that allows for narrower aisles and more room for product. 
Additionally, each of the deliberate design choices elevates the building functionality. The individual staircases were carefully placed to give a sense of volume to the space, as well as circumvent traffic. The employee offices are located along the exterior, allowing for workspaces to be flooded with natural light.