An Insider's Look at a Virtual Showhouse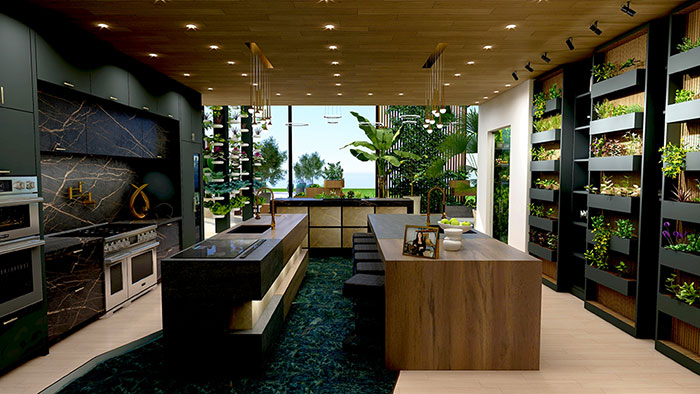 December 10, 2020
Seasonal Living Magazine recently opened the first 20,000-sq.-ft. luxury virtual Designer Showhouse, a 3D walk-through experience with built-in product discovery/shopping and highlighted products with augmented reality features. Built entirely in the virtual world, this modern residence digitally sits on 20 acres in Malibu, Calif., overlooking the Pacific Ocean. Tours were open to the public online.
The architecture of the virtual showhouse was designed from the ground up by the magazine's team, and the virtual rooms reflect the creative vision of 11 nationally known participating designers: Carla Aston, Robin Baron, Arianne Bellizaire, Jeanne Khoe Chung, Gloribell Lebron, Ariana Afshar Lovato, Rachel Moriarty, Laura Muller, Veronica Solomon, Erika Hollinshead Ward and Michelle Jennings-Wiebe.
The floor plan of the virtual designer showhouse reflects how homes will need to function in the future, in light of the pandemic and the changing needs and priorities of today's luxury homeowner. This includes: a separate ZOOM room adjacent to a full office that converts to a guest bedroom; a laundry room that also contains a decontamination zone, a sanctuary room and terrace; a three-story live indoor farm to grow food and herbs; a family room that converts to a schoolroom for virtual learning or homeschooling; an open-plan dining room and living room; an indoor lounge; a principal suite upstairs with a spa-like bathroom for recharging and refreshing; and an outdoor living area.
KBB spoke with the kitchen designer, Prismo Beach, Calif.-based Ariana Lovato of Honeycomb Home Design, as well as the laundry room designer, Chula Vista, Calif.-based Rachel Moriarty of Rachel Moriarty Interiors, to find out more about their designs.
LAUNDRY ROOM
The New Laundry Room. "My concept was 'style-meets-sanitation' in this Malibu laundry/decontamination room. With a global heightened attention to wellness, hygiene and sanitation, my goal was to create a space that was focused on clothing sanitation, good air quality and hand hygiene but still feel luxurious and stylish." – Moriarty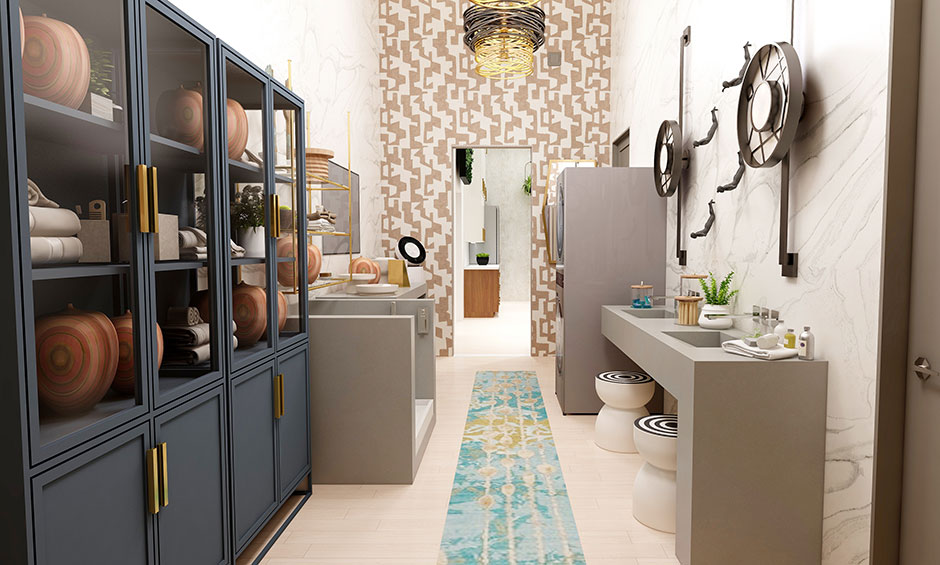 Easy-to-Clean Products. "In this space I focused on using surfaces that can be cleaned and sanitized. I incorporated hard surfaces like glass, metal, quartz, vinyl and wood. These surfaces look sleek and modern, but they can also feel cold and uninviting. I used a rich harmonious earth-tone color scheme and bold patterns to add warmth." – Moriarty
The Right Products. "Stylish sanitization is going to be a real thing moving forward. My favorite part of this project was researching products that fit the bill. I was so happy to have Signature Kitchen Suite & LG as a showhouse sponsor. The products really make sanitization sexy." – Moriarty
THE VIRTUAL SHOWHOUSE KITCHEN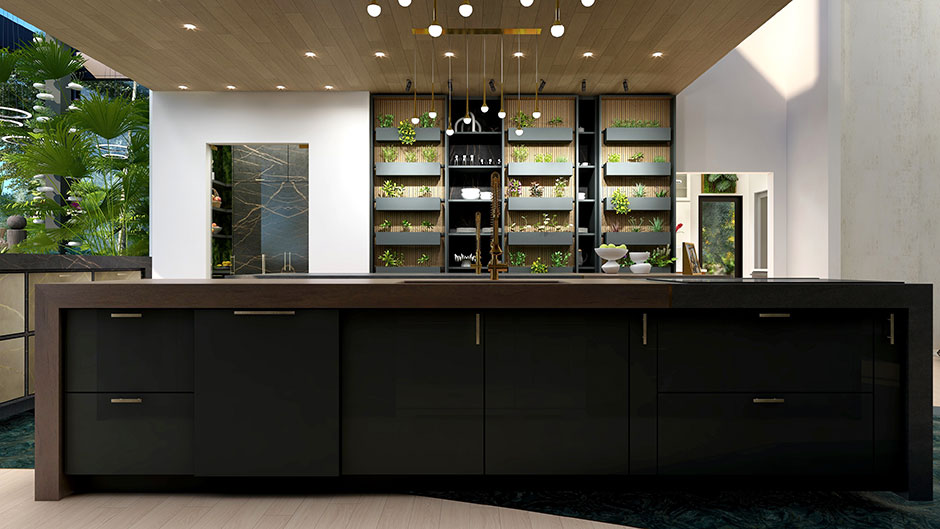 Growing Food in the Kitchen. "We were asked to create a kitchen and solarium space that was not only beautiful and functional but could also grow food to create a fully sustainable kitchen for our clients. We wanted the space to fully envelope our clients and provide a space of comfort, creativity, life and function. We were given a brief when we started the project of who would be living in this house. Our virtual clients are Shy and Garrett Morris. Shy was born in China and comes from a family of ancient Chinese medicine. She is a doctor herself, and she and her husband have three children. Garrett Morris is also a doctor and comes from a background of sustainability in farming. They wanted a home that would allow their large family to gather, create and enjoy a space that would truly nourish them." – Lovato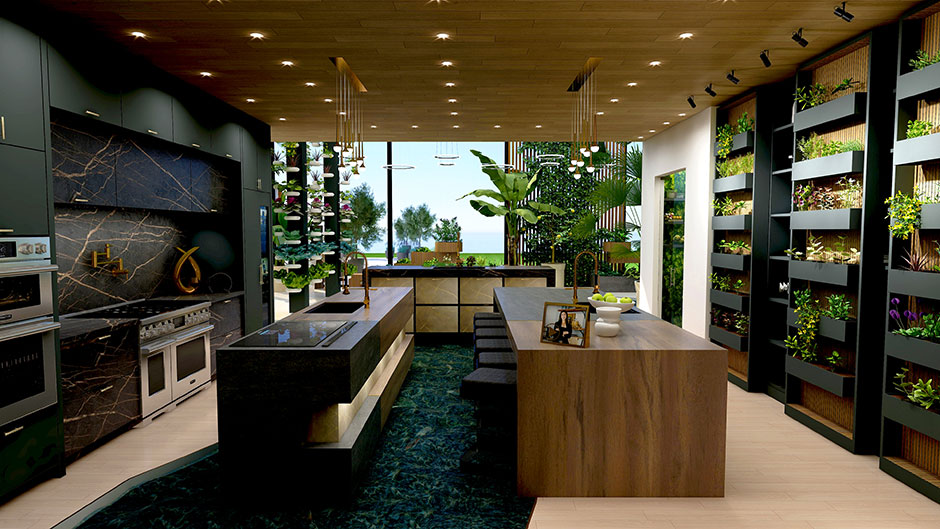 Durable and Stylish Products. "We chose materials for the virtual showhouse that were beautiful and rich but also very easy to clean and extremely durable for their busy family. We went really bold with colors but also strived to create a space that was neutral yet rich. We used Dekton by Cosentino for cabinet faces, slab backsplash and countertops. We chose a metallic vinyl wallpaper to clad drawer fronts on the island from Fabricut, brass light fixtures from Minka Lavery Group, brass hand-hammered hardware from Robin Baron Design, barstools from Global Views, flooring and ceiling treatments from Revel Woods and paint colors by Sherwin Williams. Our appliance package from Signature Kitchen Suite was truly a perfect fit for this family, and they definitely fit the term 'technicurean.'" – Lovato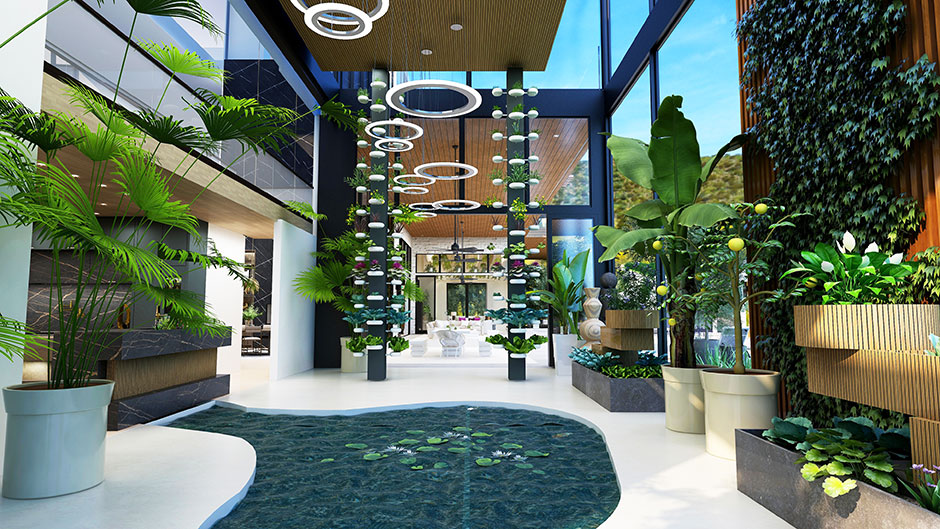 Learning About Indoor Farming. "My favorite part was researching hydroponic farming and sustainability within a home. We wanted to make hydroponic farming 'sexy' and seen in a different light. We designed hydroponic sliding panels that grow food but also help provide functional storage for the kitchen." – Lovato