Designing with Apps
---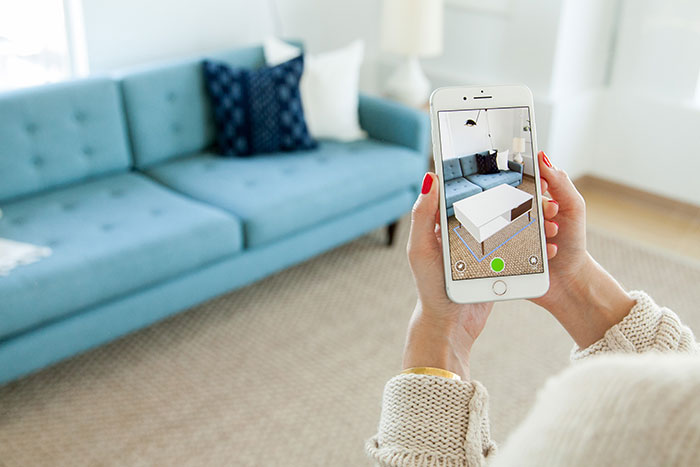 October 1, 2017
The saying, "There's an app for that," is usually accurate in today's society. There are apps for list-making, games, ordering groceries, gardening tips and even going through pregnancy. This does not stop in the interior design industry; there are now apps meant to make the technical and creative part of running a design firm easier to communicate.
We've outlined below a few recently launched apps meant specifically for designers. Check out even more here in our July/August issue.
View in My Room 3D (Top Photo)
Objective: Recently upgraded, this app from Houzz enables designers and homeowners to virtually place half a million pieces of furniture, décor and remodeling products exactly where they want them, true to scale.

Features for Designers: A designer can add multiple 3D products to a space, including layers like products on top of rugs. Each product viewed in 3D is automatically kept in a shopping list for easy checkout. The designer can also easily manipulate the item, rotating and placing it at the best angle to see how it would work in their client's home.
Client Collaboration: With the new ARKit-powered experience – an augmented reality tool – clients can virtually walk up to products to see realistic materials and textures, which display according to the room's ambient lighting. Designers can also share products on a Houzz ideabook with the client.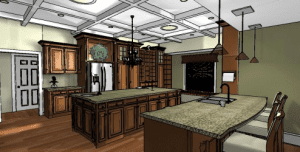 SoftPlan
Objective: This app allows the user to create construction documents with absolute accuracy in a fraction of the time. SoftPlan also provides professional 3D renderings, including advanced shadows, reflections, sun studies and photorealistic graphics.
Features for Designers: When a designer adds information to a floor plan in SoftPlan, the program assembles a highly detailed digital model. This means that when a window is drawn, the shutters, trim, header and jack studs are automatically added and the rough opening is framed with correct dimensions. The program automates everything from elevations, cross sections, roof plans, electrical plans and more. In addition, the drawings are easily customized with fully editable objects, so a firm's signature look will not be marred.

Client Collaboration: By giving clients an accurate 3D tour of their home before it's built, designers can better tailor the design to their clients' needs. This 3D rendering can be viewed at any phase of the design process, and clients can see the results significantly faster than a hand-drawn plan.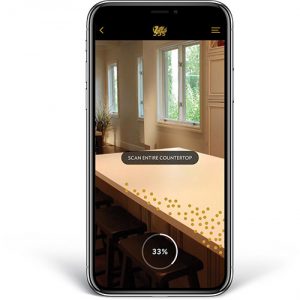 Cambria AR
Objective: Cambria's new augmented reality (AR) app allows consumers and professionals to virtually sample a selection of the company's countertop and surface designs in their homes.
Features for Designers: The app allows designers to virtually map surfaces, such as kitchen islands, countertops and bathroom vanities, in three simple steps and overlay Cambria surface designs over them. Steps include scanning the surface or room, outlining the area in question and choosing a new surface. Users can choose from multiple design styles and easily swap back and forth to compare options.
Client Collaboration: Cambria AR allows the designer to easily capture and share photos of the virtual design, helping consumers make decisions easily.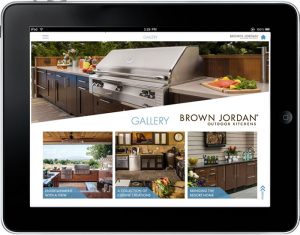 Brown Jordan Outdoor Kitchens App
Objective: Available for iPad and Android tablet users, this app makes it easy to view the company's outdoor kitchen offerings with the touch of a button or a swipe of the screen.
Features for Designers: Serving as design inspiration, the app showcases the brand's outdoor kitchen projects in real-world settings along with curated product images. Detailed product information, including features supported by video clips, and an interactive color and finish selector are available.
Client Collaboration: This app is easy to access and navigate and provides a simple way for a visually inspired homeowner to make decisions on the products available.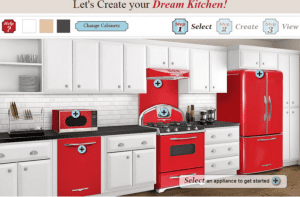 Create Your Design Kitchen
Objective: Recently enhanced by its maker, Elmira Stove Works, this interactive app lets designers build a kitchen with Elmira appliances in a three-step process.
Features for Designers: The feature enables designers to build virtual appliances. First, they select the Elmira appliance to include in the kitchen, along with the cabinet color. For each category, they then choose the desired model, color, features, trim and options that meet specific design and budget parameters. They can also request a final quote from Elmira Stove Works.

Client Collaboration: This tool makes it easy for clients to envision how appliances will look in their homes. Designs can be printed or shared with a client via email, and they are able to see pricing immediately. If the original kitchen configuration exceeds budget, the designer can work alongside the client to adjust accordingly.