Editorial Picks from KBIS 2018
---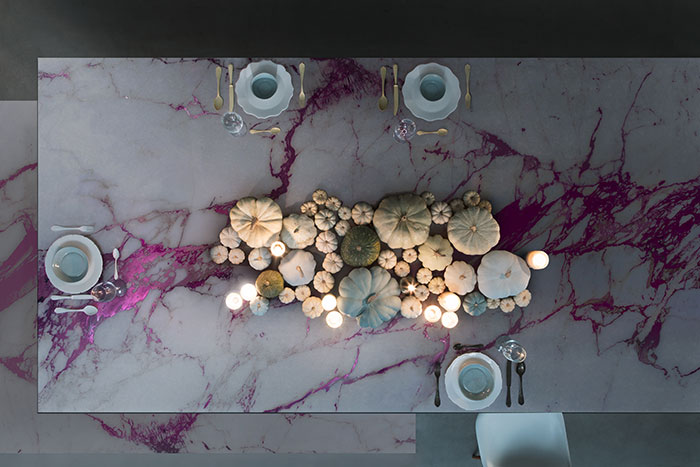 January 22, 2018
Above Image: Vetrite from SICIS
This year's Kitchen and Bath Industry Show (KBIS) once again wowed us with new innovations, surprising trends and beautiful products. KBB's editors and its Editorial Advisory Board spent every day scouring the show floor for standout products and trends.
We noticed a lot of companies caring about the environment with water- and energy-saving products, and the connected home is definitely catching on with tech-savvy appliances and fixtures. Another trend we noted had to do with providing convenience to the homeowner and making certain products easier to use, and we also saw products that serve multiple functions.
There were so many innovative and stunning fixtures, appliances and materials, we had a hard time narrowing down our favorites. Here are just a few of what we loved at the show.
Nebia Showerhead
Started with a KickStarter campaign by a few young men in San Francisco, this simple showerhead is incredibly easy to install and adjust daily for different users. Nebia saves 70 percent more water than standard showerheads and still delivers 10 times more surface area than most showers.

Nasoni Faucet
Tired of having to strain to wash teeth or shave, a father-and-son team invented this unique faucet with a fountainhead on top. It was inspired by the ancient public fountains still found in Italy (our managing editor used them when she studied there in college) and is meant to make these daily tasks easier for everyone.

Bertazzoni's New Professional and Master Series Ranges
With more than 10 different versions and colors of all-gas, dual-fuel and induction ranges, the new line boasts fastest-to-boil burners and a cavity of 5.9 cubic feet of space. There are also user-friendly operations, including a new interface and a temperature gauge, plus it has that classic, Italian-made look.

Project Blanc from Dacor
This is the world's first 30-in. porcelain interior refrigerator. Because of a higher heat capacity than common cooling materials, porcelain minimizes temperature fluctuation and keeps food fresher longer. It also can be customized with hand-painted art on the inside.
Moen's Brantford Faucet
The Brantford Faucet features a classic look created by lever handles and a tapered spout. The 4-in. center-set design allows for easy installation, and the faucet meets EPA WaterSense criteria to conserve water without sacrificing performance. Now with Power Boost technology, the pulldown spray wand also provides a faster flow of water at the push of a button.

Nikola Tesla from Elica
Elica has unveiled its first aspirating induction cooktop, Nikola Tesla. It combines the functionality of the cooktop and hood into one product, eliminating the need for a range hood and providing a clean design aesthetic. This 33-in. smart induction cooktop features sleek black glass and futuristic touch controls, as well as an innovative ventilation system that senses the cooking level of each burner and adjusts the blower accordingly.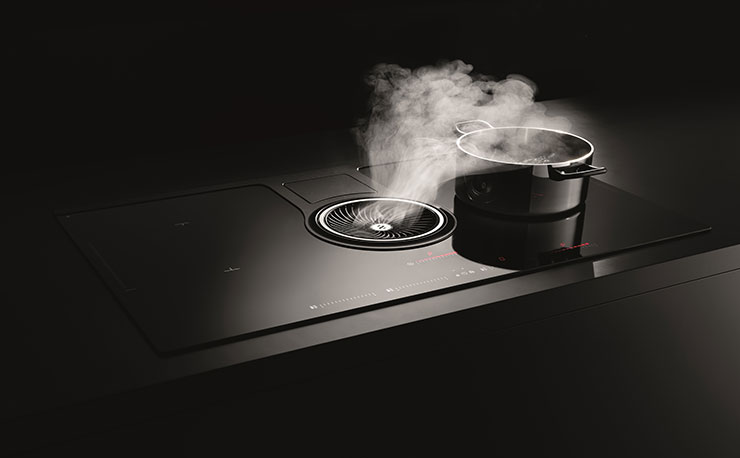 Eternal Marquina from Silestone by Cosentino
The Eternal Collection is the first Silestone Collection to be released on the market with N-Boost technology. Silestone N-Boost achieves a greater intensity of color and surface brightness and makes cleaning and maintenance easier, thanks to the water-repellent property of the material. Shown here is Eternal Marquina, which is evocative of the Spanish Black Marquina marble.

Sottile Line from Perlick
Perlick's Signature Series Sottile line of 18-in. depth undercounter refrigeration has a slim profile to provide more design flexibility than standard 24-in.-depth models. There is enough storage for 68 cans in the 3.1-cu.-ft. unit, and it is available with a solid stainless steel door, solid wood overlay doors, a stainless steel glass door or a wood overlay glass door.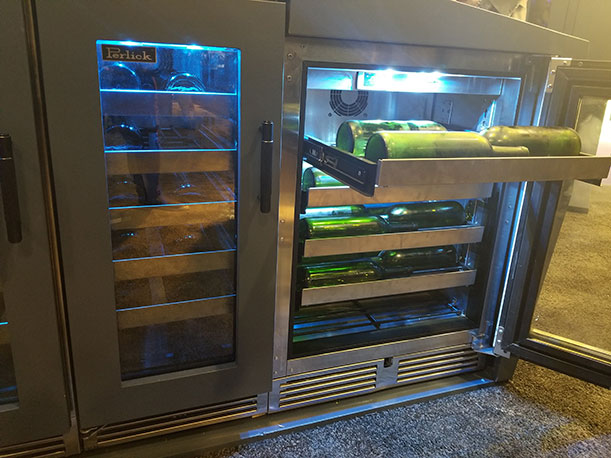 Pearl Mantels
Pearl Mantels makes fine furniture-quality wood and MDF fireplace mantels, fireplace shelves and decorative wall shelves and reclaimed wood shelves. Pearl also manufactures Perfection Cast Stone, a line of cast stone shelving for indoor and outdoor use. A 12-step finishing process is used to refine the finish colors and hand distressing for each product.

Vetrite from SICIS
Vetrite was recently created in the company's research and development laboratories and is made of glass and polymeric fabrics or films. Large slabs are available and can reach 120 by 280 cm with a thickness from 6 mm up to 12 mm. Shown is Electric Marble. (top image)
What were your favorites from the show? Let us know on Facebook and on Twitter @Kbbconnect.