Outdoor Kitchen Trends in 2011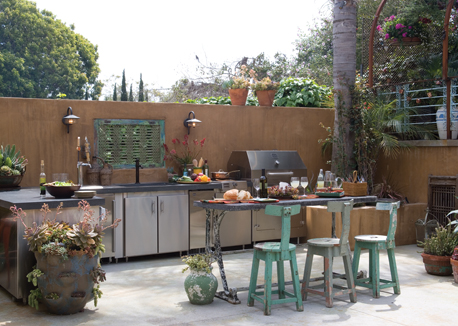 January 20, 2011
2010 was a year of contradictions and tumult. Many in the industry are looking forward to putting it in the rearview mirror. While some were seeing success and growth in their business, others were struggling.
Recently, a group of design pros, appliance dealers and manufacturers were asked to look into their crystal balls and share their thoughts on what trends they see developing for outdoor kitchens in 2011. Included were: Mary Jo Peterson, CKD, CBD, author and award winning designer and principal of Brookfield, CT-based Mary Jo Peterson, Inc. Design Consultants; Ken Kelly, CKD, CBR, CR, award-winning designer and president of Long Island, NY-based Kitchen Designs by Ken Kelly; Jeff Chojnacki, director of stores for California-based appliance retailer Snyder Diamond; Steve Reinwald, manager at Master Source in Kent, WA; and Russ Faulk, VP of product development for Kalamazoo Outdoor Gourmet.
Do you see demand for outdoor kitchens increasing or slowing in 2011?
Steve Reinwald: I expect the demand to increase in 2011.
Jeff Chojnacki: We feel that this is a category poised for growth. We are hearing many situations from designers and contractors where outdoor kitchens are now becoming a standard feature in remodels and new construction. A few years ago, these were considered a luxury. We see a significant opportunity for us to educate the end-consumer and trade professional and build loyalty with these customers and increase sales.
Ken Kelly: I expect demand to increase, in line with housing starts.
Mary Jo Peterson: While 2010 experienced conservative spending, I am seeing interest in outdoor kitchens growing and moving forward in 2011. I see developers using them to set their product apart. With my private clients, they are building them as part of their ongoing love affair with nature as well as expanding living and social space outside, blurring lines between in and out.
Russ Faulk: It depends on the economy more than anything else. All the dynamics that have kept demand strong in recent years should still be a factor.
What do industry professionals need to know about outdoor kitchens to capitalize on the trend?
Reinwald: There should be a synergy with the landscape architect and the kitchen designer.
Chojnacki: Trade professionals need to be educated on the wide range of options available to them when working with their clients. It's not just about the barbecue anymore. It's about the entire experience of outdoor entertaining. It's now about cabinetry and a wide array of ancillary items available. Also, it's the perfect "man toy." It's like having the nicest or fastest car on the block. Every guy aspires to have the biggest, "baddest" outdoor kitchen to show off to all his friends.
More than just a place to grill, today's outdoor kitchens are fully equipped to entertain. Top: A laid-back design by Sandy Koepke, of Sandy Koepke Interior Design. For more photos of this project, click

here

. Above: This kitchen by Michael Glassman, of Michael Glassman & Associates, is dramatically lit for nighttime use. For more photos of this project, click

here

.
Kelly: They need to step up and take charge. This is a great growth area for most kitchen and bath dealers. It is important as an industry that we get the message out that we are the experts that should be consulted when working on an outdoor kitchen. If we aren't pro active, this opportunity for our industry will go to someone else.
Peterson: They need to market and put to use what they already know about the design of kitchens and connect with landscape architects to partner, using the skills of each. They also should become familiar with equipment for cooking and socializing outside.
Faulk: Homeowners want to feel they will get the most out of their investment. Offering the best design and quality while focusing on year-round use can make a difference.
What were some of the most popular outdoor kitchen design trends you saw in 2010? Do you see them continuing into 2011? Or do you see something that has been percolating "underground" start to rise and make itself known in 2011?
Reinwald: The outdoor kitchen concept is just getting started. The sky may just be the limit.
Chojnacki: I think the continued emergence of the full outdoor kitchen versus a built-in barbecue, and I see that continuing into 2011. The big must-have in 2011 has to be the pizza oven. It's an easy add-on sale.
A pizza oven, such as this one from Kalamazoo Outdoor Gourmet, is a major must-have and an easy add-on sale.
Kelly: We see the projects getting larger. Entertaining at home with friends and family is becoming more popular. Combine that with the great weather we enjoyed last summer and it made for many additional evenings outdoors.
Peterson: It is still first "all about the grill" so kitchen designers really must know what's out there and be able to match client and equipment. Second, the social aspects of the space are important and attention to them is growing. Kitchen designers will need to determine how and by whom the space will be used and design with safety and function in mind. Third, attention to audio/visual opportunities is growing and I think we'll see this area gain momentum going forward. With the amazing things technology brings to this arena, how can it not grow?
Faulk: Sheltered kitchens that can be used rain or shine.
What drove the popularity of outdoor kitchens in 2010? Do you see that continuing into 2011?

Reinwald: A desire to increase the value of one's home coupled with the popularity of food/cooking shows on television and, of course, the virtually empty canvas a backyard can provide has been fuel for a trend that I believe will continue far into the future.
Chojnacki: Well, I will say this: Outdoor kitchens are not going away! They are now being included as a standard part of any moderate to high-end remodel or new construction. We have heard from many of our real estate relationships that a well-designed and outfitted outdoor kitchen can seal the deal with the husband on a property. The key for us as dealers is to educate the consumer and trade professional and make their job easier by being the expert for them in terms of outdoor kitchen design and product selection. Many of the customers we talk to, both homeowners and trade professionals, don't know where to turn when specifying these type of products. We have a responsibility to get out there and market and educate.
Kelly: If you already owned that great outdoor kitchen, it was more economical to eat in than to go out. I personally attended several backyard "eat-in" dinners. My wife and I even attended a "recession party" where everyone brought a dish and a bottle. We all hung out, cooked, ate and drank. It was one of the best nights out. The entire night was spent around this large outdoor kitchen, with bar stools and an adjoining table area. Guests took turns doing the bartending, cooking up their specialty and trading grilling tips.
Peterson: The continuing craving for a connection to the outdoors and nature, and to extend living space to the outdoors, especially for socializing. Also the interest in healthy foods, and grilling is such a healthy cooking option.
Faulk: People don't want to sell their homes, so they are upgrading the ones they live in now. An outdoor kitchen not only adds value to the house, it improves the homeowner's quality of life.
What will be the must-have features of the outdoor kitchen in 2011?
Reinwald: If bringing the kitchen outdoors is the goal, then any feature that a good indoor kitchen requires will be must for the outdoor kitchen as well. A good design in the Northwest should include protection from the elements without losing the outdoor feel.
Chojnacki: The absolute must-have for 2011? A pizza oven! It's a great addition for new outdoor kitchens and an easy add-on for existing installations. It creates a reason to get on the phone and contact customers who have made outdoor kitchen purchases in the past.
Kelly: Personally, I really want to add a pizza oven. It would be so much fun on many levels: kids pizza parties, adult pizza challenges, cook-your-own party—I could keep going. I don't need much of an excuse to have a few friends over to eat and drink.
Peterson: An attractive heat source to extend the outdoor season would be one must-have.
Faulk: New kitchens must be fully functional. This means you can do everything outdoors you can do indoors—plus. Beyond the basic capabilities, pizza ovens are becoming a must-have.
—Chris Mordi is the VP of communications for Kalamazoo Outdoor Gourmet.