The Right Match
---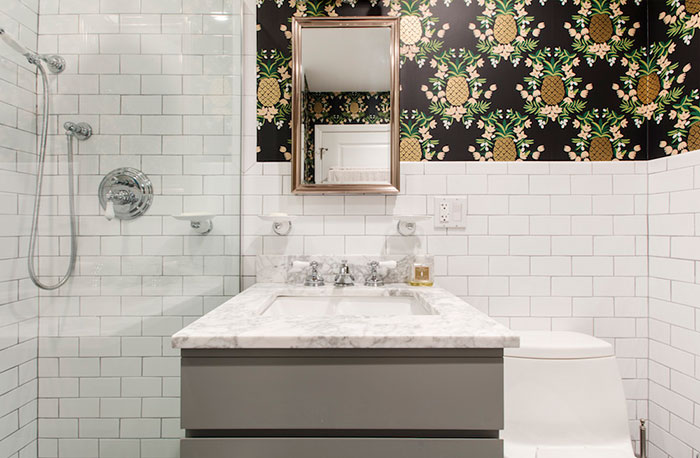 October 22, 2017
Influenced by the design of favorite NYC restaurant bathrooms, two homeowners looked to their Sweeten contractor to create this modernized, pre-war bathroom (above.)
Many designers today have a similar problem: they either cannot find an available contractor, or they have issues with the contractor they have found. One business, Sweeten, is working to change that.
Sweeten was founded with the sole purpose of taking the "intimidation out of renovation" and is a free service for homeowners, small business owners, architects and interior designers. KBB spoke with Sweeten's founder, Jean Brownhill, to find out how this works and how designers can benefit from it.
Background
Brownhill: After graduating with an architecture degree from The Cooper Union, I worked for Elizabeth O'Donnell, a dean with a small architecture firm. Next came a job as a draftsperson in the global architecture department at Coach, Inc., where as a junior staffer, I pitched building an internal website to streamline store construction worldwide.
The site was launched in nine months, and for the next four years, I built websites that made our construction and merchandising groups more efficient.
Inspiration
Brownhill: I'd always wanted to do something entrepreneurial. After I left Coach, I used my bonus to buy a wood-frame house in Brooklyn from the 1800s. It needed a full gut renovation, but I couldn't find a good general contractor. I made bad choices, despite my training and using all the resources available. I kept thinking, "If it's this difficult for someone in the industry, how would others tackle this?"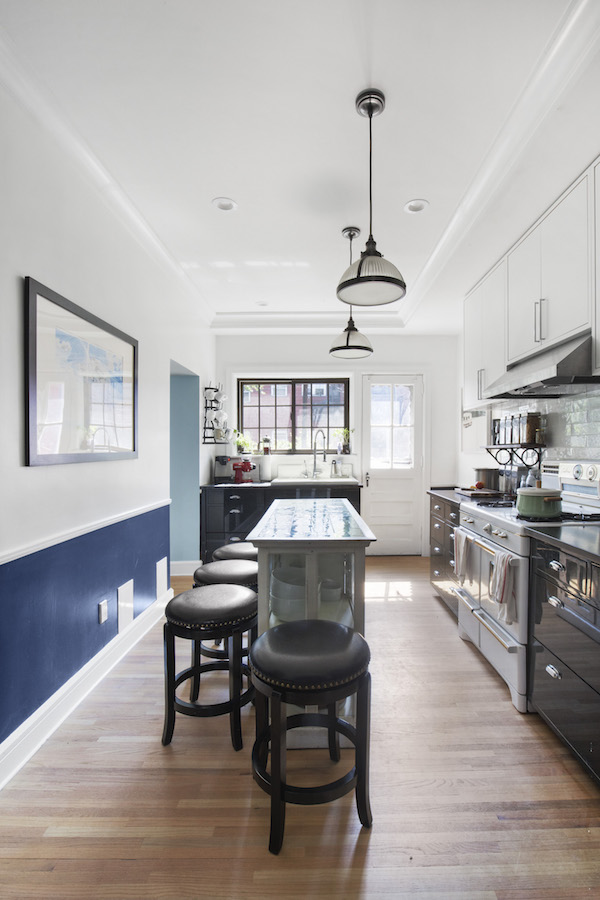 Meredith, a designer, bought a 1940s townhouse in need of an overhaul, and worked with her Sweeten general contractor to build the kitchen around a 1950s-dated stove.

The Big Idea
Brownhill: The idea for Sweeten – as in home, sweet home – was conceived in 2008, and it went live in 2011. We are a free service that matches homeowners, business owners and the design trade with vetted general contractors, then stays involved until the project is completed. The year after we launched, New York Magazine named Sweeten "Best Contractor Locator," and demand skyrocketed. At the beginning, we were doing tons of kitchens and baths; we still do, but now we also do apartment combinations, full gut home renovations, commercial spaces, etc.
The Need
Brownhill: First, it can be really hard to find great general contractors who are a good fit for the work. Even if you're in the design community and have a contractor you work with on a regular basis, you'll come across projects that aren't the right fit in terms of timing or location – or you'll want to secure more expert estimates – so our service is here to make sure you can find the best trusted and vetted contractor for the job.
Second, for many homeowners, renovating is one of the biggest expenses of their lives and a daunting process. We recently fielded a national renovation survey with marketing research firm Schlesinger Associates, and 95 percent of New Yorkers, our home base, said that renovating was stressful. That's why we're there to help from start to finish.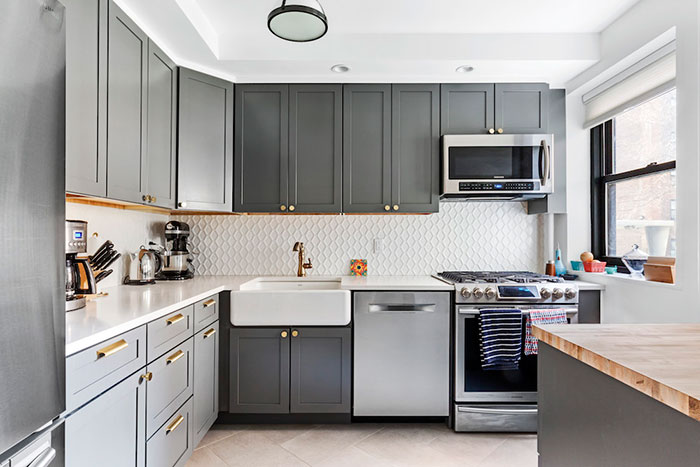 The walls came down to open sight lines between all of the common areas in this family-of-five's kitchen.
Hopes for the Business
Brownhill: I'd hope that we could elevate the status of the single room – a renovated kitchen or a bathroom, for example. Smaller projects can be just as dramatic and life changing as larger ones, and our contractors bring a higher-quality construction to all their renovations. (Some specialize in doing only kitchens or bathrooms.) Our weekly newsletter highlights before-and-after, real-life renovation stories, and we offer educational process and cost guides that could be useful for designers to share with clients. We want the best designers to benefit from the best contractors in the industry and for all involved to enjoy the process as well as the result.
How It Works
Brownhill: When a homeowner or designer posts a project on Sweeten.com, one of our matchmakers matches them with three to five vetted contractors based on scope, timeline, budget, location and style. They can check reviews and photos of previous work, decide whom they'd like to meet and get estimates. A project advisor is available to evaluate the bids, if they're interested, and then monitors the progress at key stages. When the project is finished, we photograph and tell the story of the transformation on our blog. Media like Architectural Digest, Domino, "Apartment Therapy" and "The Nest" regularly features our content.
The Benefits
Brownhill: Designers benefit from Sweeten because we are an incredible free source of contractor talent; we have the designer's back when it comes to finding, hiring and working with a quality contractor, including troubleshooting, if necessary. Plus we showcase the work with gorgeous photos.
Contractors like Sweeten because we screen and make sure the projects are renovation ready, with realistic timelines and budgets. We place a high value of their work and provide them with a steady flow, plus provide tools to help their business. These are guys (and women) we know personally and trust to do a great job.
What's Coming
Brownhill: We're currently in the New York Metro and Philadelphia metro areas. Our long-term goal is to be in every major U.S. city, helping homeowners, business owners and the design trade renovate with confidence. We get emails daily from people asking us to hurry up and get to their city!
Sweeten's services can be accessed at http://www.sweeten.com.