K&B Product Designers Talk with KBB: Behind the Brand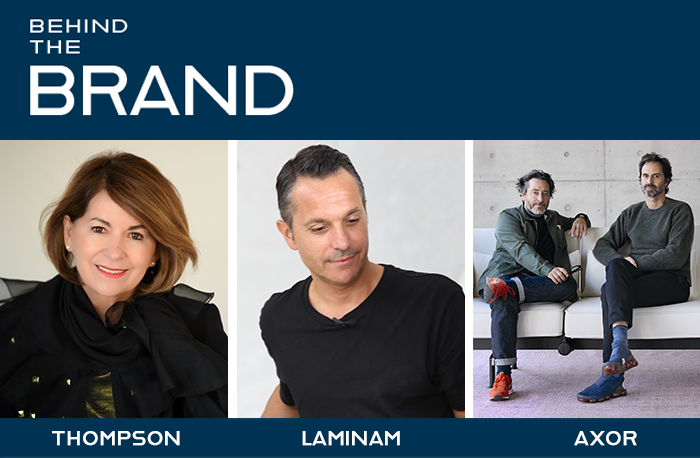 August 21, 2023
Behind the Brand with AXOR, Laminam and Thompson
This article was originally published on August 21, 2023; it was updated on August 31, 2023.
Welcome to the August edition of Behind the Brand, where KBB seeks to illuminate – somewhat! – the creative process from the perspective of top product designers in the kitchen and bath fields. Being able to look at everyday objects in a radically different way is the [un]common denominator of these talented individuals.
This month, we hear from:
Edward Barber and Jay Osgerby, designers for AXOR
Claudio Corniola, R&D director, Laminam
Alejandra Ochoa de Thompson, founder & creative director, Thompson
As a product designer, my greatest responsibility is…
Barber and Osgerby: To design responsibly – the products we create must be carefully considered, beautiful and worthy of the resources they require.
Corniola: As a designer, my greatest responsibility is creating products that represent beauty, respect nature, and perfectly respond to the world of design standards and needs. When I first started developing new surfaces for Laminam, my initial thought was that I have been given the opportunity to be able to create "industrial works of art" as if they were paintings to be admired. A quote that I always carry with me in my heart is that of one of the world's great novelists – Fyodor Mikhailovich Dostoevsky: "Beauty will save the world."
Thompson: As a designer, my greatest responsibility is to create functional artwork that will last for generations. A product that stays with you, that is beautiful and sophisticated. I have always tried to create pieces of art for the home. This type of design is immortal. I don't even want it to be trendy, I would like it to be a statement and make people get excited for years to come.
One of my creative touchstones is…
Barber and Osgerby: Traveling and spending time in different cultures.
Corniola: I am inspired by Gio Ponti and Lucio Fontana, two Italian artists active during the 18th/19th century. I love their creative eclecticism and ability to give birth to iconic masterpieces using different materials. At Laminam, we're able to accomplish the utmost aesthetic impact, marked by timeless elegance through different colors, textures, and size formats. This allows the designer to truly be the master of their own creative designs.

Thompson: One of my creative touchstones is uniqueness and pieces that create emotions. From hand-crafted textures and finishes to the originality of our designs, each piece is an individual work of art. Also, the workmanship of our metal products is unique to Thompson. We are so proud to be able to say that, and I am especially proud of what I design because I think these pieces – from sinks to range hoods to tubs – are truly unique and functional. The way we work with metals is very hard to replicate, every piece is made by hand and takes hours, sometimes days to finish a product. And certain textures and finishes can only be created by individual artisans who have learned these skills from generations past.
An industry trend that I'm watching is…
Barber and Osgerby: We don't follow trends – we believe things should be well-made and transcend trends, coveted by generations. We're both extremely interested in craft and the handmade and in recent years there has been a huge shift back to making – small-scale production seems to have unleashed a new wave of creativity with people exploring new and sustainable materials.
Corniola: Now I am focused on and fascinated by the study of new technologies for developing surfaces with advanced textural effects to make slab products richer and more design appealing. I am really interested in the development of new technologies related to the porcelain industry. I observe very carefully all the manufacturers of advanced technology who are developing new technical and aesthetic surface applications such as System and Sacmi (both multinational manufacturers of machinery).

Thompson: An industry trend that I'm watching is COLOR. It is wonderful that color has come back into our lives, and we are adding color to the white and grey palettes we've seen for so long. I'm always looking internationally for the latest inspiration and upcoming trends in colors and materials. I keep my eye on trends in fabrics, surfaces, jewelry, fashion, furniture, etc. I am inspired by the eccentricity, excessiveness and luxury of Dubai. Italy is also one of my biggest inspirations…I just love their balance and their colors, how they mix the old with the new which is what we try to do with our designs.
The best part of my job is…
Barber and Osgerby: We enjoy the autonomy of collaborating with companies. Every project we do has different inspirations and contexts and we love the ability to pick and choose who we work for, experiment with a wide range of materials, techniques and forms. And, ultimately designing something that people want to use and keep for years.
Corniola: The part I love the most about my job is the initial phase of the projects, during which, together with my collaborators I share ideas and thoughts that slowly come to life and became reality. This sort of "round table" usually takes place after attending events, fairs and exhibitions, which are often our sources of inspiration.
Thompson: The best part of my job is to be able to work with my family. They are the biggest gift and pleasure of my life. My husband and all four of my children work for our family business in different leadership roles.
If I had a week off from the studio, I would…
Barber and Osgerby: Travel, but for personal pleasure and enrichment. I love travelling with my family and seeing the world through others' eyes.
Corniola: If I had a week off from the studio I would go on a backpacking trip without a specific destination, getting in touch with new cultures that enrich myself as a person.
Thompson: If I had a week off from the studio, I would travel, travel, travel, travel, but one week would not be enough! And I would come back with so many incredibly, amazing ideas! I would visit museums and walk around interesting cities and of course the outdoors. I love the outdoors. All my textures come from mother nature…from animal prints to trees, bark, and more. Nature is my biggest inspiration. When you look at our products you can immediately see that connection, and I can't wait to unveil our latest designs at KBIS 2024 that build on this organic, natural design aesthetic.
—By Leslie Clagett, KBB managing editor