The National Kitchen & Bath Association Reveals 2018 Chairman and Board of Directors
---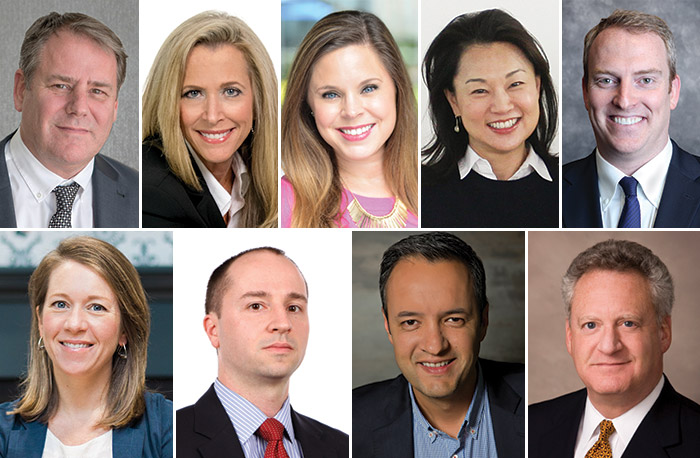 November 16, 2017
The National Kitchen & Bath Association (NKBA) announced its 2018 Board of Directors and officers. The nine volunteer members hail from across all facets of the kitchen and bath industry and will work with NKBA CEO Bill Darcy to guide the organization through 2018.
The new Board will again be led by Chairman Lorenzo Marquez, president of Marqet Group, who will serve a second term in that role. Vice Chair is Emilee Chappell, director of marketing for TOTO Americas, and Secretary/Treasurer is Steve Joseph, chief product officer for Side Chef.
Board members include Neil Bailey, president of Smallbone of Devizes; Patricia Davis Brown, CKBD, owner of Patricia Davis Brown LLC; Young Huh, owner of Young Huh Interiors; Allison Lowrie, chief marketing officer of HomeAdvisor; Michael Mahan, business development and strategic growth leader at GE Appliances, and Steve Petock, senior vice president of business development, Ferguson.
"We're delighted to welcome our new board, with many returning executives and a couple of new faces," said Darcy. "The unique blend of industry sectors and operational functions from which they hail makes this board uniquely suited to helping us direct the association in the year ahead. We look forward to working with them in our pursuit of growing our membership, marketplace and brand awareness, improving our certification and professional development programs, and enhancing overall benefits to our membership."
The association welcomes new board members Allison Lowrie and Michael Mahan, while Emilee Chappell and Steve Joseph are new in their officer roles. Chris Terrill, CEO of HomeAdvisor, who served as vice chair, and Mark Kovich, executive vice president for Canyon Creek Cabinets, who served as secretary/treasurer, are both stepping down from the board, and the NKBA thanks them for their service to the association and the industry.
Serving on the Leadership Recruitment Committee are Michael Juby, director of strategic partnerships at Sears Holdings; Brian Pagel, vice president of Emerald Expositions; John Petrie, owner of Mother Hubbard's Custom Cabinetry LLC; Rikka Brandon, president & chief executive recruiter at Building Gurus, and Sherry Qualls, president of White Good & Co. Advertising.
On the Chapter Leadership Committee are Adam Gibson, CMKBD, president of Adam Gibson Design, LLC; Linda Johnston-Panattoni, CKD, owner/designer of Panattoni Interiors; Melissa Helvey, owner and principal designer of Crafted Kitchen Design; Kirsten Gable, kitchen & bath design assistant at Anthony Wilder Design Build, and Roseann Freitas, vice president of Archipelago Hawaii.
The KBIS Exhibitor Committee includes Rudi Bruno, CBU-internal business consultant for Cosentino North America; Kathryn Constantine, vice president of Brown Wood Inc.; Rob Jenkins, director of OEM sales & marketing at Rev-A-Shelf; Paul Smith; president and CEO of Häfele America Co., and Elisabeth Sutton, director of wholesale channel marketing at Kohler Co.
Detailed information on each of the 2018 NKBA Board members follows.
OFFICERS
Chairman – Lorenzo Marquez, President, Marqet Group
Lorenzo Marquez is president of Marqet Group, a full-service marketing agency specializing in the design and construction industry. In his role, he supports manufacturers and trade partners in developing campaigns to increase market share through public relations, advertising, merchandising and digital strategies.  He is also an executive member of The Rockheads Group, a private surface fabrication network that represents independent stone fabrication businesses across North America. His previous experience includes working for Cosentino North America, where he served as vice president of marketing for 10 years. He has been on the NKBA Board of Directors since 2013, after serving on the KBIS Council for three years.  He received a degree in entrepreneurship from the University of Houston, is married with five children and resides in Houston.
Vice Chair — Emilee Chappell, TOTO USA Inc.
Emilee Chappell is director of marketing for TOTO Americas, one of the world's largest plumbing manufacturers and a leader in performance design and innovation. She is responsible for TOTO's overall marketing strategies and oversees the implementation of its integrated marketing, advertising and public relations activities. She graduated from the University of North Alabama with a Bachelor of Arts in communications and has been with TOTO and active in the kitchen and bath industry for more than 13 years. She has served as both the chair and a board representative for the NKBA KBIS Advisory Council.
Secretary/Treasurer — Steve Joseph, Partner and Chief Product Officer, SideChef
Steve Joseph is partner and chief product officer at SideChef, Inc., a kitchen technology company. He is passionate about helping people cook better through innovation in the kitchen. In addition to producing an award-winning step-by-step cooking app, SideChef develops smart kitchen software for manufacturers and connects appliances to the Internet of Things. Prior to SideChef, Steve was president of Dacor, a manufacturer and distributor of luxury kitchen appliances, where he led the design and development of the world's first smart, connected ovens and ranges, winning Best in Show KBIS and Best of CES Home in 2014. He holds a B.S. in business management from Pepperdine University.
BOARD MEMBERS
Neil Bailey, President, Smallbone of Devizes
Neil Bailey is president of award-winning luxury British furniture maker Smallbone of Devizes, the global authority on bespoke fitted cabinetry, where he develops the retail, dealer and project business across North America. Bailey joined Smallbone in 2016, following a successful year that saw parent company Canburg win the "Emerging International Brand" award at The Sunday Times HSBC International Fast Track 200 Awards and rank 18th out of 200 private U.K. companies for export growth. Previously, Bailey was president and CEO of Poggenpohl U.S. and Canada, and before that was managing director for Poggenpohl Group UK and Ireland. Through acquisition and development, Bailey helped grow the U.K. network into one of the company's most successful globally. His career spanned more than 25 years in sales and retail management in the European home improvement industry before he moved to the U.S. 
Patricia Davis Brown, CKBD, Patricia Davis Brown Designs, LLC
Patricia Davis Brown is an award-winning interior designer whose work has been featured in Florida Architecture, Traditional Homes & Design, Florida Design, Qualified Remodeler Magazine, Better Homes & Gardens Kitchen and Bath Ideas, The Wall Street Journal and Consumer Reports. She began her career in the kitchen and bath industry in 1985 and formed her own design studio, Patricia Davis Brown Fine Cabinetry Inc. in 1992, specializing in residential and commercial interior design and remodels, lighting design, universal design and custom furniture. In 2010, she opened a full design firm, Patricia Davis Brown Designs, for whole house and commercial projects. She also authors a national design blog, DigThisDesign.net, and has consulted for companies including American Standard, Delta Faucets and Kohler.
Young Huh, Principal and Founder, Young Huh Interiors
Young Huh is principal and founder of Young Huh Interiors, a full-service design firm specializing in residential and commercial interiors. Based in New York City, the firm continues to grow, expanding its original repertoire of residential interiors to include larger commercial projects and has been published in House Beautiful and Westchester Cottages & Gardens. In 2011, Young was honored with the Innovation in Design Award for Interior Design by Connecticut Cottages & Gardens and was selected as one of the new designers to join the prestigious 2014 Kips Bay Decorator Show. In addition to her design practice, she co-founded the blog "Les Design Nerdes" with Audrey Margarite.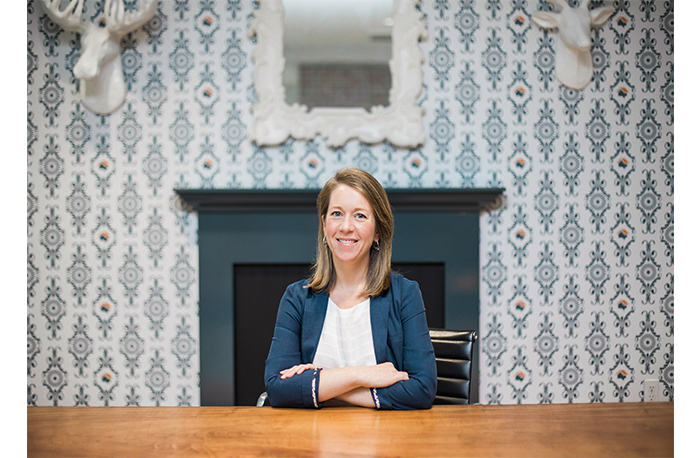 Allison Lowrie, Chief Marketing Officer, HomeAdvisor
Allison Lowrie joined HomeAdvisor in 2010 and was named chief marketing officer in 2015. She specializes in brand management, customer acquisition, communications and marketing intelligence. Prior to joining HomeAdvisor, Lowrie acted as the director of advertising products at Cars.com for nearly six years. During this time, she led the rapid growth of the company's on-site advertising products and launched its yield management practice. Lowrie previously worked at Boston.com and Arnold Worldwide. She serves on the Home Improvement Research Institute Board of Directors and Harvard's Joint Center for Housing Studies committee.
Michael Mahan, Business Development and Strategic Growth Leader, GE Appliances
Michael Mahan is business development and strategic growth leader for GE Appliances, a unit of Haier, a $7-billion business headquartered in Louisville, Ky. He leads the team responsible GE Appliances' portfolio optimization strategy and growth through mergers and acquisitions, partnerships, joint ventures, technology acquisitions, alliances and divestitures. In 2010, Mahan was named general manager for EV infrastructure, where he led the global team responsible for designing, marketing and commercializing GE's new WattStation electric vehicle chargers. He transitioned to GE Appliances to lead its premium Monogram brand team in 2012, developing the long-term business strategy for Monogram while leading marketing and product initiatives. Mahan holds a Bachelor of Science degree in mechanical engineering from Worcester Polytechnic Institute and an MBA from the University of Connecticut. He lives in Louisville with his wife and son.
Steve Petock, Senior Vice President of Business Development, Ferguson
Steve Petock is senior vice president of business development for Ferguson, the largest distributor of residential and commercial plumbing supplies in the U.S., where he is responsible for the business development and strategic direction of the company's multiple business segments. He has more than 35 years of experience working in sales and management for the kitchen and bath industry. A Virginia native, he graduated from Roanoke College and throughout his career, he has attended executive development programs at Stanford University, Harvard Business School, Duke University, the Darden School of Business and International Institute of Management Development in Switzerland.