Uncompromising Vanity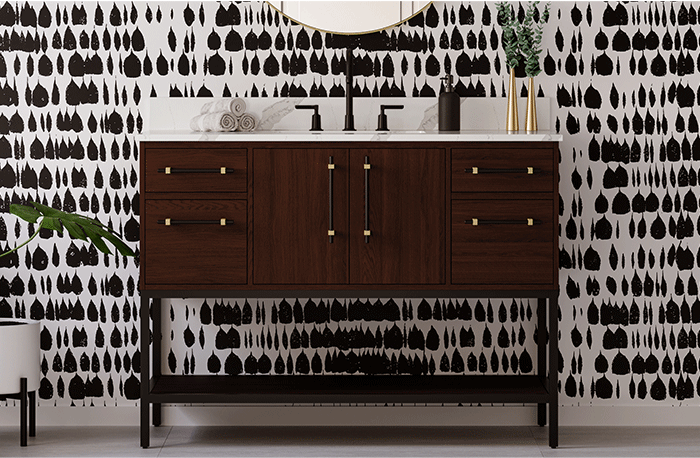 August 31, 2023
This article was originally published on August 31, 2023; it was updated on September 11, 2023.
When it comes to bath renovation projects, timelines are

probably the

most challenging aspect for designers and contractors to manage

.

It can be difficult to stay on track
,
especially when coordinating with custom cabinet makers who are contending with the demands of multiple projects. Any number of things can cause schedules to be pushed out without warning. While trade professionals understand this reality, the client, who has likely been dreaming of their bath renovation project for months or years, often has unrealistic expectations. In their mind, making the decision to finally start the project was the hard part, the actual project should be easy, especially when they are working with professionals!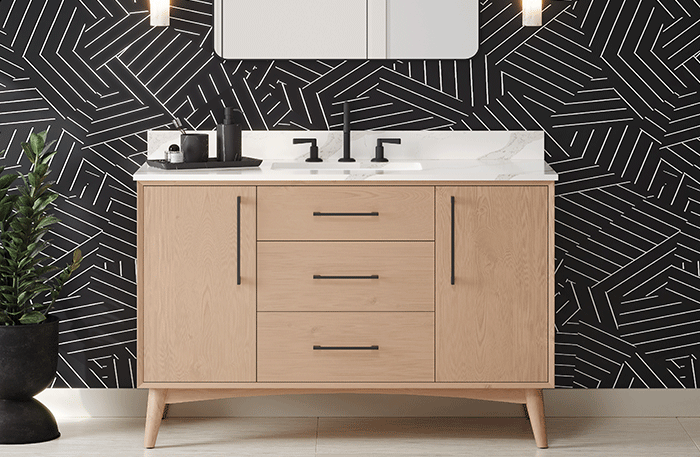 For design pros managing these conflicting realities offers an opportunity to design differently

.

Instead of going the traditional and time-consuming route, imagine trying a solution that would allow a project to be completed in days instead of months while exceeding your client's expectations without compromising on style or functionality

.

That is the goal of the Jeffrey Alexander Vanity Collections
—
to provide a premium bath vanity that can be personalized in a way that feels unique and special to the client, without the wait.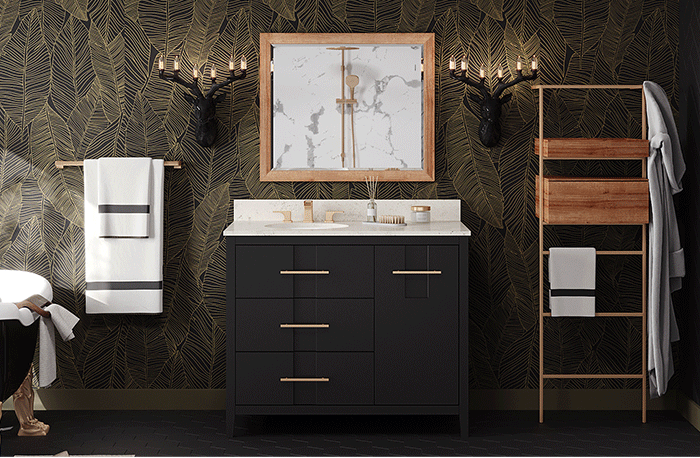 Jeffrey Alexander offers 17 bath vanity collections that include traditional,

transitional
and modern designs. Color options range from natural dark and light wood tones to jewel tones as well as the always elegant white, gr
e
y
and black options. Vanity tops are available in marble and stone with square and oval bowl options. The extensive range of vanities, tops and bowls creates over 4,000 possible combinations
,
but choosing the right option for your project is made easy with online design tools that allow you to mix and match to create a personalized vanity your client will love.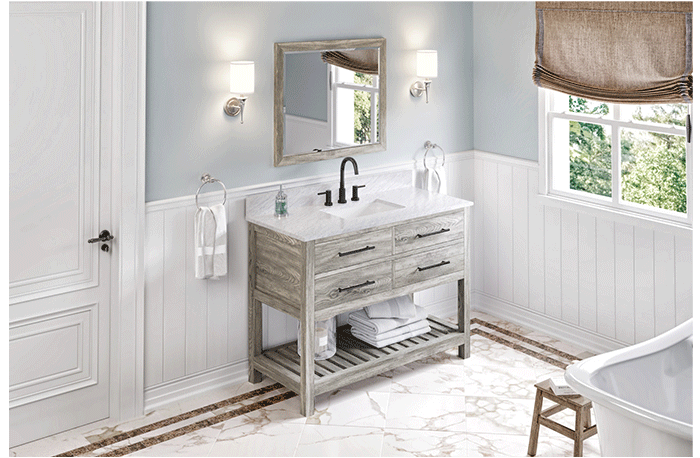 Jeffrey Alexander vanities are cra

fted to ma

ke a statement that reflects your client's distinct style

.

Create a coastal chic vibe with ease when you choose a Wavecrest vanity in
W
eathered
G
r
e
y. Featuring clean lines, generous drawer space
and a boardwalk-inspired lower shelf, the Wavecrest Collection is perfect for bringing the beach feel indoors.
At the other end of the design spectrum is the Pascal Collection
,
which combines elements of nature with a touch of heavy metal. Pascal features exteriors of natural wood and a metal frame that gives the vanity a subtle vibe of industrial edginess. Details like soft-close doors with pull
out storage in addition to drawers on vanities over 30 inches, the Pascal Collection is perfect in bath spaces designed to 'WOW' with dramatic wallpaper patterns and bold geometric decor
.
It's
rock and roll and
elegance
for a bath spa
ce that is sure
to impress.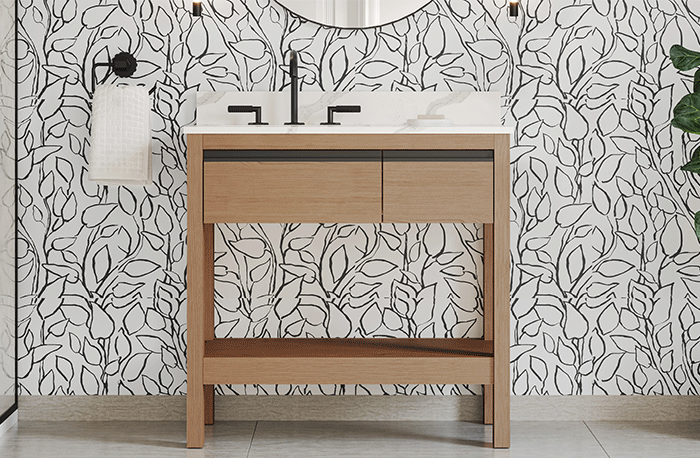 Beyond offering a wide range of style options, Jeffrey Alexander vanities also

offer

an impressive number of size options and configurations for a wide range of baths

.
The elegant Percival Collection h
as
a compact 24-inch model that features soft-
close
doors and a rollout drawer in addition to an adjustable shelf
.
Several Jeffrey Alexander vanity collections are available with dual sink options
—
perfect for a Jack-and-Jill bath space. The new Jubilee Collection, available in alight oak or dark walnut natural finish
,
has a 60-inch dual-sink option that provides drawer space and a sturdy shelf area that is ideal for keeping a wide range of bath toys and supplies within easy reach.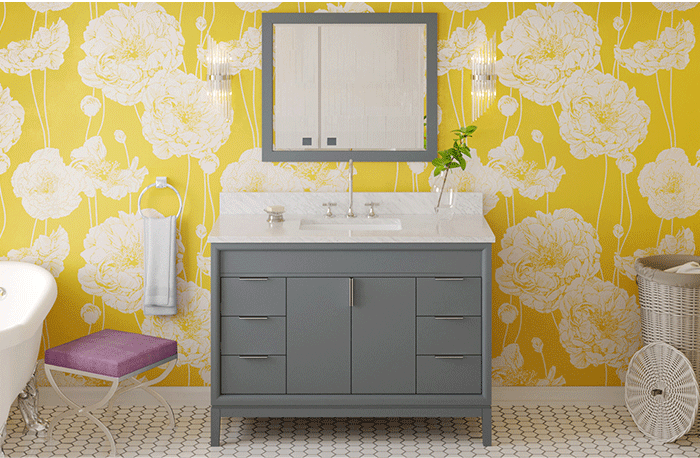 Storage is always at the top of a homeowner's wish list for a new bath, and they may believe that custom cabinetry is the only option

.

Designers and remodelers play

an important role

in educating clients about the benefits of professional-grade, furniture
style bath vanities. Not only can you give clients the unique look they want, but you can do it in less time and for less money. Learn more about the complete line of Jeffrey Alexander vanities at JeffreyAlexanderVanities.com.