A Look at Today's Storage and Organization Needs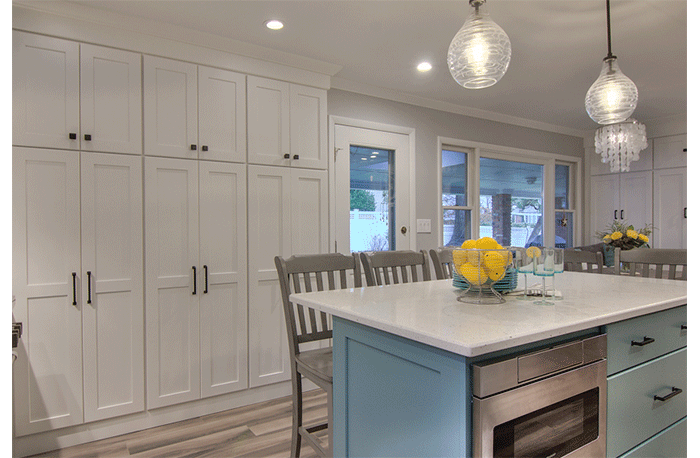 October 11, 2021
At the beginning of the pandemic, storage and organization became even more important as homeowners needed more space for all the food they were preparing at home. This grew into improved refrigeration to preserve all those ingredients, dedicated pantries for dry storage and mudrooms doubling as landing zones for groceries and a place to stash masks and hand sanitizer.
Fast forward 18 months, and storage and organization are still at the top of most homeowner wish lists, but they want more of it. They also want customizable solutions for their family needs and the way they use their kitchen and bath spaces.
"I know I sound like a broken record, but everyone wants to be better organized, and they need help with it," said Rob Jenkins, director of OEM sales & marketing for Rev-A-Shelf.
Consumers are paying more attention to detail these days, and they are more selective in their choices. They are also willing to spend more to get exactly what they want.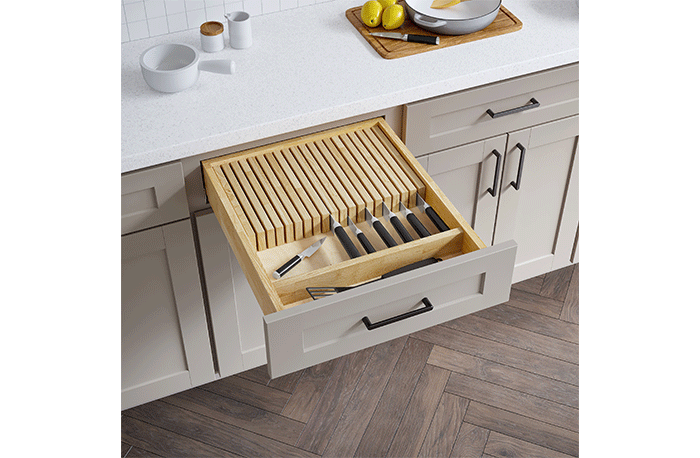 The 18-in. Drop-In Knife Block Drawer Inset from Hardware Resources can be trimmed to fit if necessary and requires no installation. It features 19 slots and a built-in front divider to create two compartments and is made in the U.S. Price is $108.16. www.hardwareresources.com
Determining Storage and Organization Needs for Best Results
According to designer Meredith Weiss of Commack, N.Y.-based Merri Interiors, she looks through her clients' cabinets before the project begins to establish what they have to store and what they might be able to do without. She doesn't want them to pare down if they don't need to but will make suggestions in case they can to come up with the ideal solution.
Caption for top photo: Weiss likes to maximize storage by adding shallow but tall cabinets that still offer the built-in look when there isn't enough square footage for a standard depth. Photo by Nicole Larson
Designer Laura Eagan with Goodyear, Ariz.-based Estrella Cabinetry says a couple in their 30s with a few children will have different storage needs than empty nesters. Her goal is to create universal spaces that evolve with growing needs, not something that will be outdated in five years.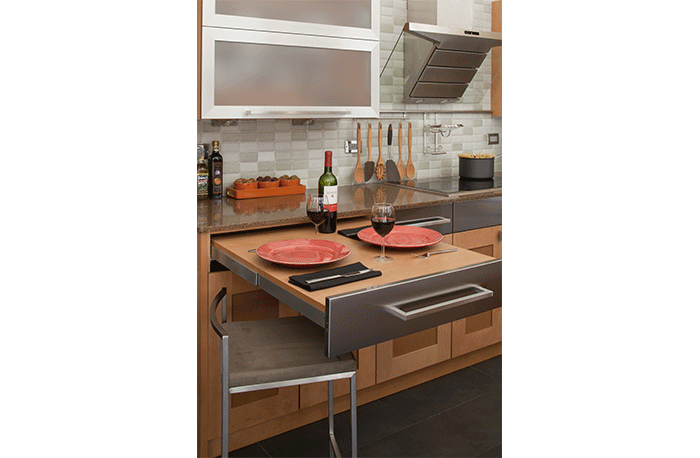 Häfele's Pullout Table Fitting Top Flex hardware set is made of plated steel and can hold up to 66 pounds. It extends up to 32 inches and works with cabinets between 17 ¾ and 35 ½ inches in width. As the table is extended, the front panel drops down automatically until the top is flush with the table. Price is $650 per hardware set. www.hafele.com
Outfitting the Multipurpose Kitchen
Weiss said her clients do not want anything on their countertops; everything needs to have its place. Some of her everyday ideas include organizing into segments with things like cutlery dividers and knife blocks. She also loves to use spice pullouts on either side of the main cooking appliance – everything her clients need to cook a meal or clean up after should be easily within reach. Her clients are also asking for storage drawers for plates with peg dividers that are easily accessible to children so they can help set the table or put dishes away.
Eagan's clients are asking for built-in butler's pantries and are taking space from the rest of the overall kitchen or from a nearby room to include them. She calls these pantries the workhorse of the kitchen, as they are being used to store smaller appliances like coffee makers and microwaves, and some even house a secondary wall oven and sink.
According to Marisa Sanchez, senior product manager for organizers at Hardware Resources, drawer storage and organization and trash pullouts are becoming standard and not just an upgrade. And Angela O'Neill, director of marketing for Wellborn Cabinet, says larder cabinets that sit on the countertop are great for housing mixers, coffee stations and snacks for kids, and more homeowners want paper towel storage in the cabinets.
Throughout the pandemic and quite possibly from now own, kitchens have become more multipurpose areas that can accommodate things like home office spaces and homework stations. This along with more meal prep means more solutions to hide the mess.
Daryl Nauman, account manager, kitchen and bath for Häfele, suggests pivoting cabinet doors to conceal these spaces when not in use, as well as pullout tables. For the kitchen's main function, he is seeing requests for larger base cabinets to accommodate workspace sinks, as well as storage solutions to hide the sink accessories.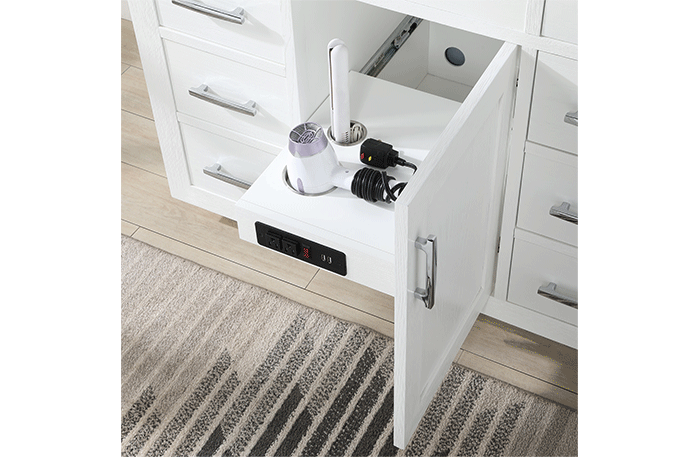 Fairmont Designs has added a new finish to its Brookings vanity collection – the slightly textured Polar White. Shown is the 42-in. unit, which features a variety of bowl sizes from 21- to 72-in. widths with bonus sizes of 30- and 36-in. wall-mount configurations. Inside is a power station with an outlet and two USB ports, and the hardware is in polished chrome. Vanity runs between $1,350 and $3,400, and tops and sinks are sold separately. www.fairmontdesigns.com
Eliminating Chaos in the Bathroom
Although needs may differ here than in the kitchen, homeowners still want to see less clutter and more organization in their baths. Weiss tells her clients they will have an intimate conversation about bathroom storage to determine what doesn't work and how she could make the space function better with two people using it at the same time.
She likes to include recessed medicine cabinets with adjustable shelving, and she takes advantage of storage opportunities between the studs. She specifies the same tilt-outs that she recommends for the kitchen and likes to include a cabinet above the toilet if it has its own room or at least a recess for small items.
Nauman says consumers want the ability to plug a hairdryer or curling iron into a drawer so these styling products are not always out in the open, as well as drawers that are protected from their heat. Other storage requests in the bathroom include trash receptacles and hampers incorporated into the cabinetry.
Eagan says instead of a typical vanity, her team is using drawer base cabinets used in the kitchen to access every square inch of space for storage, as well as spice pullouts for smaller bathroom toiletries. She also includes a niche behind the vanity as a ledge and encourages toe kick drawers for hidden storage for valuables.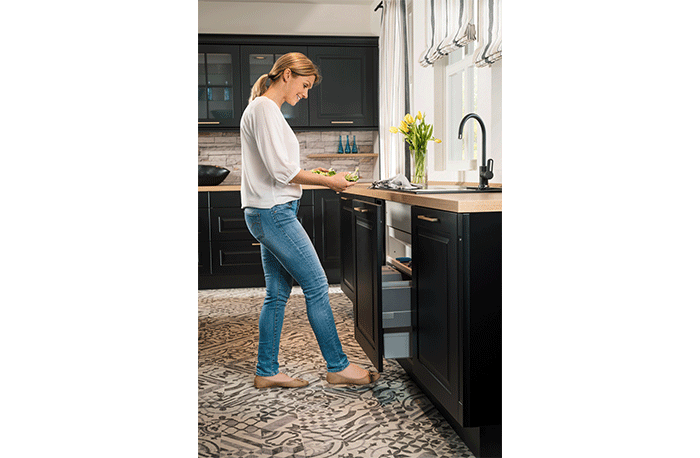 The Libero Touchless Automatic Door Opener from Richelieu automatically triggers the release and opening of the cabinet for no-mess access to the wastebin. It is easy to install, is ideal for base cabinets with no frame on the bottom and is equipped with a top-mount wastebin and bottom deep drawers. Libero can be activated by waving your foot in front of the sensor located in the toe kick or by voice activation. Price is available upon request. www.richelieu.com/us/en/
Staying on Top of Changing Consumer Requests
As homeowners are paying close attention to perfecting their homes, they are becoming more aware of the products that are available to them. According Jenkins, there are not a lot of storage solutions that don't yet exist. Even so, his company introduces about 50 new items a year to the market.
Brands today are constantly needing to evolve to meet the needs of the marketplace. There are several ways they do that, such as conversing with attendees at trade shows and paying attention to what is trending on social media.
According to a spokesperson at Richelieu, the company champions innovation to stay on the forefront of trends, and it has to be agile and adaptable and when the market needs change. Richelieu has a team of product managers that scour all the vendors it presents to bring the best products to market.
O'Neill says Wellborn conducts continual research and works close with its dealer bases since they are at the forefront of working with the brand's customers. Wellborn also canvasses shelter publications and websites like Houzz to see what is gaining interest.
"To stay in touch with market needs, it makes sense for us to keep in close contact with designers and network with reps that sell cabinet lines to dealers, as they may know about trends before we do," said Nauman, who added that Häfele has bi-monthly meetings with its various branches to discuss worldwide kitchen trends, which he says leverages them as a global company.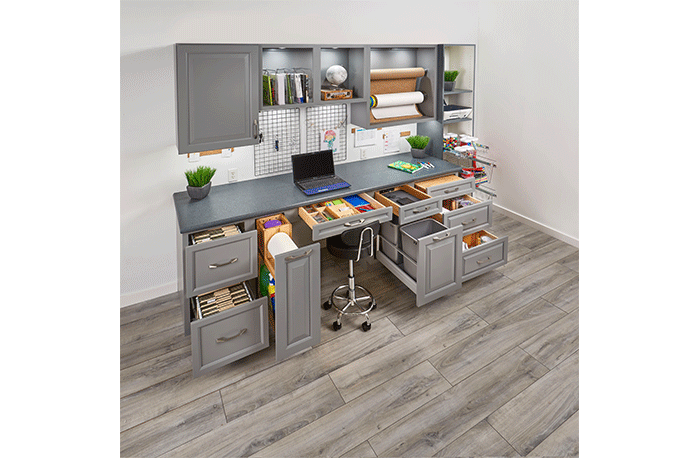 This Learning Center includes Rev-A-Shelf's Charging Drawer, Closet Rod for drawing paper, Pantry System Container Organizer for craft items, 4DPS Peg drawers for shipping supplies and Paper Towel Pullout. The Pantry System Container Organizer features a variety of acrylic storage containers, is designed for 18-, 24- or 30-in. pantry panel systems and ranges in price from $188.20 to $315.20. www.rev-a-shelf.com
COVID's Effect on Storage and Organization
Working and schooling from home are the biggest developments borne from the pandemic, and there is still a lot of room for brands to grow in these segments. Some innovations include storage for office and homework supplies and pullout tables in the kitchen, as this room has begun to perform double and even triple functions.
There is also a desire for more hygienic and healthy options, such as materials with antibacterial properties, cabinets made with low or no VOCs and touchless products.
If it's possible that anything beneficial has come out of the pandemic, it would be the closer connection people have with their homes. The money not being spent on vacations and other entertainment has been redirected to improving their most important spaces – the kitchen and bathroom. As a result, functional storage is more important than ever before – tidiness and organization are the ingredients for today's healthy and happy home.