A Snapshot of the Design-Focused Technology at CEDIA Expo 2022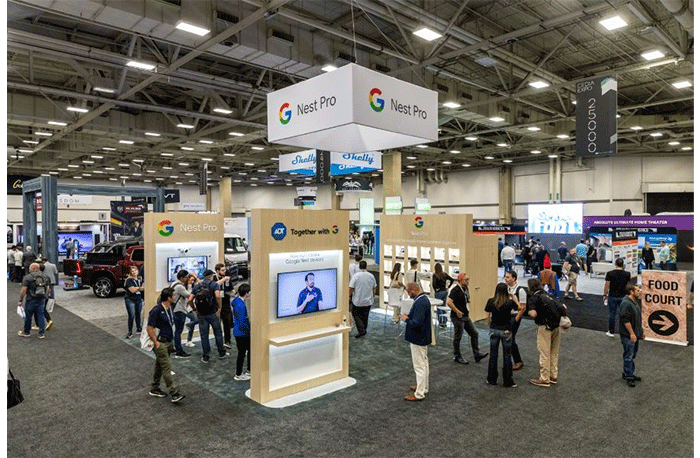 October 10, 2022
A newer tradition of CEDIA Expo is the Design Connection tour, an opportunity for those in the interior design industry to see technology from a different perspective. On a curated stroll among the different manufacturers, designers are given a close-up view of design-focused technology products at the show, before closing out with an afternoon panel discussing the interaction between these two industries in the home.
As a participant on the tour, I had a unique opportunity—having my own shopping list to hit up in that same category. I could, one: see where ideas stacked up in comparison to professionals; and two: be convinced of a few products I never would've considered myself. However, the results wound up being a mixed bag for me.
We hit up some control systems with Lutron and Crestron, digital displays at Samsung and Sony, architectural lighting at WAC, a surprisingly diverse set of concealed speakers at Harman and Origin Acoustics, the wide-wide ecosystem of Google Nest and even saw a tiny home showcase put on by the HTSA. But nearly every manufacturer I expected to see was noticeably absent.
There's a good chance it was time constraints, that the denomination of design-focused technology has evolved so much that it couldn't be all fit into a single tour. It's unfortunate simply because there were so many exhibitors at the show that would really benefit designers to know, so I hope this readership will indulge me as I go on my own tour of all the ones that may have been missed while at the show.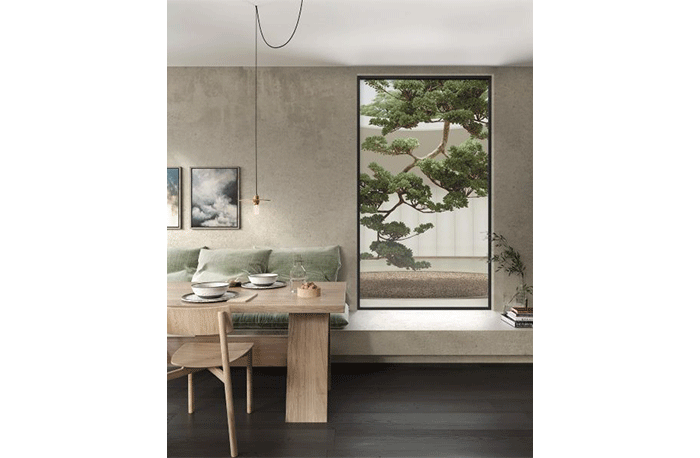 A partnership between Leon Speakers and IDEO, the Liquidview Virtual Window provides stunning visuals recorded from all over the world.
Leon Speakers Revels in How Tech Can Aesthetically Benefit Design
Leon is a company renowned for its ability to make a piece of technology stand out in a room, but in the best way possible. Concealment is the goal, but the speakers and displays Leon offers are hiding in plain sight as literal art pieces in many cases. Just from what the company had at the show: there was a sound bar transformed to act as a designer floating shelf, a portrait of the Beatles that was actually a speaker and even a virtual window.
It's all because the founder of the company, Noah Kaplan, is deeply in tune with both design and technology, to the point where calling him a renaissance man might be selling him a little short. It goes a well beyond trying to make the design-focused technology look sleek enough to fit into a design. In most cases, the technology is meant to play a direct part in the design.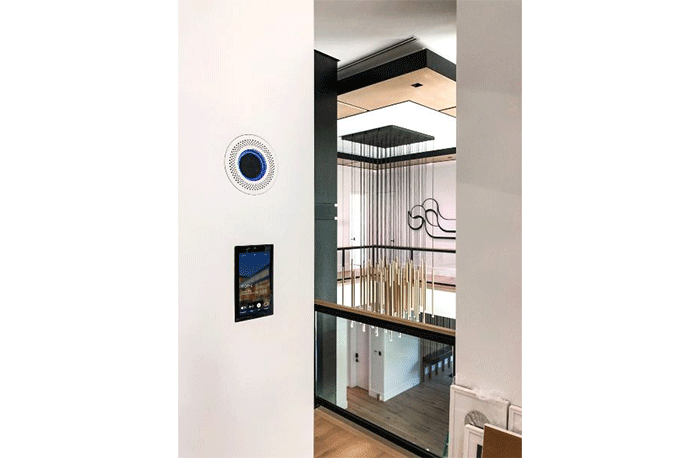 Whether new build or retrofit, Wall-Smart is able to provide flush mounting for just about any piece of technology in the home.
Wall-Smart Treats Tech Like a Higher Functioning Building Material
In that same vein, Wall-Smart quite literally embeds elements like control pads, switches, routers and more, into the wall and ceiling so it all becomes a seamless feature within the building environment. It has a flush mounting solution for just about every wall panel you can come across in the home, and at the show, the company was even showcasing templates for new builds that allow designers and builders themselves to easily add recesses where needed.
Solid surface, wood, plaster, drywall, stucco, it doesn't matter: Wall-Smart has a solution to make the product fit. The only stipulation is that solid surfaces and wood are a new build offering and can't be done as a retrofit like say drywall. Outside of that, though, it allows technology to fit cleanly into any space imaginable without breaking the visual plane.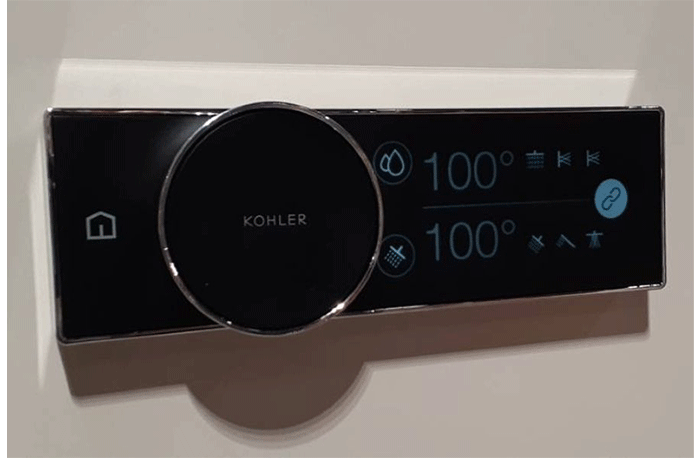 Kohler's Anthem offers an intuitive, haptic interface to deliver a spa-like focus, with scene set-up not unlike many HCL or music integrations.
Kohler Shows How Design-Focused Technology Can Elevate the Home
'Duh!' people might be saying, but despite having a big presence at plenty of design shows, this was only Kohler's second year at CEDIA Expo. The booth was markedly toned down from KBIS—for obvious reasons—but it still had some interesting offerings at the show, most notably a residential power supply unit alongside the company's Anthem bath and shower.
I think its interesting because if anyone is going to be developing design-focused technology, it would be a company that started off in design. Anthem, for instance is a great example of taking a design standard for every home and elevating the experience with intelligent technology. It's worth keeping an eye on the power supply, too.
Experts are already predicting a rise in adoption as energy cost, demand and availability start to fluctuate, and Kohler, in addition to that pedigree for good design, has a solid background in power generation as well.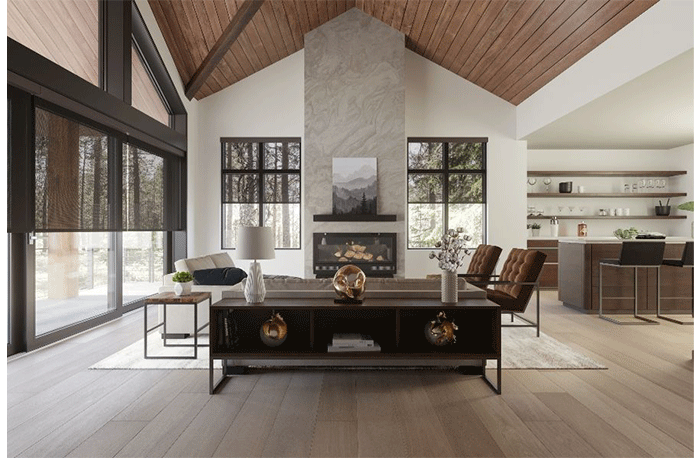 The Nano 2 is SI's easily adjustable flush-fit motorized shade offering for interiors.
Screen Innovations Makes Outdoor Spaces Year-Round Fixtures
I didn't notice it until I sat down to write this, but there was not a single mention of outdoor living during the tour. It's surprising since outdoor spaces have become wildly popular in both design and technology industries. It's one of the fastest-growing categories in the custom integration channel.
Now, Screen Innovations isn't exclusively an outdoor company; it's all about shades and screens. However, every one of their products is designed to match the design of a space while in use and disappear when not in use. A lot of its products are also designed to help extend the functionality and usability of outdoor spaces, meaning clients can enjoy outdoor enclosures longer and more often.
Short throw projector screens make outdoor entertainment possible on the brightest of days while motorized screens help mitigate sun, wind, bugs and even colder weather up to a certain extent.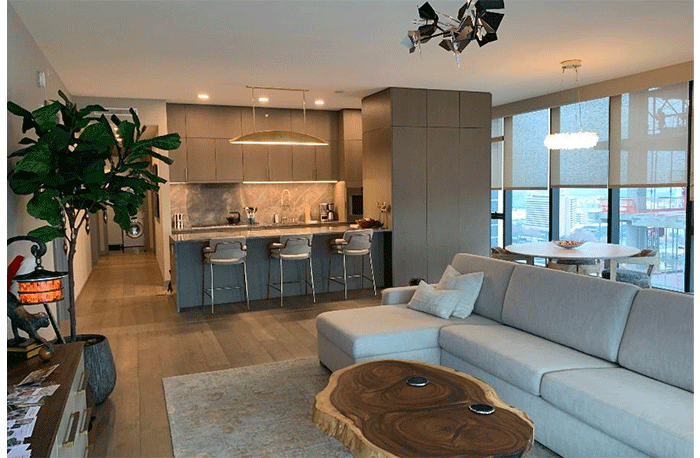 Earlier this year motorized shades from Hunter Douglas were used as a part of a unique smart MDU project in Austin to create a stylish, comfortable residence focused around natural lighting.
Hunter Douglas Takes Beloved Design and Reimagines it with Tech
Having had a chance to tour Hunter Douglas's booth at the show, I can only think about what other people missed out if they didn't do their own bit of exploration after the tour—which I sincerely hope they did. My same statement about Kohler applies here too: if any manufacturer is going to know about design-forward technology, it's going to be the design manufacturer.
Like Kohler, it's another instance of technology accentuating design. Pairing the company's immense portfolio of shading designs and styles with an easily integrateable motorized cassette means it can pair with a massive number of control systems on the market, or work independently, with the only change being its functionality for homeowners. The company also showcased its new Illuminated Shades at the show, which, if you didn't have a chance to check it out for yourself, we talk about it more over in our recap of CEDIA Expo 2022. Think automated window treatments meets human centric lighting.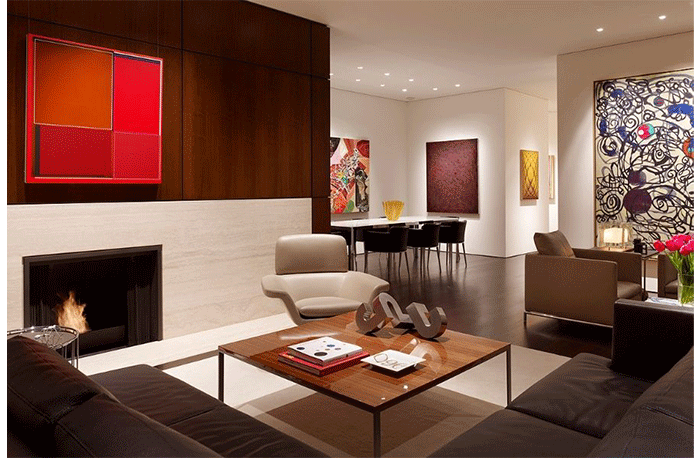 No. 8 Lighting, along with many others are already a part of Vantage's LHUMAN system, and the list of compatible fixtures keeps growing.
Legrand Offers a Control System with Lighting Designers Top of Mind
When I stopped at Legrand's booth, it was to check out its LHUMAN human centric lighting system, however, the way it was described to me was what got me thinking it fits so well in a design-forward setting. I don't mean to discredit the tech behind it—there's a lot—but when the system seems to operate more on principles of how lighting affects people than anything else, it's clearly technology that was made with lighting designers at the forefront of consideration.
There's also the fact that Vantage continues to form partnerships with lighting manufacturers so that anyone working within the LHUMAN system isn't beholden to a single fixture. Plus, like many of the other control manufacturers, the interfaces all meld with traditional home set-ups, looking no different from a regular light switch in most cases, since the system only deals with lighting.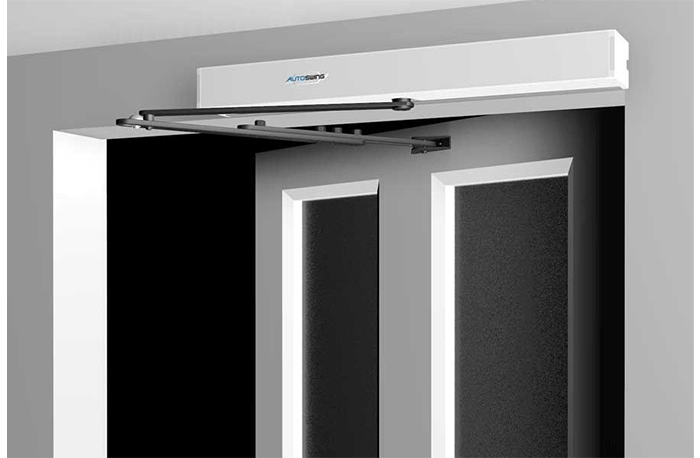 Autoswing is a new offering from Autoslide that transforms any traditional swing hinge door into an automated one.
Autoslide Provides Living-in-Place Solutions without Sacrificing Design
A while back I spoke to Jason Price, a man born with Spastic Paraplegia who had undergone a project to turn his home in Oklahoma into an accessibility-focused smart home where he could live independently. I bring this up, because the core challenge of that build was finding a way to automate the doors that kept the original home-like design of the space intact. If only Autoswing had been available at the time.
That story aside, the concept of living-in-place and independent living is something that is looming over America right now as our largest generation yet readies itself for retirement. It's a niche product, absolutely, but it's also one that I think designers should have at the top of mind moving forward because it is retrofit-focused.
Also, while it can potentially integrate with other connected systems, it still works perfectly fine as a standalone solution.
Words by: Nick Boever • Photos by: Cooker Photography