Bountiful Bologna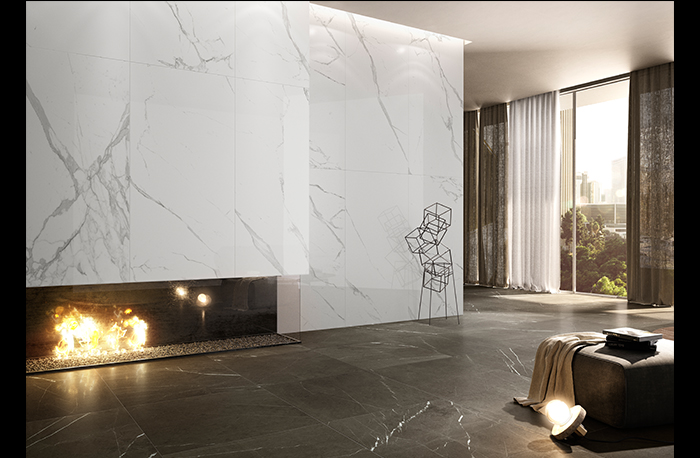 October 10, 2016
Cersaie 2016, the international exhibition of ceramic tile and bathroom furnishings, recently welcomed a record-breaking 106,599 visitors during five design-filled days in Bologna, Italy. Within six exhibition sectors covering an exhibition floor of 156,000 square meters, Cersaie hosted 852 exhibitors from 43 countries, including 335 non-Italian exhibitor companies. Attendees – for the first time more than 50,000 of them international visitors – included architects, interior designers, tile professionals, journalists and the general public from more than 170 countries.
See a gallery of tile and bathroom trends here.
Pritzker Architecture Prize-winning architect Lord Norman Foster gave this year's keynote lecture, which honed in on the importance of consistency between structure and function.
"I have always been fascinated by the connections between architecture, design, machinery and aircraft," said Foster, who explained that structures form the backbone of buildings and therefore must be essential and minimalistic. He then reviewed a number of key projects from his career to illustrate this concept. With a variety of conferences in the "Building, Dwelling, Thinking" cultural program, professional architects and designers also had multiple opportunities to earn CEU credits during Cersaie.
Tile Trends
Bigger is better when it comes to tiles today, and many manufacturers featured large "slabs" or panels. Thanks to new manufacturing techniques, these super-sized tiles offer seamless installation even in spacious rooms and come in a range of durable thicknesses.
The trend of imitation wood tiles continues, and they are everywhere including the walls. Wood-look tiles are textured or smooth, such as Northern European woods offered in strips of different colors with or without scratches, and may be stamped with evidence of secondary use as from an old wine cask. As with wood, technology continues to improve so that the recreation of marble veins appears realistic enough to mimic even a Calacatta.
Of geometrical shapes, the hexagon continues in popularity, but it now comes with a twist. These six-sided forms can be more refined when available in copper and gold or might offer a modern interpretation by being deconstructed into triangles, rhombi or chevrons.
Tiles patterned on textiles come in masculine fabric looks like tartan, madras, houndstooth, tweed, denim and leather. At the same time, Art Deco and Art Nouveau expressions are still present, but the style is lighter than last year, and sizes are larger and more floral.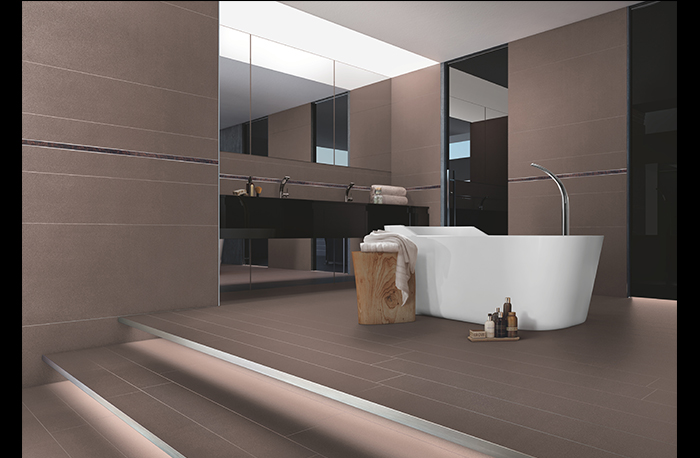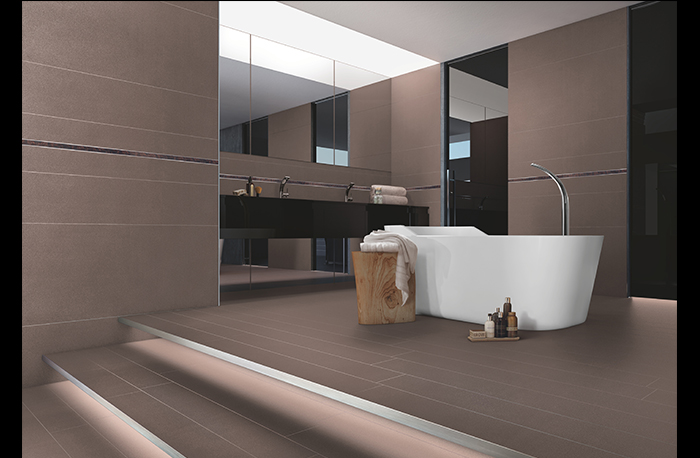 With the explosion of three-dimensional tiles, ceramics provide movement and appear in organic shapes that meet on walls to produce gentle waves. Those that mimic a particular stone, type of brick or clay often feature intentional distressing to create authentic effects.
Installations focused on mixing sizes, patterns and materials. In some cases, disparate material looks even partner in one tile, for example, a combination of marble and concrete.
Bathroom Trends 
Smooth, minimalist bathroom fixtures have been emboldened with color. White and cream are still standard, but gray, mauve, blue, green and brown hues shade toilets, bidets and sinks. Most important for toilets, features encourage gentle use and hygiene with soft-close and removable lids.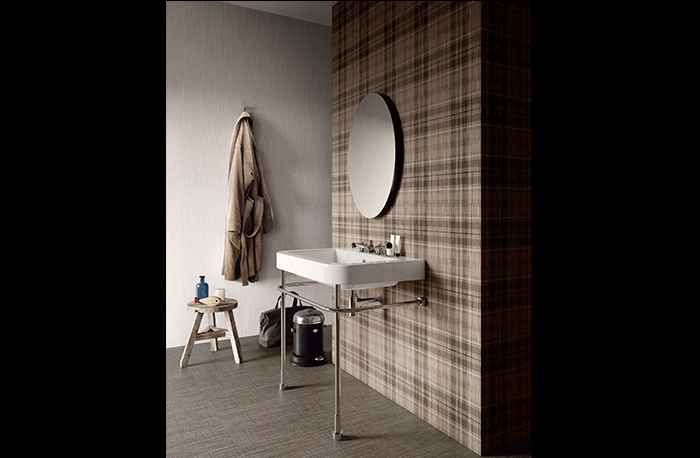 Even with the prevalence of simple shapes, bathroom furniture also offers something for the other end of the spectrum with traditional bowls and gold faucets and accessories, or in some instances, rose gold presents the apex of on-trend sophistication.
Decorative elements appear on bathroom furnishings, adding flair with fiberglass shower pans printed to coordinate with wallpaper. The look can be bold and geometric or softly floral. And tiles return to make their mark on bathroom furnishings too, as they are applied for ornamental purposes to bathtub surrounds, cabinets, countertops and other furniture.
– By Carrie Whitney