Brown Jordan Outdoor Kitchens Releases 2021 Outdoor Living Report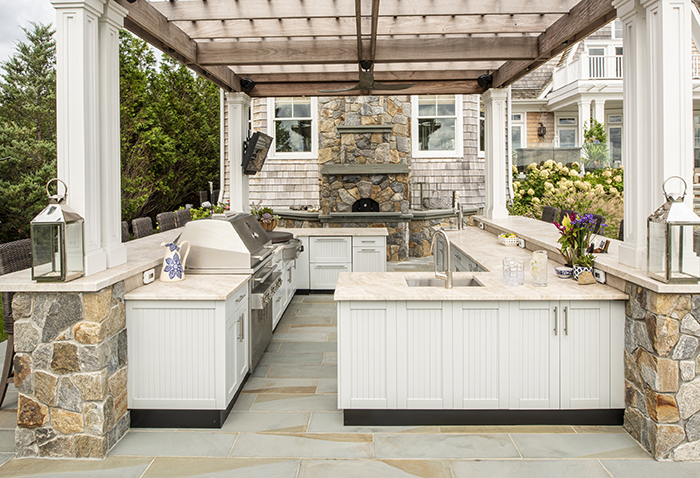 April 6, 2021
Brown Jordan Outdoor Kitchens has released the 2021 Outdoor Living Report, featuring Harris Poll stats and trend forecasting from top designers. The report found that outdoor spaces are more important than ever, with 82% of American homeowners recently surveyed reported they're more interested in updating their outdoor living spaces than they were prior to the pandemic.
Other takeaways included:
Growing Demand for Outdoor Kitchens
65% of American homeowners aged 35-44 cite an outdoor kitchen as very important

if they were designing an outdoor space.
Designer Intel: "In this new landscape, people are committing larger budgets for a comprehensive outdoor experience that caters to cooking, entertaining, and everyday living. Kitchens are now a necessity in these spaces, rather than an element saved for an update later on." – Phil Kean, Architect, Builder & Interior Designer President of Phil Kean Design Group
Bolder, More Colorful Outdoor Design
Homeowners are becoming bolder in their outdoor designs – perhaps seeking inspiration rather than relaxation while many still work remotely. This includes brighter, more playful colors, like reds, yellows and oranges, and taking risks they might not take indoors.
Bringing the Outdoors In
Designer Intel: "The mantra for so long has been 'bring the indoors out.' As outdoor products' design now rivals what's created for interiors, more clients ask to bring outdoor products in — because they know they'll withstand wear and tear from children and pets. While we see this predominantly in furniture, cabinetry is next — creating a truly seamless design between indoor and outdoor applications." – Fernando Wong, Landscape Designer
Investing in Durability
While interiors may provide opportunities to splurge or save, when it comes to outdoor kitchens, homeowners understand the value of investing in durability and resilience and are willing to pay for the best products available:
66%of homeowners cited durability to everyday wear and tear as important in their outdoor kitchen purchasing decisions.
65%of homeowners cited resilience to the elements as very important
Cost came in third, with 58% citing it as very important.
Find the full report here.