Fixr Releases Bathroom Trends Report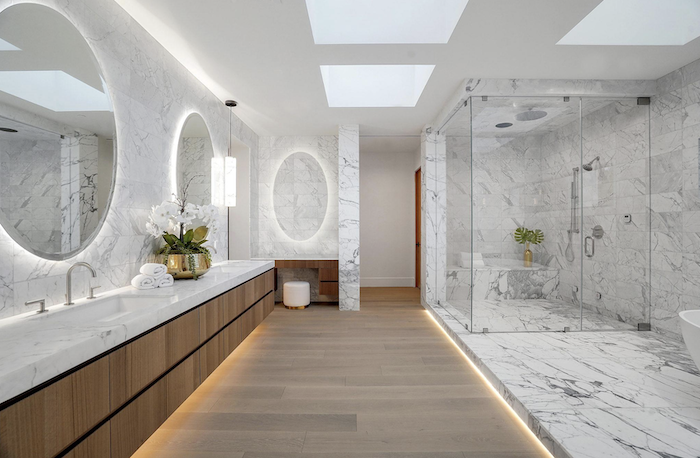 March 27, 2023
Each year, Fixr.com releases its Bathroom Trends Report, featuring responses from top interior design experts. The home remodeling resource site gets the lowdown from those at the forefront of the industry as to what will be the biggest trends in the upcoming year. Despite recent increases in the cost of living and with the cost of remodeling a bathroom coming in at around $6,250, 71% of experts believe that homeowners are still willing to splash out more than ever on remodeling their bathrooms this year. Here is what we can expect to see.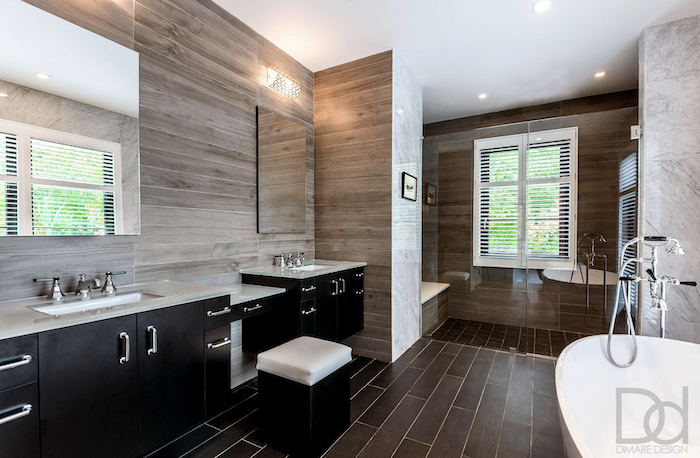 DiMare Design
Wood-Look & Natural Materials Are Top Features
As people seek to create sanctuaries in their homes as a way of escaping the stresses of daily life, we are seeing an increase in the popularity of wood-look and natural materials incorporated into interior design. Fifty percent of experts surveyed in the Fixr Bathroom Trends Report opt for this as what they believe is set to be the most prominent bathroom trend in 2023. Bringing the calming feeling of nature helps create a zen atmosphere, perfect for adding a spa-like feel to the space. Not only that, but natural materials also often have unique variations to them, making for an interesting design.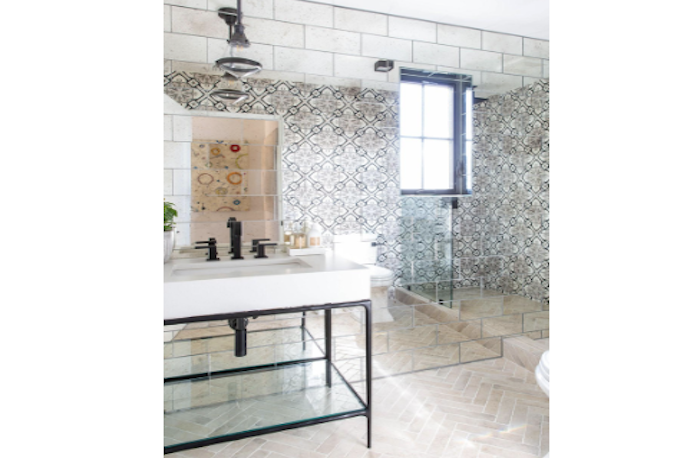 Kerrie Kelly Design Studio
Patterned Tiles & Wallcoverings to Enhance Depth
As people look to be a little bolder in their design choices, opting for the more interesting patterned tile and wallcoverings will be a popular choice compared to plain, solid-colored options. A patterned tile or wallcovering will add more depth, interest and dimension to the space, which is why 36% of pros say it is going to be the biggest trend in bathroom design in 2023.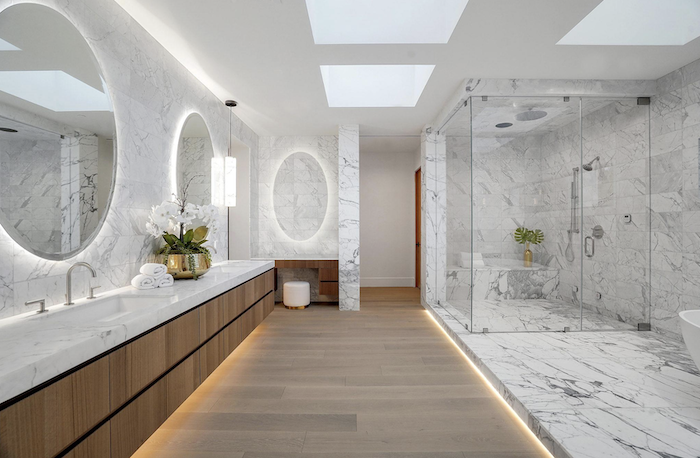 Lori Davis Interiors
Backlit Mirrors Add Functionality & Style
Fifty-two percent of interior design professionals say that both functionality and aesthetics will be homeowners' top priorities when it comes to bathroom remodeling in 2023. Hence why backlit mirrors are set to be a top trend. While serving as task lighting, conveniently lighting up your face as you use the mirror, they also add a softer glow to the room. Many also come with an anti-fog feature, making them even more appealing.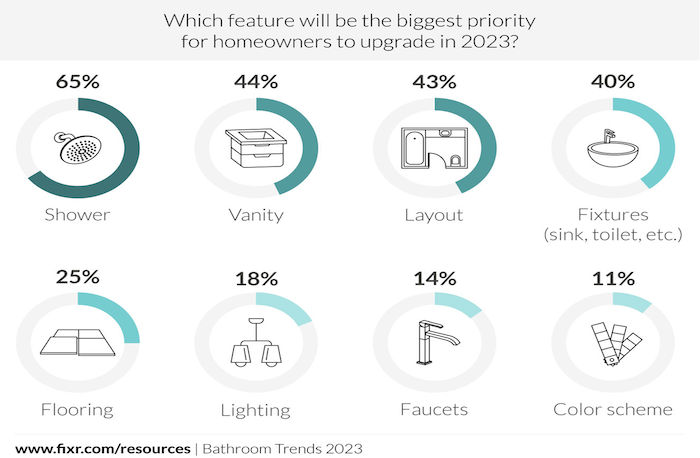 Showers Are Top Priority for Upgrades
When considering the desire to improve functionality and aesthetics in equal measure, it makes sense that many people will prioritize the shower to update, and 65% of experts agree. Visually, the shower plays a huge part in the overall design and appearance of the bathroom. Practically, the shower needs to be comfortable and easy to use. Whether that be including double showerheads, a barrier-free walk-in shower or having a tub/shower combo, this is where homeowners can really adapt the space for their needs.
Using Shower Tiles as a Color Focal Point
It is not easy to commit to a new color theme in a bathroom. And with showers being a top priority to upgrade, this major feature in the space is a great way to add a new color. Some homeowners may not want to have a bold color throughout the whole bathroom, and that's why 59% of experts believe shower tiles are where most homeowners will incorporate new colors in 2023, something that can really draw the eye.
—By Adam Graham, construction industry analyst at Fixr.com