Hot Tile Trends From Lunada Bay Tile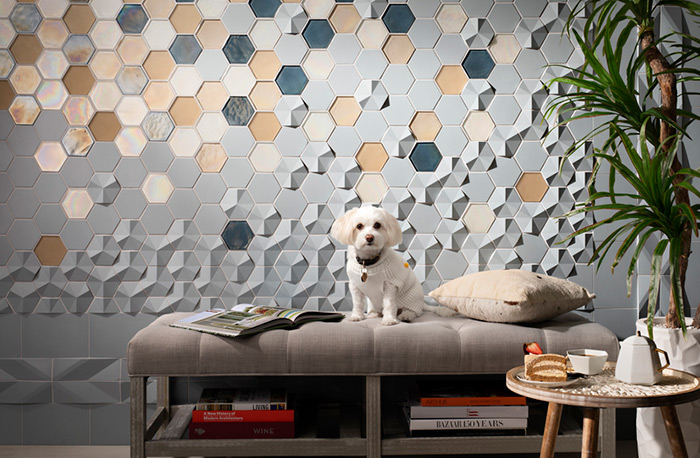 February 28, 2023
Tile is having a moment, according to Feras Irikat, design and marketing director for Lunada Bay Tile, the California-based company offering Japanese-inspired tiles, including many made with recycled glass. 
And why shouldn't it? Tile has been an integral element in design for thousands of years in most parts of the world, coveted for its beauty and durability and as a material for artisans to create interior works of art. Today, we are reaping the rewards of tile's rich legacy. 
"Tile is like jewelry for your home," said Irikat. "An expanded range of colors, textures, patterns — and prices — plus the ability to complement any décor, have made tile appropriate for areas anywhere in the home, both inside and outside. Interesting formats, colors and materials allow for true customization."  
Irikat has noted, tile trends for 2023 and beyond: 
Mix & Match. No longer is matching finishes throughout the space the rule of design. The more you mix, the more unique and personalized your space will be. Wood, stone and ceramics can work together to achieve a truly bespoke design — a space that is simple and sophisticated yet highly personalized. And there's no better area to add texture than the kitchen backsplash. Here, you can use glass, mirror, ceramic, granite or any surface with ease. Even if you want to go all out and try a tile mosaic, the backsplash is the perfect place to do it.
Personalization is the New Luxury. A little imagination can go a long way. Metallics can add warmth to an interior. Copper, bronze and gold are trending for décor finishes, and this trend can be complemented in tile. Shimmery, light and reflective, touches of metals can spice up  design. For example,

Momentum

 from Lunada Bay Tile is a three-dimensional ceramic tile collection with metallic hues that can be customized into exclusive wall art for residential or commercial spaces. A special hand-sculpting technique makes this one-of-a-kind wall art possible. The tiles can be arranged in a wide range of stylistic possibilities for the ultimate in personal expression.
Color Dominates. Nature-inspired colors are more than greens, blues or calming neutrals. They are colors that reignite our passion to nature — what is surprising and unique and wow out there, including vibrant reds. One bright red tile, Marrakesh Red from Lunada Bay Tile's Tozen collection, conveys a movement of color, contrast and light juxtaposed on a perfect canvas of translucent, handcrafted glass mosaics.
"One of the most gorgeous red colors is a deep rich red that actually does come from nature – from a small insect, white and fluffy, which lives on the paddles of the prickly pear cactus and when crushed, produces an extraordinary red dye," said Irikat. " This bug is the cochineal. Cochineal red is the brightest color found in nature and emits power and presence."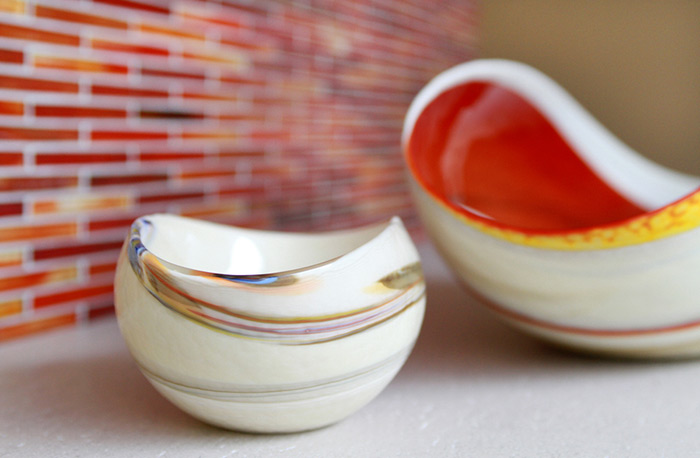 Softer Home Aesthetics. A soft home or soft sanctuary can ease our minds, offering an escape from a chaotic world where connection is possible. From high chromatic colors to neutrals, they are all getting a softer makeover. It is a chaotic world and creating a  soft sanctuary at home is more important than ever. 
"We want to go home not to four walls, but to a sanctuary: soft colors, soft surfaces," said Irikat. "We interact with our environment in a more emotional way than an aesthetic way." 
Biophilic Design. This has been huge for the past couple of years, and it is not set to go out of style anytime soon. People want to react with their environment more than in the past. It is nature as designer. Biophilic design seeks to connect a home's occupants more closely to nature by incorporating things like natural lighting and ventilation, natural landscape features and other elements for creating a more productive and healthier built environment for people. People desire natural and organic textures for added interest and design value.
"Transitioning, transforming and transmitting — that's tile," said Irikat. "More than ever people are looking for personal artistic expression in their homes and everyday life, and tile design can help achieve this balance."