Outdoor Living Design: What's New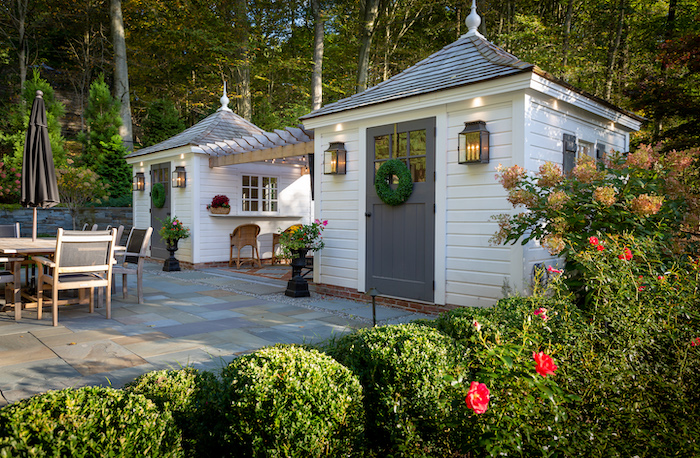 August 14, 2023
This story was originally published on August 14, 2023; it was updated on August 22, 2023.
Over the last few years, outdoor living has shifted in purpose, moving from a socially distanced fresh air venue to a personalized place of wellness. Put another way: We're no longer going outside because of CDC recommendations. We're now doing it because people recognize the benefits and pleasures of being closer to nature.
In their 2023 Remodeling Impact Report: Outdoor Features, the National Association of Realtors and the National Association of Landscape Professionals put a financial value on this trend.
"The COVID-19 pandemic changed the way Americans use their homes for daily living, relaxation and entertainment," said Dr. Jessica Lautz, NAR deputy chief economist and vice president of research. "Homeowners have embraced their outdoor spaces, transforming them into oases with pools, patios, plants and greenery. These outdoor features can also attract buyers if the owner wants to sell."
According to Mikaela Arroyo, director of the New Homes Trends Institute, a trend-tracking organization by John Burns Research & Consulting, there is more mixing and matching in outdoor space options.
"Instead of one big yard, designers are opting to include a main gathering space with little nodes of outdoor space, like a deck, that offer more privacy," she added.
Looking ahead, Brown Jordan Outdoor Kitchens creative director Daniel Germani recognizes an opportunity for designers to capitalize on this trend by going beyond the suburban backyard and pursuing less-expected spaces, the kind that are prevalent in metropolitan centers.
"Outdoor living  design has come so far over the past two decades – it's no longer just a grill against the side of the house but a true extension of home," he explained. "I'd love to see a similar evolution in the way we're thinking about smaller, urban spaces," he said. "Balconies and rooftops are in many ways the next 'white space' for designers to elevate and for manufacturers to better serve through dedicated product offerings. We've also started to see designers think about outdoor cabinetry beyond the context of a kitchen. As design professionals continue to think more creatively about outdoor amenities, I'm excited to see more unique applications, whether a pool-side bar and storage, an elevated garage or even gardening stations."
Outdoor Living Design: Cabinets Get Colorful
The perpetually popular finish, stainless steel is beginning to see some strong challenges. According to Brown Jordan Outdoor Kitchens' 2023 Outdoor Living Report, 69% of Americans surveyed feel outdoor kitchens present an opportunity for fun and different color selections compared to their interiors. This sentiment is particularly strong among younger consumers, with 77% of survey respondents aged 18-44 embracing this departure from more traditional options for their outdoor design.
"I've seen more clients focusing on elevating their outdoor spaces now than ever before," said designer Cara Woodhouse of New York-based Cara Woodhouse Interiors. "As my clients come to me for pops of color, that's meant being able to play with elements like more vibrant outdoor furniture and adding bold accent colors, whether it's in cabinetry or decor."
Cooking and Cooling
Appliances are the core of outdoor kitchens. Consumers with a particular culinary passion can opt for highly specialized appliances (which can trigger the need for a larger kitchen footprint), while non-gourmands have lots of choices for versatile all-in-one solutions.
Asked if fuel choices are driving product innovation or purchase consideration, Russ Faulk, head of product and chief designer at Kalamazoo, said, "Gas grills are the most popular choice for outdoor kitchens because of their convenience, but I love to see clients include true live-fire cooking in their spaces. Cooking with wood and charcoal is more engaging and flavorful than cooking with gas. The increased popularity of restaurants that focus on live-fire cooking has played a role in the rising popularity of wood-fired and charcoal-fired grills at home."
Place-Making and Materials
Much like with indoor open-plan living, an outdoor space can be zoned into different areas. This will give it an extra dimension and added interest. Zones can be achieved through using different types of floor treatments, such as decking, pavers, grass and pebbles, to delineate seating areas, circulation paths and cooking and dining areas. Vertical zoning is also effective. A sunken seating area and a raised dining or sunbathing area will create a visually interesting outdoor space while clearly defining its different parts.
Feature walls – unlike their interior counterparts, these must be weather-resistant – have made the move outside. From book-matched marble slabs and partitions of engineered stone to colorful tile monoliths and slatted wood screens, they are an eye-catching way of defining spaces. The walls can act as dining area backdrops, conceal the utility hookups for a fireplace or shower, provide hidden storage or be fitted with outdoor televisions and audio equipment.
When it comes to materials, gone are the days of matchy-matchy monotony. The Trex Company's 2023 Outdoor Living Trends Forecast identifies mixing materials as a hot topic. Homeowners are embracing eclectic design schemes with lots of visual interest created by juxtaposing materials like concrete and composites, wicker and aluminum, copper and stone, as well as mixing colors and patterns for added personality and visual intrigue.
Illuminating Thoughts
Thoughtfully designed lighting can completely change the look and feel of an outdoor space without breaking the bank. According to a 2023 report on outdoor technology by CEPro, a sister publication to KBB, exterior lighting has become a growth category for many integrators. Pathway lighting (21% of outdoor installations) is the most popular project, followed closely by landscape/plant/tree lighting (20%), security lighting (19%), wall-wash (18%) and staircase lighting (13%).
Ryan Jaso, founder of Lighting Boss and a member of the board of the Association of Lighting Professionals, offers some pointers on making an effective outdoor lighting plan.
"There are three key focus areas that are important to create a cohesive, functional and aesthetically pleasing design your clients will enjoy for years to come," he said. "These include mixing up the color temperatures, beam spreads and lumen outputs to add texture. Another is using layering techniques to show depth and drama. Finally, work to eliminate black holes as much as possible to create cohesion."
Glare and hot spots are common problems. To prevent them, Jaso suggests using more fixtures with lower lumen outputs and proper shielding.
"See the light, not the source," he added. "Hiding the light sources makes your overall design much cleaner. Big and obvious fixtures should be the exception, not the rule."
Entertaining Options
Partnering with a technologist or integrator lets designers add the last layer of experiences to an al fresco project. Increasingly, outdoor tech amenities are seen as an extension of the interior of the home rather than a standalone system. That means from a control standpoint, the outdoor AV is seen simply as an additional zone.
The objective when integrating AV equipment outside is to make it blend with, not compete with or overpower the natural surroundings. It's hard to feel at one with nature when a big, blank TV is staring you in the face. A two-piece video projection system may be a better option. The screen – held taut on a zipper track so that so it doesn't billow or sway in the breeze – retracts into a slim housing mounted inconspicuously to a solid structure. This preserves the view and the design when the screen is not in use. However, a projection screen can be just as beneficial to good health when it's in its viewing position.
"For many people, entertainment is an escape, a form of relaxation, and nothing gets you there faster than immersing yourself in a good movie presented on a big projection screen," said Ryan Gustafson, CEO of Screen Innovations, a manufacturer of motorized screens and shades intended for indoor and outdoor use.
The escalating interest in outdoor living spaces is an open door for designers to grow their business, and they should seize it – subtly, of course.
"When I'm asked to visit homes for a kitchen remodel, I look for opportunities to create harmony between inside/outdoor entertaining," said Nar Bustamante, president and principal designer of East Sacramento, Cal.-based Nar Design Group. "I do not ask if they want an outdoor kitchen. In the process of interviews, I find out they love the outdoors, and I bring them possibilities they couldn't have imagined for their home."
—By Leslie Clagett, KBB managing editor
Top photo: A pergola bridges twin poolside cabanas that house a kitchen and a changing room in this design by architect Rosario Maninno. Photo: Blackstock Photography