Sherwin-Williams Adds to ColorSnap Visualizer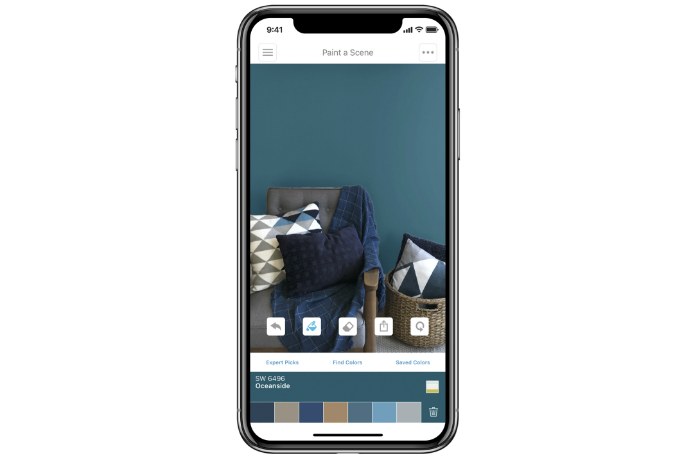 April 27, 2018
The recent update to Sherwin-Williams' powerful ColorSnap Visualizer app allows customers to easily use cutting-edge augmented reality to make faster and more confident color selections. The Instant Paint feature of the app is available now for iPhone and Android.
"Using emerging AR technology, this new feature virtually transforms a space before picking up a brush," said Meghan Vickers, Sherwin-Williams e-business marketing director. "Instant Paint provides a fast, seamless way for homeowners and professionals to build confidence during color selection."
With Instant Paint, smartphone cameras instantly recognize walls in a three-dimensional space. Customers simply tap on any wall in their camera view to "try on and see" any of Sherwin-Williams 1,500 colors on walls in real time.
Users can easily try different color options, create custom palettes and share results in a variety of ways. As one of the first apps in the paint category to use Apple and Google's latest AR platforms, ColorSnap Visualizer continues to lead the way in helping customers get the right color on walls quickly and accurately.
Instant Paint is part of the English version of the ColorSnap Visualizer mobile app. It is available for North American customers with an iPhone 6s or newer running iOS 11, or Android users with AR-compatible smartphones. Customers with earlier devices can still quickly see how a color will look in their space by uploading a photo of the space and digitally painting the walls.
The ColorSnap Visualizer app is available now from the Apple and Google App Stores.