Sustainability Is Pivotal to Today's Kitchen and Bath Projects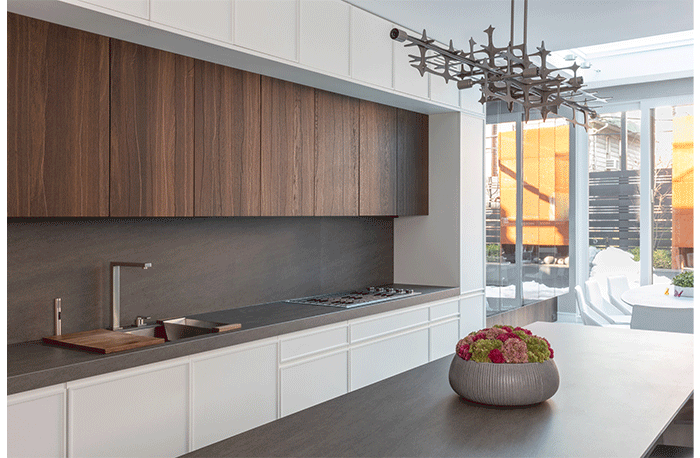 August 15, 2023
Sustainability is no longer a sidebar to design conversations. In fact, NKBA research found that it's becoming an increasingly important part of the design process in today's kitchen and bath projects.
"Sustainability is not complicated, and it's not expensive; it's our responsibility to help make those decisions for the future," said Sandra Gjesdahl, principal of Seattle-based Bristol Design + Construction, in the recent Luxury Outdoor Kitchen Report. "For me, there's no other way to design anymore."
So yes, sustainability is having its design moment, especially when it comes to the following key areas as found in NKBA's 2023 Design Trends Report.
Top photo: In "Modern Kosher Brooklyn," large glass panes allow natural light to pour into this sleek, contemporary kitchen. Design by Amir J Ilin, owner, Küche+Cucina, Paramus, N.J. Photograph by Raquel Longworthy, Raquel Longworthy Photography
Surfaces
Countertops: NKBA's 2023 Design Trends research shows that 38% of kitchen designers and 33% of bath designers are choosing countertops of recycled materials such as glass. Examples of other eco-friendly choices include wood, paper, bamboo and engineered stone.
Walls: Designers are also looking for minimal to zero emissions from the products they use to cover the walls. Nearly 50% of designers said they use VOC-free paint and stains. And when it comes to wallcoverings, designers are opting for natural or non-toxic products.
Flooring: One-third of designers are looking for recycled materials like reclaimed wood (wood previously used in old homes and other buildings), while 30% are opting for VOC-free flooring such as bamboo.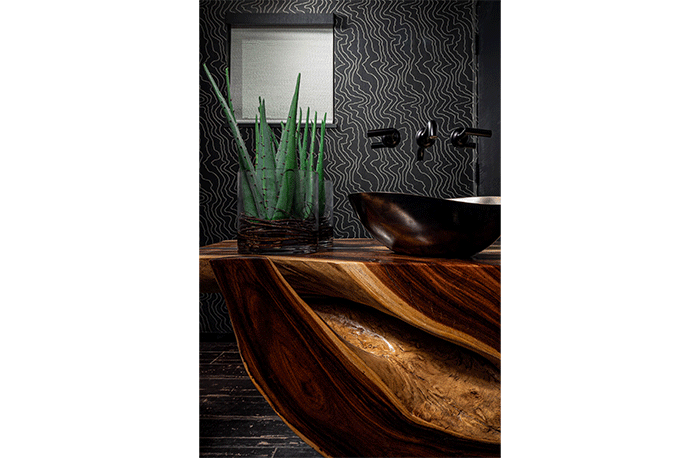 In "Smoke & Mirrors," natural elements bring the great outdoors into this modern bath space. Design by Gina D'Amore Bauerle, owner/interior designer, D'Amore Interiors, Denver. Photograph by Tim Gormley, TG Image
Products
Cabinets: When it comes to cabinets – whether in kitchens or baths – 30% of designers say they opt for Forest Stewardship Council-certified products. FSC-forests are managed to strict environmental, social and economic standards.
Appliances: Designers want cooking, cleaning and cooling appliances that conserve energy and are earth friendly. In fact, nearly 60% choose EPA/Energy Star appliances and ventilation.
Fixtures: This is true of the faucets, showerheads and toilets that designers choose as well, with 56% selecting those that are EPA/WaterSense certified.
Lighting: And a large majority – 82% – of both kitchen and bath designers are using LED lighting in all their projects.
Spaces
Recycling: Most designers create their clients' kitchens with a separate (and hidden) area for recycling. In addition, 32% are adding storage for composting.
Windows/Doors: Designers are adding larger, energy-efficient windows with fewer panes to allow for more natural light in the kitchen and the bath.
Heating: Electric radiant flooring is only gaining in popularity for both the bath and the kitchen. Meanwhile 54% of designers are looking for alternative energy-efficient hot water heaters.
The Future
Even though designers indicate they are the ones pushing for sustainability in the design process, many hope clients will soon start driving the conversation.
"Residential conversations for sustainability are led by professionals but, at some point, may be client driven," said John Cialone, partner at Chicago-based Tom Stringer Design Partners, in the recent Luxury Outdoor Kitchen Report.
Watch NKBA's first-ever Sustainability Summit featuring trends in home design, real estate and products, as well as a keynote panel of experts on "Getting Creative with Sustainable Design" moderated by Metropolis Magazine's editor in chief, Avinash Rajagopal.