Taking Sides in the Connected Home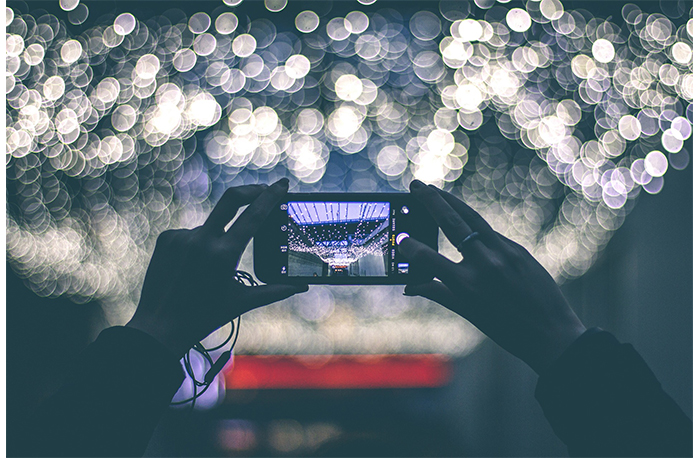 July 2, 2018
In this advent of the connected home and the Internet of Things, we recently asked the Houzz community of consumers and industry professionals if they have installed smart home automation or smart tech into their own homes or their clients' homes. We also want to know what kinds of things are being installed – appliances, security systems, window controls, thermostats, plumbing fixtures, lighting systems and any other functions you can wirelessly control via a smartphone or tablet.
The poll results as of press time – with a total of 577 votes – are reflected in the pie chart below. You can see from the results of this polling question that the acceptance of the connected home is about 50/50.
To Tech or Not to Tech?
One consumer said he doesn't have much, but he has what he needs, including a smart thermostat from Honeywell and a security light with a camera that has video capabilities.
One Houzz community member who owns short-term rental properties has thermostats, sprinklers, lights, audio, leak detectors and fans he can control remotely. He says this technology helps him avoid and solve problems so that guests often are  never aware there were any issues. His pool heater can be turned off and on remotely, and the pool emails him if the filter gets clogged. He also has security cameras and door locks that work on an algorithm so they do not have to be connected to the Internet.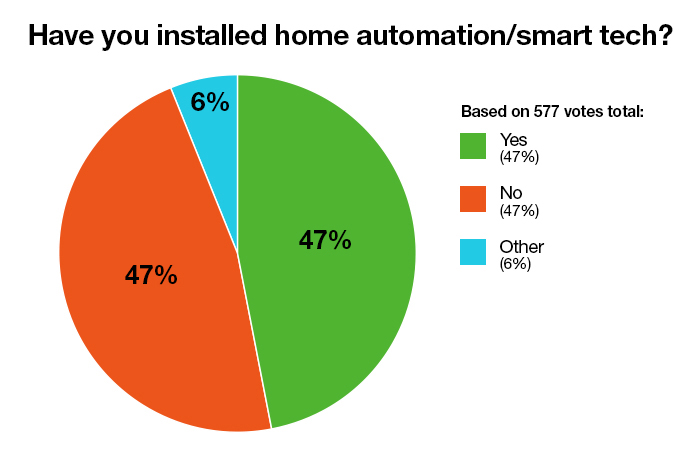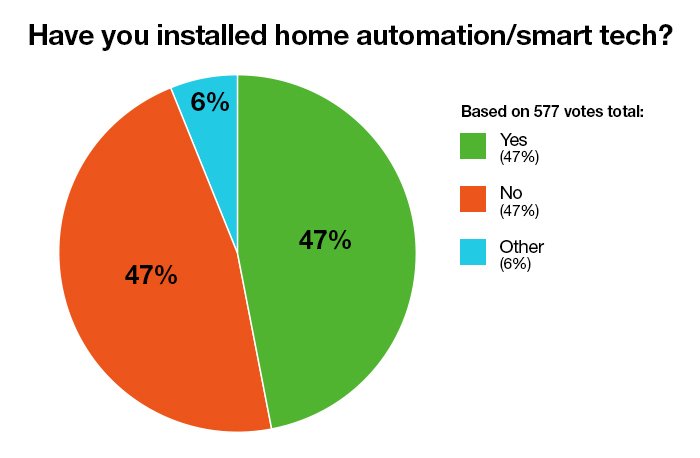 "I'm a disabled person, and wireless technology means something," said a member of the Houzz community. "Being able to open the door with my smartphone is really a must. The security system, the thermostat, the lights inside and outside, the television, the elevator are all connected and controlled via a tablet on the wall and an on-the-go wireless one. Security and freedom is all about it."
Another consumer loves his Haiku Big Ass Fan with SenseME technology that adjusts and turns off and on and at certain speeds and times via an iPad. It also features a "Whoosh" mode that mimics natural breezes by varying fan speed.
One Houzz community professional sees the need for autonomous gadgets like the robotic lawnmower and motion-sensing devices that turn lights on and off, but he feels the Internet of Things is not something we should allow into our homes.
Eliminating Everyday Tasks
"Last week, we had a robotic lawnmower installed for our 1-acre lot, and it is working wonderfully," said a member of the Houzz community. "I put up a hammock that my grandchildren gave me and will bring out my cooler so I have something to do while my neighbors are mowing their lawn in the heat!"
Still another consumer loves her My Smart Blinds that adjust according to her needs and can be automated with a light sensor, which she says is great for vaulted windows.
One member said he has done full-home automation with lighting, thermostat and security. He also has two app-enabled Roombas (one for each floor) and a Litter-Robot (self-cleaning smart litter box for his cat). He said he is considering installing a smart lock on the rear door so that he can let the pet sitter in, for example, when he's traveling without needing to give them a key.
"I've installed a Ring doorbell, an Ecobee thermostat, a number of smart lights/switches, a garage door opener and a couple Google home devices," said a Houzz community member. "As a partially disabled person, I find all of these to be a big help, day-to-day, and I have been careful to choose devices that get updates when security fixes are needed."
The Golden "Nest" Egg
Another consumer has a combination of Nest thermostats, lighting controls (Philips Hue, Lutron, Wemo), a first-generation Rachio sprinkler controller and Sonos speakers. He said he loves being able to come home to a warm and serenely lit home, especially in the winter, and being able to adjust the hue. "I happen to like the convenience of being able to control things remotely," he added.
"We've owned the Nest Learning Thermostat for over a year and LOVE it," said a member of the Houzz community. "The cost savings has been substantial. We protect our home with SimpliSafe 3, which doesn't come with CO2 monitors as of yet, so we also purchased the Nest Protect and have been impressed with how well it works. I found my new hobby, and I love it."