BainUltra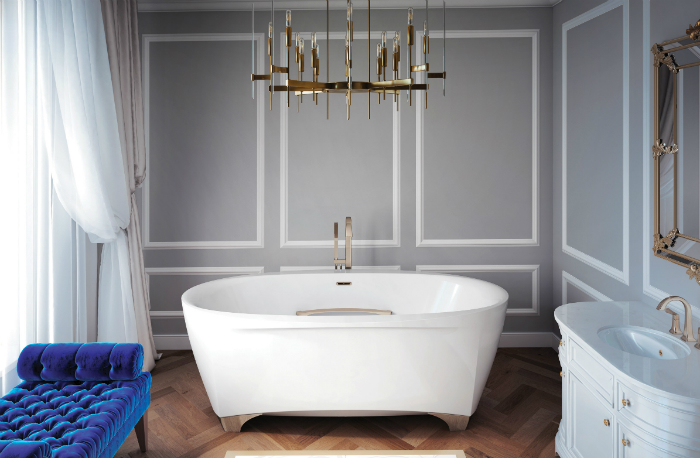 June 22, 2018
BainUltra brings a classic elegance to Avant Garde design with a new therapeutic bath that combines a traditional profile with modern finishing touches and is inspired by a centuries-old Milan opera house. As a contemporary version of the traditional clawfoot tub, Scala is notable for its modern metal feet and elongated oval silhouette, as well as the optional metal armrests available in different colors that coordinate with the feet.
With a minimalist outer shell and a host of available therapy options, the Scala tub offers balanced proportions and clean lines. It is generously sized at 72 inches long by 42 inches wide and features a spacious bathing well that easily accommodates two bathers. Crafted of durable acrylic, this tub has a flowing seamless appearance with gentle curves and wider front and rear decks. Scala is available in a glossy white or UltraVelour matte finish. The chunky metal feet and coordinating armrests are offered in eight finishes, including new options for satin brass, matte black and black chrome.
The Scala tub also moves beyond aesthetics to offer wellness-inspired therapies that enhance and enrich the bathing experience. The tub is available in the Thermomasseur category as well as a soaker to which you can add BainUltra's Thermotherapy and new chromatherapy Illuzio, which features LED lights embedded within the structure of the bath that are imperceptible when not in operation. The colored lights glow through the tub's acrylic shell to provide therapeutic benefits and a visual effect. Another option available is the popular Warmtouchshell heating zones that heats the tub from within, helping to provide a subtle yet relaxing heat for the bather.