Conestoga Wood Specialties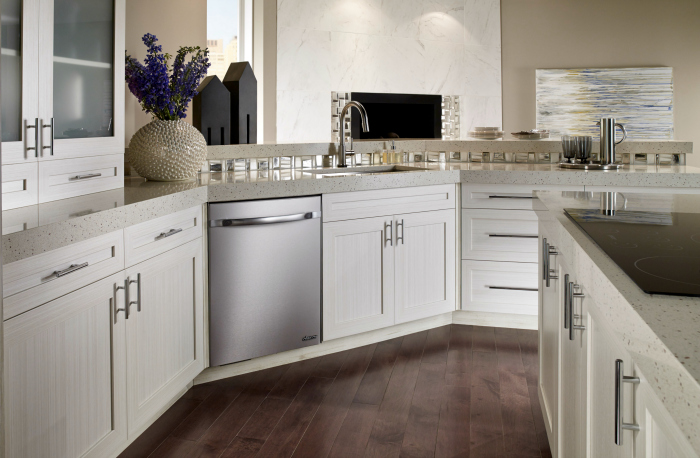 August 14, 2017
In 2012, Conestoga Wood Specialties introduced its first Allure collection of Decorative Laminate Veneer (DLV) doors, drawer fronts and components to provide a non-glazed alternative to its Impresa glazed product offering. This year, Conestoga launches an update and expanded Allure DLV program.
For Allure, Conestoga has crafted effects from satin smooth to wood grain medium to dramatic deep embossed surfaces. Taking advantage of the latest European lamination technology, the Allure program now includes 22 inspired door styles and 13 – including White Dove, Canadian Grey and Ashen Grey – all of which are paint matchable. The products exhibit durability, dimensional stability, household safety and environmental friendliness.
Realism and design flexibility, including more modern and transitional door styles, are the hallmarks of the Allure DLV evolution. Linear textures and Registered & Indexed grain patterns ensure a seamless embossed appearance. Five-piece doors and drawer fronts now include Drill & Dowel construction, creating a mortise & tenon look and miter constructed designs. Allure is engineered for dimensional stability so components won't contract and expand under varying environmental conditions. Allure's durability exceeds KCMA and NEMA standards for scratch and dent resistance. With Allure DLV, reliable colorfastness is a given – with proven UV protection that resists fading or darkening over time for lasting beauty, as well as the ability to incorporate additions or replacements. Allure is heat resistant and oven tested to 200 degrees without delaminating.
Allure DLV is also household safe and green with most framing and moldings having been treated with an antimicrobial agent that inhibits the growth of mold, mildew and bacteria for the life of the product and most framing is sealed to diminish formaldehyde off-gassing. Substrates are made with reclaimed and recycled materials making them CARB2 compliant and qualify for LEED credits.